Something to remember when unpacking your gear for a week or two's sailing ...
... is that firstly there isn't much space for everything you have, and secondly it will be thrown about as you encounter waves and sail on different tacks
Before going to sea, make sure everything you own is in lockers and the lockers are closed.
THE HATCHES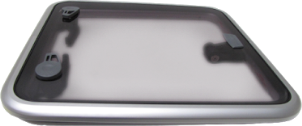 You should close the hatches before you go to sea. The person whose cabin is underneath the fore hatch won't be happy if a wave soaks their bedding and possessions half an hour after setting out! Equally, the best place for water is outside the boat as everyone knows…
OTHER THINGS TO REMEMBER
Kids
Kids on boat? Make sure that before get go to sea they wear lifejackets, and they wear them at all times.
Kids are very adventurous and mishaps will happen – no matter how naughty they are you always want them to come home.
Barefoot
Never go barefoot on deck. There are lots of ropes and things that could move, and these could injure you.
Sunburn
Don't Get Burned. Despite the UK being a relatively cold country it has some of the highest skin cancer rates in the world, largely because people binge on sunshine on the rare occasion we see it! Greece by comparison has much lower rates. Why?
We stay in the shade when it is hot, used sun cream when we do go out, and wear sun hats to shade our faces and necks.
Objects
Everything should be in its place -> keep Lines tidy, the winch handle after use it. If things get tangled there is a higher chance of an accident. Boats moving about, don't leave your wallet, mobile or camera on the coach roof as they could end up in the drink. Though the fish can't empty your bank account you'll miss out on so much if you're spending a day asking for emergency cash from the bank rather than using your money to have fun!!!!
The boom
Mind the boom! The boom can have a lot of pressure on it and if you gybe it can cause head injuries.
The Gas
Check the gas system once again. Gas leaks can kill everyone aboard…