The Cyclades is a group of 33 islands spread across the Greek Aegean sea.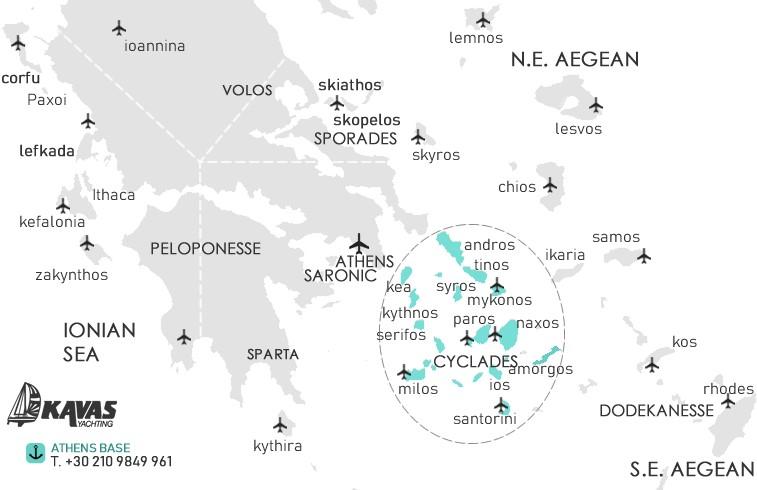 Their name has its supposed root at the Greek word kyklos (meaning circle) and was attributed to them during ancient times seeing as they circled around the sacred isle of Delos island -Apollo's birthplace.
The magical thing here is that every island has its own character and each one is preferred by birds of the same feather!
Andros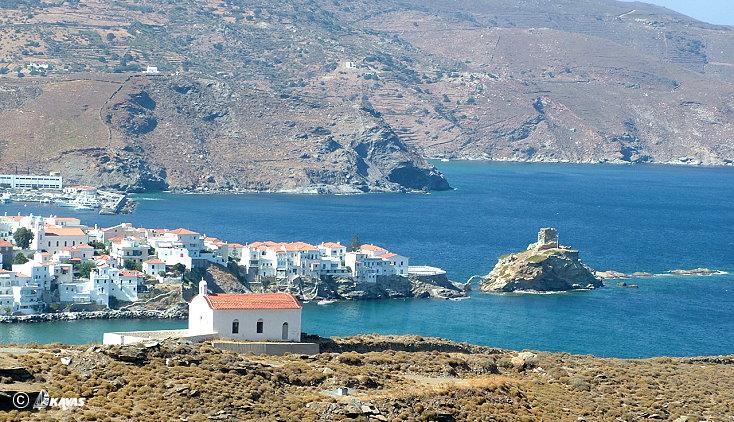 The island of shipowners. Known for its museum of modern art as well as the Sariza spring whose water is often paralleled with the famous Evian water with regards to its quality.
Tinos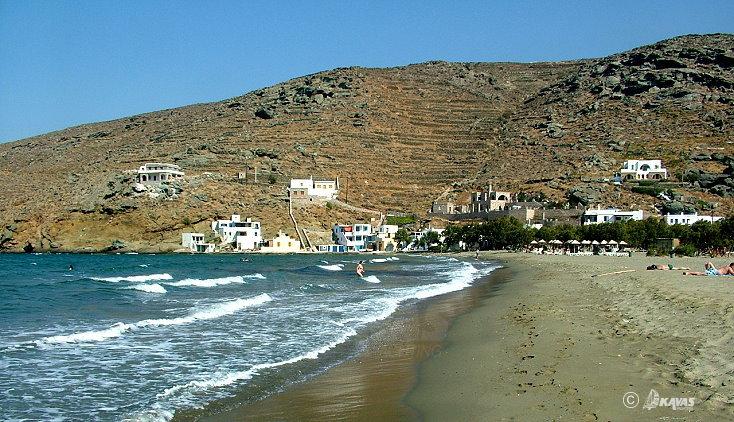 A popular religious destination with the church of Our Lady Mary being its pole of attraction
Kea (or Tzia)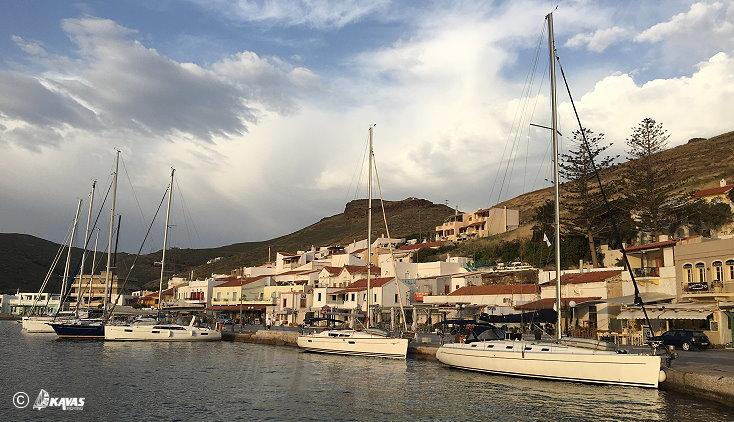 A very low-key island and the favourite destination of scuba diving lovers!
Kythnos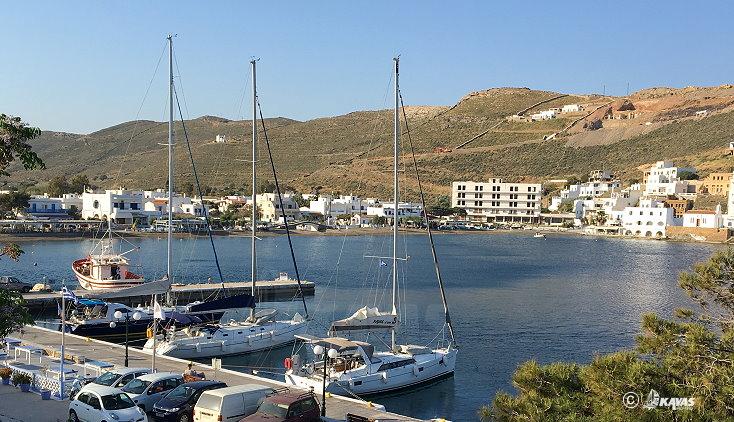 A peaceful island with sandy beaches, where many boaters drop their anchor to enjoy night-swimming and a rest under the stars!
Serifos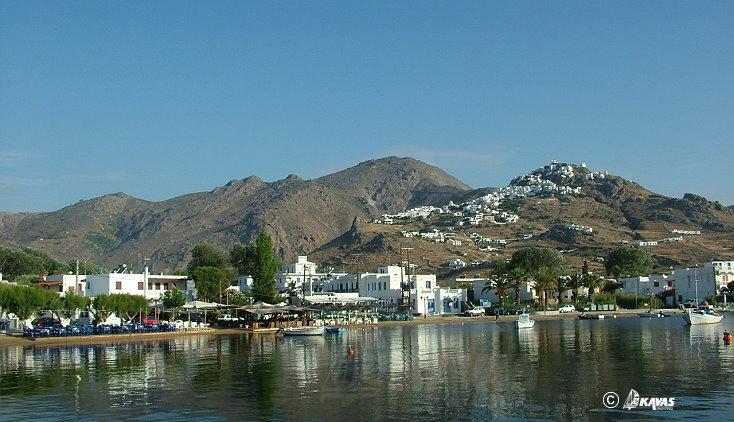 Known for its many towers and churches, where the mythical hero Perseus supposedly returned, carrying the head of the gorgon Medusa!
Sifnos
Especially interesting for its gold, silver and lead deposits, the Sifnians are rumored to have been especially rich –storing most of their gold at the treasury of Delphi!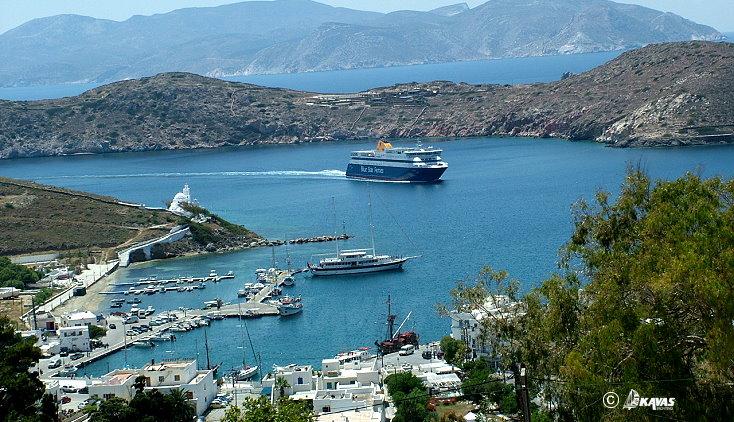 One of the most beautiful Cycladic islands, Ios is known for its nightlife and is a pole of attraction for young ages.
Folegandros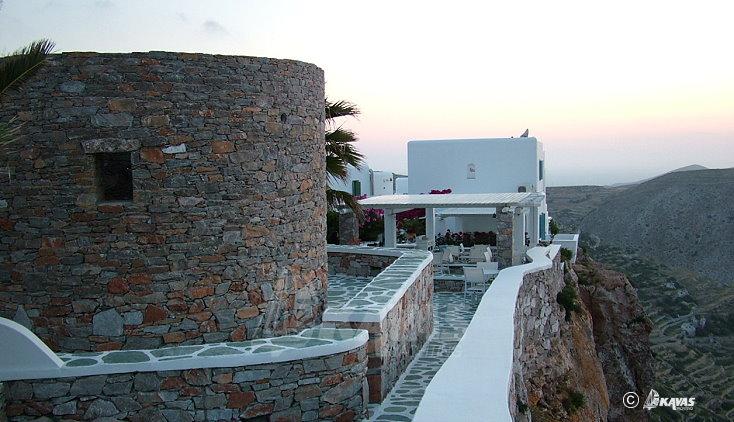 A modest island with permanent fans! Caution when attempting to berth at the marina, since the northern winds coming from your right will have you in a pickle!
Milos
A volcanic island with rich history and also the place where the Venus de Milo was found (now in the Louvre)!
Today, Milos is a pole of attraction for history buffs who enjoy beautiful, sandy beaches!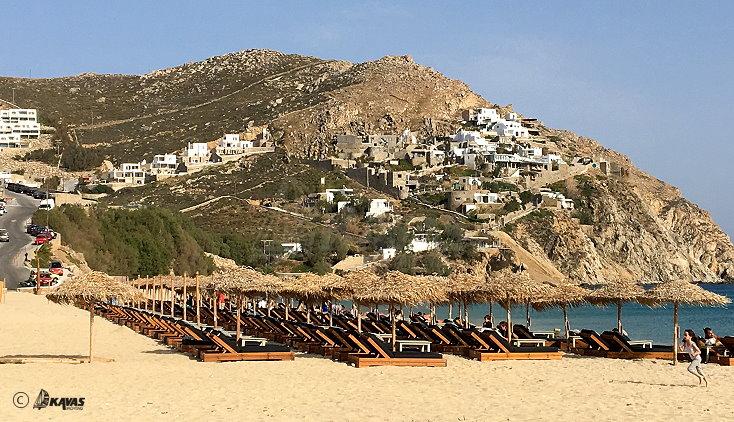 Famous for its hectic party life, this Cycladic island with its Ibiza vibe is the favorite destination of celebrities and VIPs worldwide!
Naxos
The center of archaic Cycladic civilization and famous for its source of emery, Naxos is a heaven for kite and windsurfing aficionados!
Known in antiquity for its fine marble, Paros is only a few hours away from the port of Piraeus and notorious for its valley of butterflies!
A small island, in less than a mile distance from Paros.
Played a critical role in early Cycladic civilization. Now known for its local Greek delicacies, Syros is an ideal destination for family vacations!
Santorini
This famous volcanic island was voted the Top Destination worldwide for 2017!
With its rich history and mythology as well as its cosmopolitan character, Santorini is sure to leave you with a sense of enchantment!
As with most Greek islands, the Cycladic marinas are relatively small in size, but they do provide the basics: water and fuel.

Registering at the Port Authority, usually costs approximately €2.

The most cost-effective method for water and fuel supplies requires an additional 2 euros for the purchase of a card that provides you with 150lt of water or 2KW of electricity.

On some islands (like Syros) these prices may be a little higher.
Climate
During the summer months (especially July and August) you should approach the marinas for berthing very carefully especially during the high season when the visitors' berths are lesser.
Furthermore, you should always take into account the meltemi winds, depending on the location and orientation of the marina. The Meltemi winds are usually the biggest obstacle to mooring.
However, rest assured that, especially during bad weather, several people around the marina will be keeping an eye at your effort and will certainly come to your aid with a wave of your hand.
Avoid trying to be the hero and always ask for help if you need it but don't forget to give back! If there is no free space at the marina you have birthed, allow newcomers to tether on you, explaining the rules about silent and careful crossing over your deck.
Solidarity on Cyclades is a very useful thing!
Safety
Berthing your boat to the docks of the Cycladic islands should not worry you in the slightest as there is no history of crime related to sailors or boats.
Generally, it is best if you make it a rule not to spend the night in desert bays, unless there are other boats around you.
More important than crime, a thing to watch out for around these islands, especially during the evenings, is the wind dragging your anchor away!
We have designed a sailing itinerary with you in mind!
If you love sailing and want to experience the local culture while having fun, then this is the perfect itinerary for you.
CAUTION
We should note that the Aegean region can experience strong winds, known as the 'Meltemi winds' If you have enough experience and feel comfortable sailing in such conditions, we can adjust the itinerary to take advantage of the favorable winds. However, if the winds become too strong or if you're not confident sailing in such conditions, we may need to adjust the itinerary and seek shelter in a nearby port until conditions improve.
★ CYCLADES - ONE WEEK - 157 NM
We will take you to three picturesque Cycladic islands:
Each day, you will cover different distances ranging from 11 to 46 nautical miles.
On Tuesday and Thursday, we recommend that you rent a car so that you can explore the islands of Syros and Kea, enjoy their beautiful beaches, and soak in the local atmosphere.
We highly recommend that all sailors are well-informed about safety measures before embarking on their journey.
Our aim is to ensure that your journey is full of joy and unforgettable experiences, and not marred by any issues.
Total Itinerary distance: 157 NM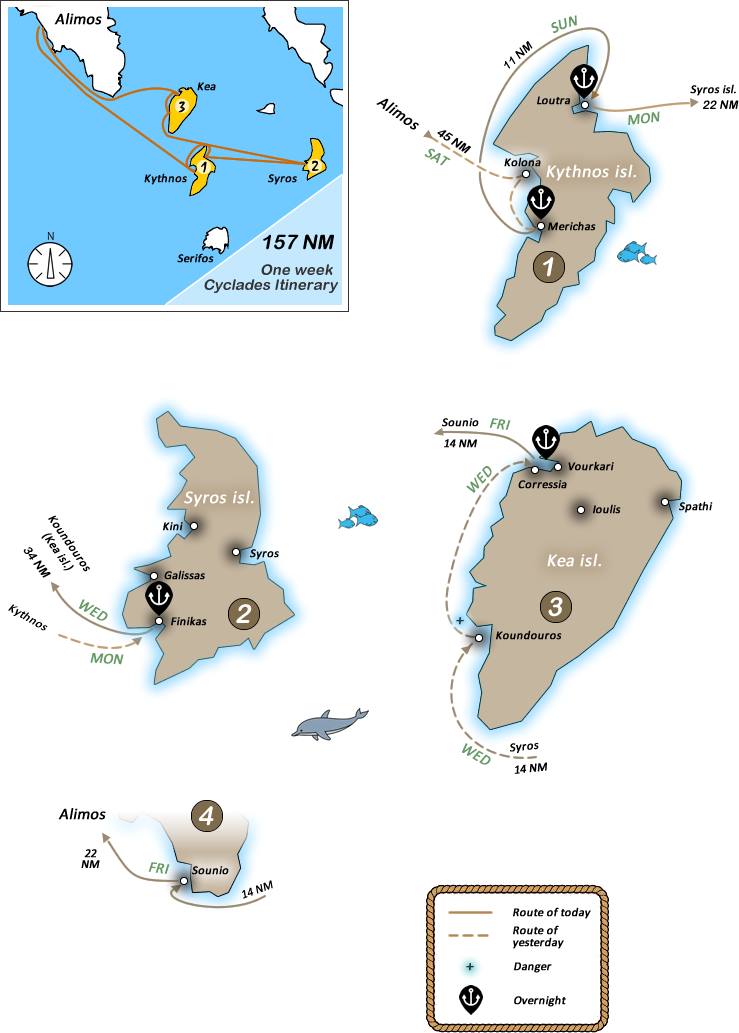 ★ CYCLADES - ONE WEEK - 213 NM
We will take you to three picturesque Cycladic islands: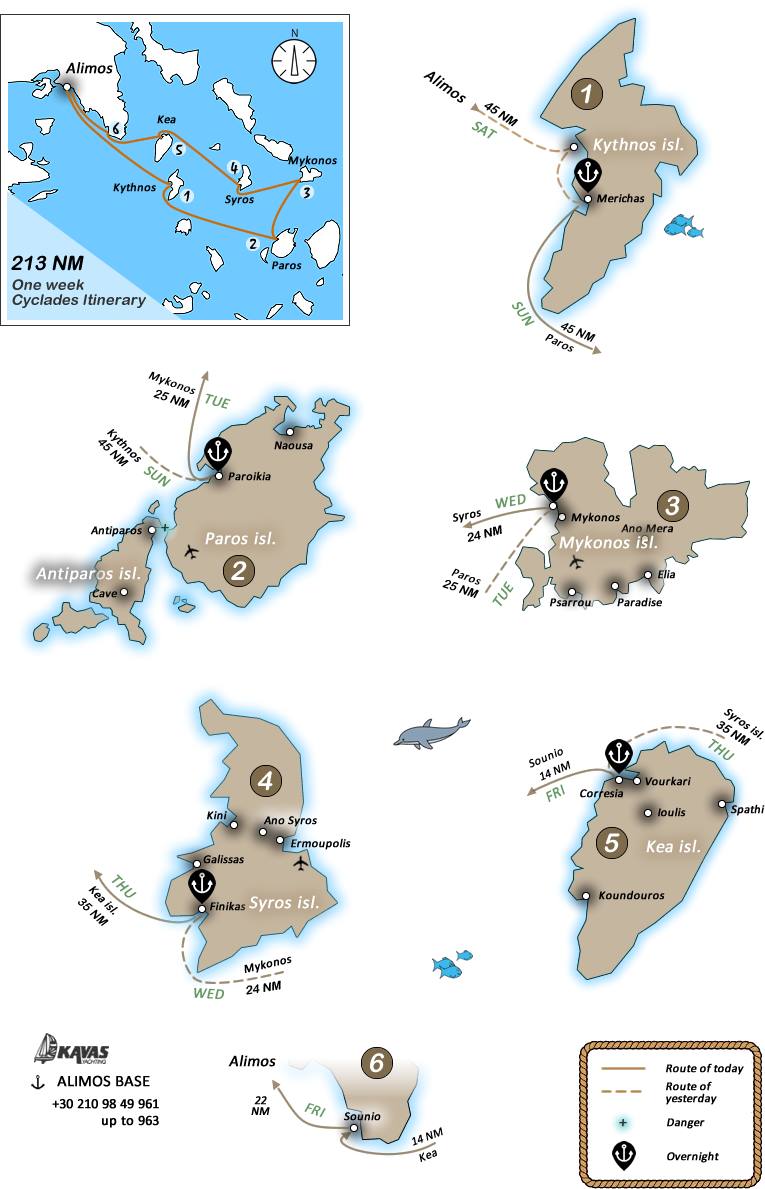 Sailing in Cyclades Places