Yacht Charter Greece
One of the cradles of civilisation and still a major tourist destination for millions of people, Greece has a vast array of land and seascapes to enjoy at all times of the year.
One of the jewels in the Greek crown is the sailing to be had on the Ionian and Aegean seas, where you can enjoy peace and quiet or hard partying – or a bit of both.
When thinking of yacht charter Greece, Kavas Yachting's fleet of yachts could be the way you get to explore our hundreds of islands at your own pace.
Hedonism!
For those who like to wind up to wind down, there are scores of seaside towns offering bacchanalian evening with nightclubs that close at dawn and partying that rival anywhere else in the world! Through chartering a yacht in Greece you can balance your heavy nights with your quieter retreats as part of your journey across the seas, and don't have to spend the entire week in the same spot as you may have on a package holiday to a hotel in a party town.
Out of the way destinations
Through chartering a yacht in Greece, you can sail to islands in the region that you may otherwise take quite a journey to access by ferry and car. Sailing releases you from the bonds of itineraries that are imposed by public transport, and you can choose where you wish to visit and when and are only really tied by the winds and weather.
If you want to find some real peace and quiet away from the madding crowd, sailing allows you to find a hideaway cove with no one to disturb your peace and quiet.
History and culture
One of the great things you can do while sailing in Greek waters is taste and explore the various subcultures that can be found on the different islands of the country. Different islands have been conquered by different empires over the years and consequently within 2-3 days sailing you can see different versions of Greek cuisine and cultural habits. Whether relics from the
Minoan
, Hellenic,
Roman
, Byzantine,
Ottoman
or even British empires those who want to get to grips with the tapestry of world history will be spoiled for choice that has waxed and waned over the millennia in the region.
The challenge of sailing
Sailing challenges you in so many ways physically and mentally, even in glass calm waters. Whether in plotting your route between islands or simply being down to your own devices for a week to resolve any issues as they appear, while enjoying the jaw dropping scenery of the region, you will always get a feeling of achievement on your arrival at your destination of choice.

What could be more different to slogging behind a desk all day than a week or two afloat?
Weather
The meltemi winds of the Aegean Sea can get feisty in summer and can challenge even the best sailors as they navigate around the region, while the maistro on the Ionian builds gently in the morning and peters out in the evening, just in time for you to moor up and enjoy the nightlife.
Sailing in Greek waters is an excellent way to cool off in the heat of summer, away from the oven like temperatures of the beaches and cities at that time of year.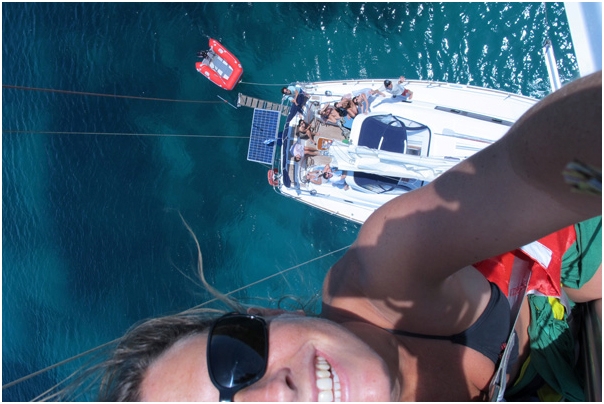 Yacht charter Greece with Kavas Yachting is available for most of the year. With generally mild temperatures even in winter, those sailing in the Aegean will find that the famous meltemi winds are gentler than in the summer months.
Flotilla or bare boat charter?
Those thinking of yacht charter, Greece have a variety of options open to them when sailing with Kavas Yachting. Flotilla yachting is for those with less confidence or experience who wish to sail in a small fleet for safety. The navigation will be left to the lead boat while those sailing behind will be able to focus on running their craft between the islands and mainland on a guided tour. This is an ideal choice for those who have not been sailing in the region before and may wish to get a taste of what the region has to offer.
For people with a national day or coastal sailing qualification, Kavas Yachting offer bare boat charter Greece where you take over the boat and sail where you please (within reason!).
The navigation and itinerary is down to you. You have a greater choice of boat, from the luxury end catamarans to a more modest mono-hulls for your adventure.
Relax with Kavas Yachting
With bases on the Greek mainland, the Dodecanese, Ionian and Athens (Saronic Gulf and Cyclades islands), those wishing to charter a yacht in Greece needn't look further than Kavas Yachting. Our well-equipped, fully serviced fleets of yachts are some of the best on Greek waters.
You can rely on us for an excellent sailing experience no matter where you wish to explore around this culturally rich, yet fun country!
© 2015 Kavas Yachting. All Rights Reserved.