This guide covers all the issues related to sailing holidays in Greece and answers any yacht charter Greece questions you may have.
Life on board is a unique experience as you come into direct contact with the elements of nature and its animals.
One of the greatest pleasures of spending time at sea is meeting dolphins, sea turtles, seagulls resting along the course of your boat.
Chartering a boat with your friends or family (either through the owner or a broker) is perhaps the best way to enjoy yacht charter Greece.

Let's dive right in…
1. WHICH IS BETTER SAILBOAT OR MOTORBOAT
This is the crucial first question to answer when planning a sailing vacation.
The overwhelming majority of chartering relates to sailing boats, for the following reasons:
SAILBOATS
MOTORBOATS

They are much safer than any other type of watercraft because of their low center of gravity.
The rental price is much lower.
Fuel costs an insignificant amount (sailing boats travel mainly with the wind).
Cruising is more fun when the engine switches off, and the only thing you hear is the sound of the flapping water!

They are much faster, so they cover long distances efficiently.
The cost of cruising is much more expensive.
The rental price is higher due to the need for a crew.

MONOHULL vs CATAMARAN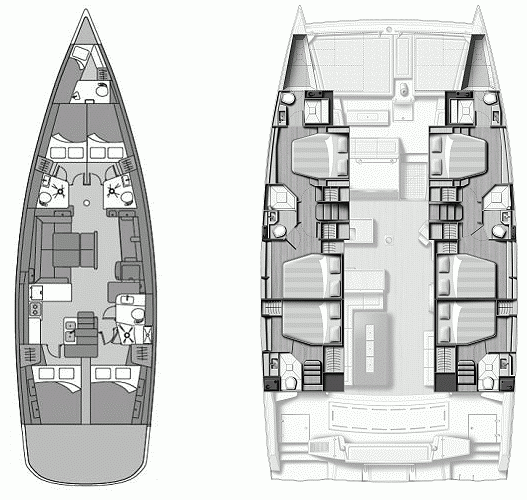 When planning your first sailing holiday, you will surely stumble upon the dilemma:
sailing on a boat with a single hull (aka monohull) or two? (aka catamaran)?
Let's take a look at the two cases separately so you know what you're up against.
Monohull pros and cons
Boating with a monohull has a more sporty vibe to it and takes a more experienced captain to sail.
When using the sails, monohulls move tilted on one side, while the keel (bottom of the boat), reaches at least 1.5m below the surface of the water and weighs over (or way over) 2 tons.
They outperform fare preferences (58% of total reservations) because they offer a more effective way of sailing and are cheaper to rent and dock.
Average monohull charter price = 480 € / day
MONOHULLS PROS
MONOHULLS CONS

Monohulls sail smoothly, providing relative stability unlike other boats.
The heavy keel of this type of boat increases safety when sailing, making monohulls virtually unsinkable, even in extreme weather conditions!
They are rented at much lower prices than catamarans.

It is difficult to move around the deck or inside when sailing with the sails open.
Taking into account the height of the keel, it is dangerous to access shallow waters.
Catamaran pros and cons
Catamarans certainly appear more luxurious than monohulls, and their main feature is, in fact, their large spaces.
A large living room, a comfortable kitchen and dining area, and at least 4 spacious cabins with private bathrooms, are usually what the inside of a catamaran looks like.
Outside, extra space is available for sunbathing with an elevated, spacious cockpit.
Another large seating space is also featured at the boat's stern.
Sailing on a catamaran (42% of total reservations), is preferred for the luxury feel, and comfortable spaces (main salon, galley, and cockpit) where you move comfortably and safely even when the water is choppy.
Also, the cats are maneuvered with incredible ease in confined spaces
Sailing on a catamaran charter price = 920 € / day (average)
CATAMARANS PROS
CATAMARANS CONS

The catamaran's large spaces can accommodate more people onboard
The boat's small draft allows for access to almost any beach
In cruising, it is 25-30% faster than monohulls.
In case of limited space at the port, they maneuver incredibly easily.
So much so that they can rotate immovably, around their axis.

Having two hulls float on wavy water can make the trip a bit uncomfortable, especially when you are high up in the cockpit.
They consume more fuel, since they have 2 engines.
With more expensive construction and equipment, their rent prices are higher than monohulls'
Mooring fees are higher
Catamaran vs monohull seasickness
Nausea has to do with the physiology of each person and if you have a predisposition or if you are sensitive to sea motion you may encounter a problem regardless of the type of the boat, but perhaps less so in a catamaran.
Which is safer: catamaran or monohull?
Both types of boats are extremely safe.
In the very unlikely scenario of an overthrow at sea, however, the monohull wins.
Whatever happens, the monohull will quickly return to its original equilibrium position due to its low weight.
Here's an article you can read before making your final decision in choosing a monohull vs catamaran.
2. SAILOR'S PROFILE
Chartering a boat is perfect for groups that love the sea, traveling, and sports.
The most important rule of success on a sailing vacation is COHERENCE among people in the company.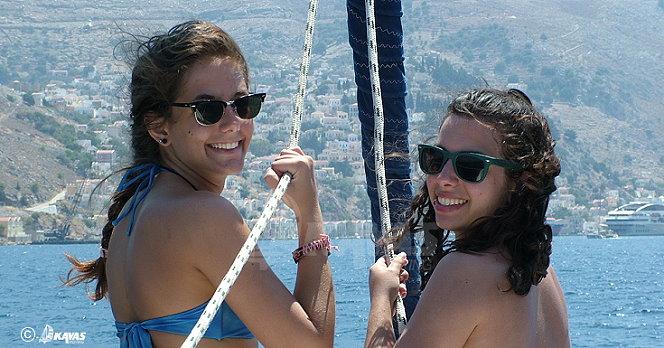 Crew members will be sharing the same space for a few days, so they need to agree on everything (choice of destinations, food, activities, fun, etc.).
From our data, the profiles of the groups on a sailing vacation are (on average) the following:
Groups of 6 friends, on average, 28 years old.
At 38%, these groups opt for holidays in the Aegean and, in particular, the Cyclades islands.
Couples that are on average age 36 years.
Families, on average, two couples, accompanying 2 to 3 children.
Their preferred destinations are 51% the Ionian sea and 33% the Saronic Gulf, where the waters are quieter.
Large groups of people choosing "flotilla" vacations.
What is a flotilla
When the group is large enough, members rent a number of boats (5 or 6 people on each boat) and travel together like a small fleet.

On the flotillas, one of the team boats leads the rest in terms of route planning, weather monitoring, etc. and other safety issues.
This way, the primary concern of the crews of the other boats is only fun!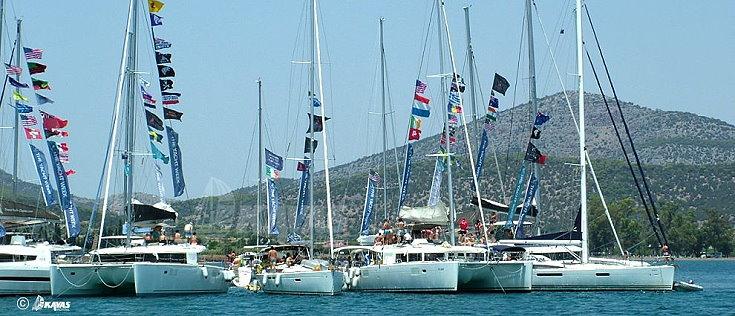 3. HOW MUCH DOES IT COST TO CHARTER A YACHT IN GREECE?
The sailing world has been identified as luxurious and upscale, although this is only a misunderstanding.
Everyone can enjoy a weekly sailing vacation without breaking the bank.
FACTORS THAT SHAPE RENTAL RATES
The cost of a sailing holiday is influenced by many factors, such as:
The type of boat you wish to charter (monohull or catamaran). Catamarans are always more expensive.
Size of the boat.
Age of the boat.
Rental period.
The cost of renting a boat is (on average) € 60 per person per day and goes up to € 110 per person per day in the case of catamarans.
Let's see how much boats cost, starting with the:
1. TYPE OF BOAT
Renting a catamaran will cost more.
The average daily cost in CAT is 920 € / day, while in Monohull, it is about half: 480 € / day.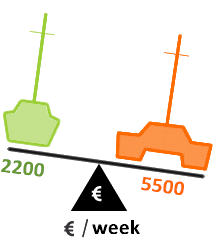 Let's look at two examples, renting a monohull and a catamaran, in the form of "bareboat charter":
MONOHULL: CAPACITY and COST example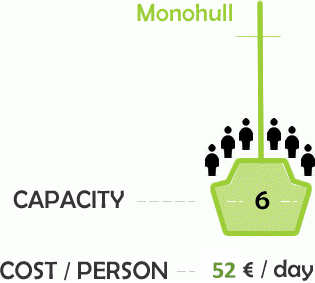 6-PERSON HOLIDAYS
5-YEAR OLD MONOHULL
JULY ("B" Period)
Renting a Beneteau Oceanis 38 (for six people), the last week of July, costs € 2,400 / week and corresponds to € 400 per person, per week.
CATAMARAN : CAPACITY and COST example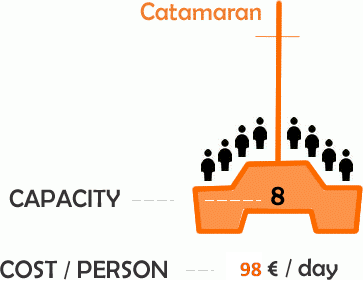 8-PERSON HOLIDAYS
5-YEAR OLD CATAMARAN
JULY ("B" Period):
Renting a BALI 41 (for eight people), costs € 6250 / week, and corresponds to € 781 per person, per week.
2. BOAT SIZE
The price of renting larger boats is higher.
Larger boats have more cabins, more toilets and accommodate more people.
3. YEAR OF YACHT
The price of yachts generally drops the older they get.
4. RENTAL SEASON
The fare per boat is always lower during PERIOD "D" (before 27 Apr & after 26 Oct) and almost doubles during PERIOD "A" (27 Jul - 17 Aug)
5. EXTRA
Naturally, the need for extra services raises the cost of the boat, such us:
Skipper
Hostess
Mobile internet
Rail (safety) net, junior life jackets
Outboard
Stand up paddle (SUP)
Air condition
• Do you need a license to drive a boat?
Yes, you do!
If your group does not include two licensed sailors, you will need the support of a professional skipper on a boat, and the cost will increase by € 150 per day.
The services of a skipper on a boat will increase the above amount by approximately € 170 per person.
• Sailing Cost-Effectively, Vacation Tip:
• We form a group of 6 people, 2 of whom are licensed to operate a sailing boat ("bareboat" type of rental).
• We choose a monohull boat, at least five years old.
• We avoid renting during the high season when demand rises and prices double.
But you can bring the cost of your sailing vacations even lower, as long as you keep an eye out for deals and offers.
Such cases where boat rental prices dip are the following:

• One Way offers: This is the combination of a holiday with a boat transfer to a destination.
For example, you take the boat to Lefkada Greece and deliver it to Corfu 1 week later.

• Last minute: You can take advantage of the chartering of boats just canceled by others.

If you want to be the first to know about Hot Deals, you can register your email in our mailing list (see in the right side of this page).
4. BEST OF GREECE ISLANDS TO SAIL
The most popular Greek islands for unforgettable sailing holidays are: Corfu, Lefkada, Ithaca in the Ionian Sea, or Skiathos, and Skopelos in the Sporades --both areas with low winds, easy for sailing, and ideal for island hopping.
Experienced sailors choose Mykonos, Syros, Ios, and Santorini in the Cyclades or Kos, and Rhodes in the Dodecanese.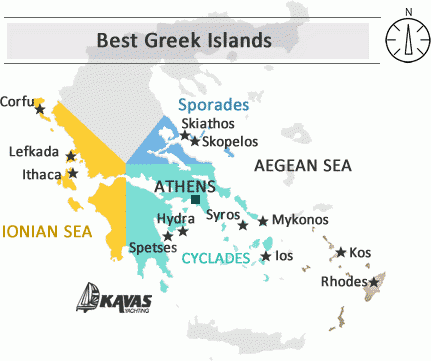 The fantastic thing about the Greek islands is that each has its character and is unlike any other.
Surely you heard about Odysseus' journey to Ithaca at school or seen the Venus of Milos at the Louvre Museum.
Perhaps you have heard the famous Zorbas song and maybe "visited" Kephalonia through the movie "Captain Corelli's Mandolin" or Skiathos with "Mama mia movie"
Indeed the names Mykonos, Santorini, Corfu, Milos are not unknown to you, are they?
We have prepared a brief presentation of the leading Greek destinations for you to help you choose the one that suits you best.
Ionian Sea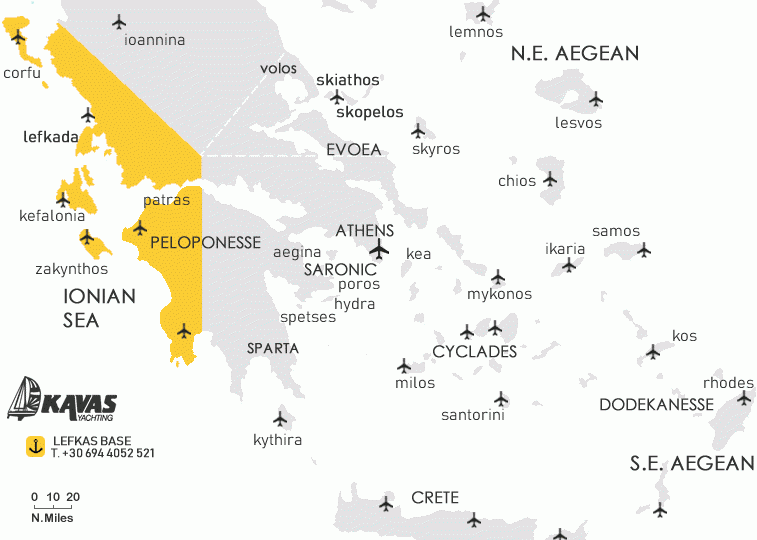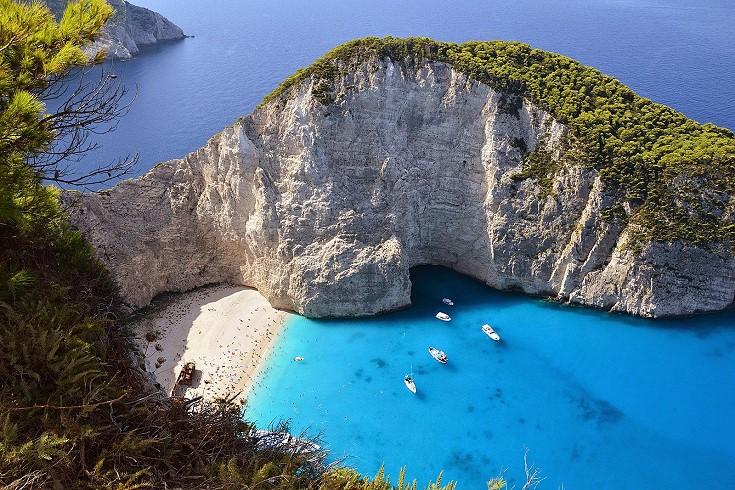 We are talking about the sea the engulfs the west of Greece, which has the following characteristics:
Turquoise waters and small green islets, coated with shrubby vegetation.
Easy sailing due to the mild winds.
Architecture, Music, and Cuisine: Italian influences
Find out more on the Ionian sea page.
Forward your questions about Ionian yacht charter, at KAVAS YACHTING, Lefkada Base.
Saronic Gulf (Athens)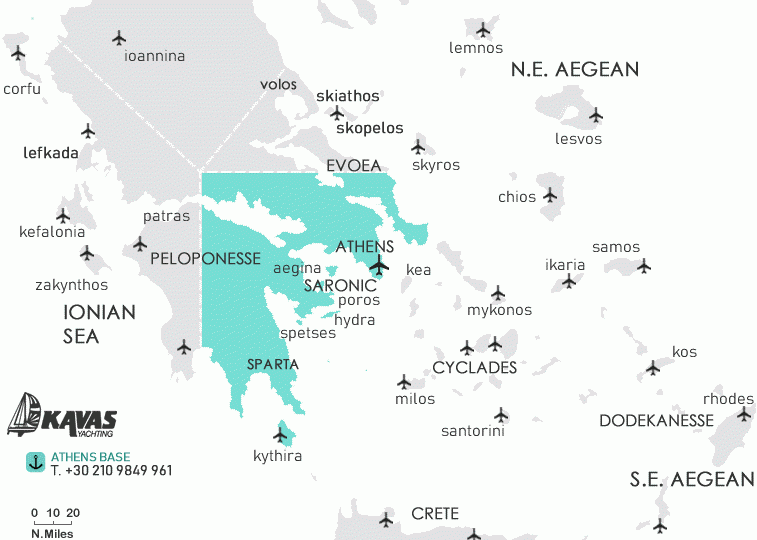 The Saronic Gulf is practically Athen's maritime haven.
Characteristics:
Blue-green waters and islets coated with pines.
Easy sailing due to the mild winds.
Find out more on the Saronic Islands page.
Ask information about Saronic yacht charter, at KAVAS YACHTING Alimos Base (Headquarters).
Cyclades islands (Central Aegean sea)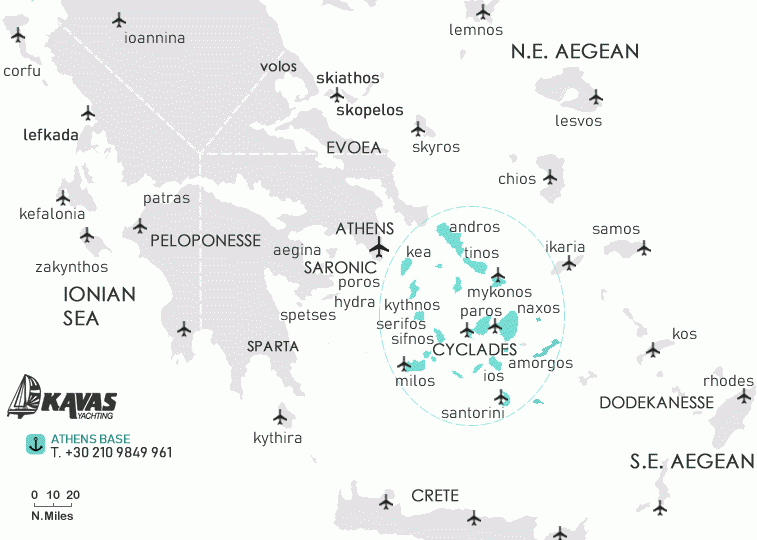 One of the most popular destinations in the world, islands that can satisfy all kinds of visitors at the same time:
Luxury,
Tranquility,
Water sports,
History,
Taste,
Relaxation,
Culture and even a
Vibrant nightlife.
The risky meltemi wind will pressure sailors in this area.
If you are the captain, think twice before booking a Cyclades islands boat.
Many find it difficult to reach a harbor with winds of 5 Bft without damage.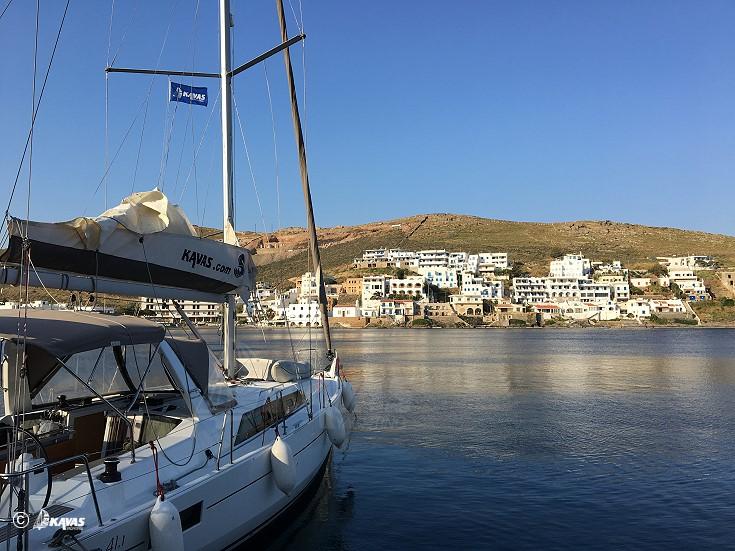 Information on the Cyclades Islands can be found on the Cyclades islands page.
Cyclades islands Features:
Deep blue waters and rocky islets, not mainly green and sometimes barren.
Sailing here requires relevant experience and skills due to the strong winds (Meltemi wind) that blow daily, only during the summer months.
From the architectural point of view, the Cycladic settlements consist of cubic white buildings and windows in all shades of blue.
After all, who has not caught a glimpse of the pictures of Santorini with the domes of the churches rising above the blue Aegean waters?
If you are interested in booking a boat in the Cyclades islands area, contact KAVAS YACHTING Alimos Base (Headquarters).
Dodecanese islands (SE Aegean sea)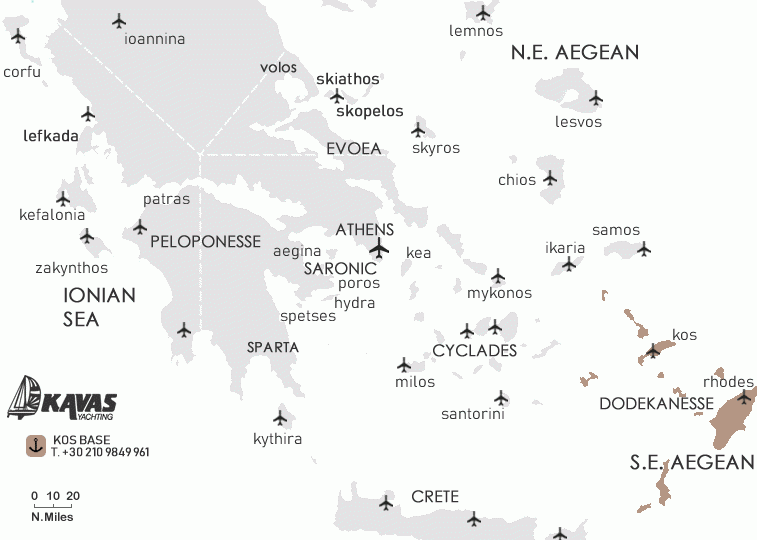 Beautiful islands with a rich history, medieval castles, and Eastern flavors.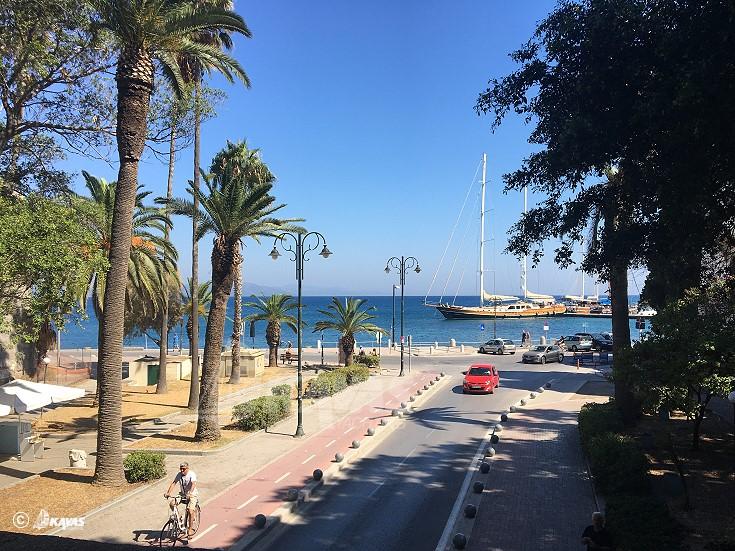 Rhodes island, the island of the Knights, Patmos where John wrote the Apocalypse, Kos home of Hippocrates and many more less familiar consist this group of islands.
You can find information on our Dodecanese page.
Characteristics:
Deep blue waters and islets, perfectly suitable for quiet vacations.
Sailing here, southeast of the Cyclades requires experience, as we mentioned earlier, because of Meltemi winds.
If you are interested in booking a boat in this area, contact KAVAS YACHTING, Kos Base.
5. HOW MUCH ARE MOORING FEES IN GREECE?
In Greece, all ports are controlled by the services of local Municipalities.
Usually, a municipal employee will ask you how many days you plan to stay so as to collect the corresponding fees.
In case there is a port charge for an overnight stay, the amount will depend on:
- The size (length) of the boat. Try to avoid side mooring because (although not always) the cost increases by 25%.
- The boat category: Charge for catamarans is a bit higher because they take up more space.
Note that the infrastructure and quality of services of Public ports are not the same everywhere.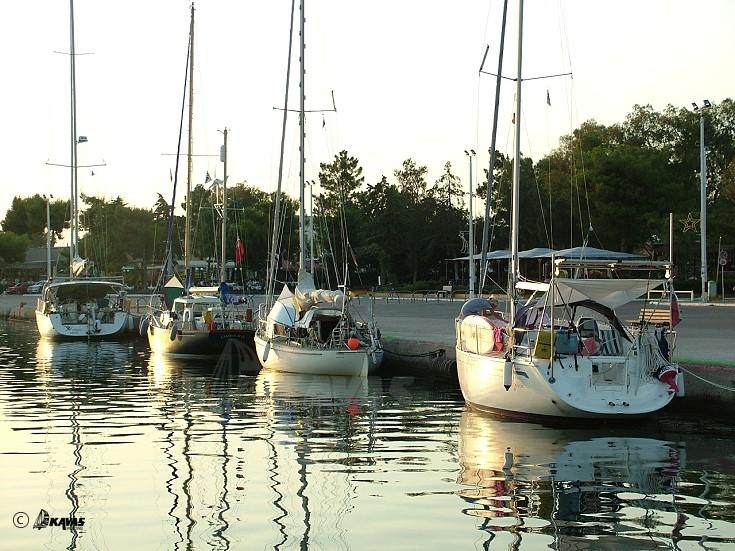 Port Facilities
Water: In all ports, through automatic meters or water tanks.
Electricity: Not in all ports. Where electricity is offered, it can usually be obtained through automatic meters with the purchase of a special card.
Fuel: In all ports, with fuel tank.
In general, mooring fees are dramatically lower than the competitors' (Croatia, Italy, France, Spain).
Mooring charges for public Greek ports and supplies
The mooring of a boat about 44ft, is charged € 2.8 per day.
The supply of 200 liters of water costs € 3.
The supply of 2kw electricity costs € 3.
Notes:
In some popular ports, though not all, such as Mykonos or Syros, the 1st day is charged approximately € 13 and includes 200 liters of water and 2kw electricity.
In the following days, the price drops to the standard € 2.8 per day, so (for the following days) only the stay is charged.
The above prices refer to stern mooring.
The side mooring (if you are allowed) is charged with + 25% extra.
The more organized the infrastructure you come across, the higher the charges mentioned above will be.
But keep in mind, the fewer the benefits offered, the more gracious and friendly the behavior you will encounter, so much so that you might be surprised with what you get. Even moor for free!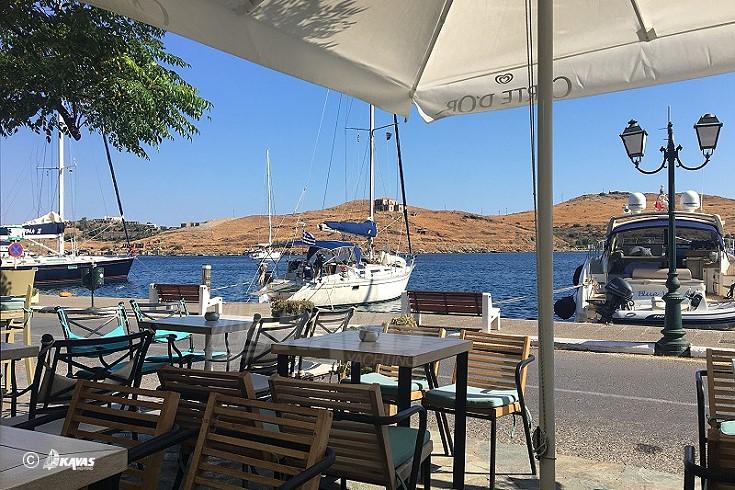 An important detail is that, as a rule, in front of the docked boats, there are usually cafes and restaurants that offer coffee, food, and, most importantly, have free WiFi and a WC.
How much does a marina berth cost
For those of you who make comfort a priority, the overnight cost is around EUR 50 per day.
Although Greek marinas are very few, they are among the best in the Mediterranean.
There you can find:
Super Market,
Restaurant,
Playground
Cafe
Shower, WC
Electricity (onboard), and
Car Parking (in case you rent a car).
Anchorages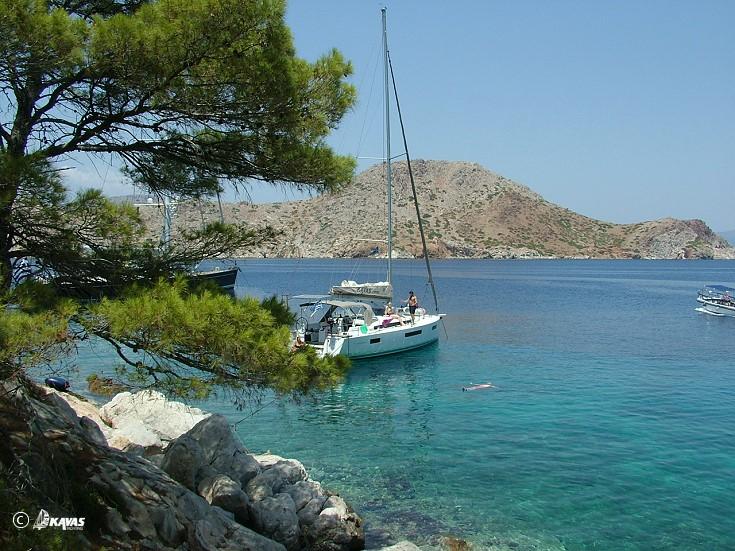 It is quite a powerful experience, spending the night in a windless bay and dining under the stars with the music you love.
A morning swim in the turquoise waters will help you enjoy your breakfast and start another beautiful day.
The Greek islands are many, and the ideal places to anchor are even more!
If you find the perfect place and decide to stay for a swim or spend the night, choose to anchor around other nearby boats.
6. FUEL COSTS
How much fuel will a sailboat need for our vacation?

The answer is, not a lot.

See in the example below, three different holiday scenarios with a 40ft monohull boat, using 100% engine power, without the use of sails!



Starting your holiday, you'll get the fuel tank full and you will need to deliver the tank full as well upon return.
The same obligation does not apply for water: you'll get the water tank full, but you do not have to deliver it full.
Note: It goes without saying that the bigger the boat, the bigger the consumption.
7. GREEK CUISINE
During your holidays in the Greek Islands, you will have the opportunity to try the so-called Mediterranean diet (unless you cook on board daily).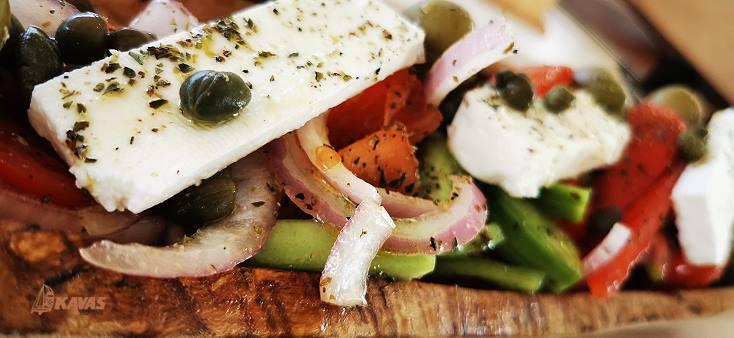 Ready to explore the vibrant culture of Greece through its delicious cuisine?
For those who want a taste of the place they visit, let us recommend a few Greek dishes:
Greek salad (easily prepared onboard).
Stuffed vegetables (gemista), moussaka, pastiche, or roasted sardine (which will taste better at a tavern).
The mediterranean diet consists of the following:
100% pure olive oil in salads and for cooking.
Fresh fish (not fried), lean meat, and dairy products.
Fruits, vegetables and some red wine.
This diet is appears to be healthy and contribute to longevity.
8. ENTERTAINMENT
Swimming, sunbathing, eating, reading, and relaxing in the Greek seas sounds amazing.
But how do you spend the rest of the day in the Greek islands?
Here are some ideas ...
• Explore the city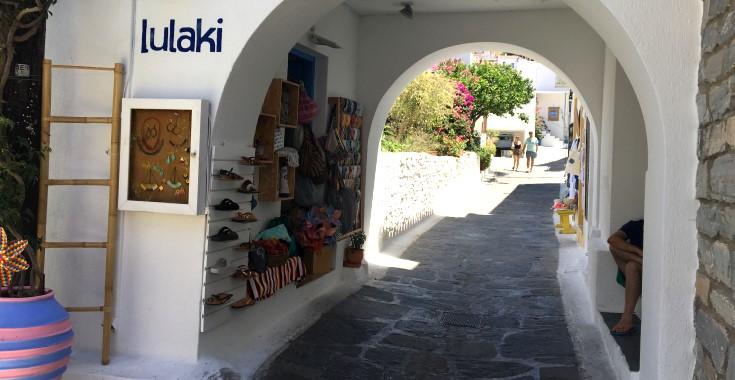 Explore the island's city by strolling through the narrow cobblestone streets next to the flowered courtyards.
If your alley leads to a square, sit down and order coffee and a sweet, or seafood and a glass of ouzo.

Enough rest? Browse around the tourist shops and discover the local products.
If you get lost, seek help from anyone passing. Almost all Greeks speak English.
• Ancient Greek Theater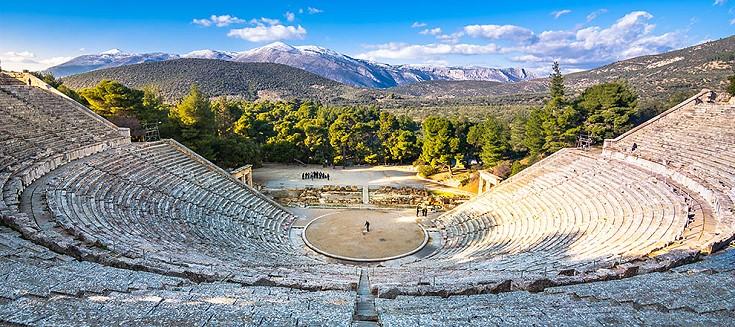 Every summer, at the Greek Ancient Theaters, the works of the famous Sophocles, Aristotle, Aeschylus, etc. are revived.
• Open Air cinema
You will find one or more summer cinemas on almost every Greek island.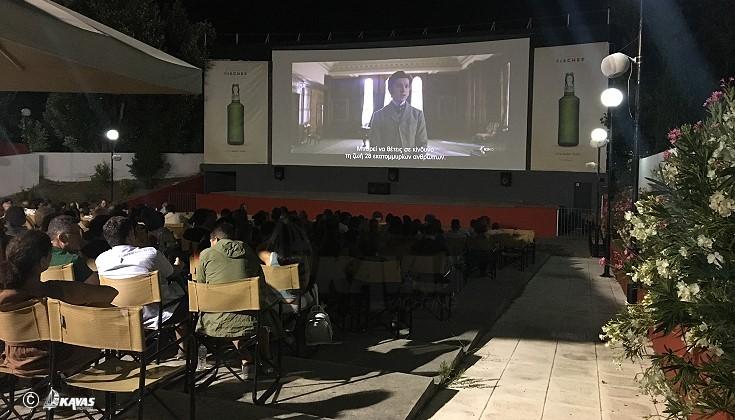 As a rule, we do not compile films into the local language, so you will not have trouble watching them.
The screening of the film begins at 9 pm when the darkness has fallen.
It's a good idea to dine a little earlier, watch the movie and then go out for a drink.
• Visits to Winery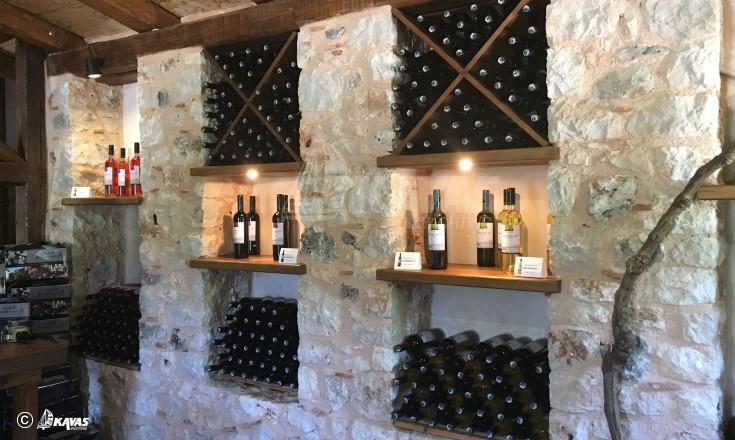 It would be quite an experience to visit one of the many Greek Wineries scattered on our islands as small production units.
The wineries usually offer local cheeses and cold cuts at tastings.
• Nightlife
Pubs and clubs where you can have a drink, dance, and enjoy the night can be found all over the islands.
Note also that in recent years, domestic breweries with exciting quality flavors have been developed around the Greek islands.
• Festivals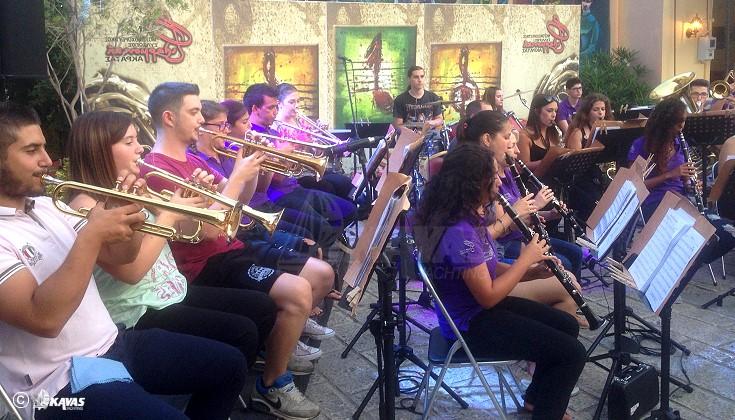 Feasts and festivals are typical of the Greek summer.
The character of these events can be either cultural or religious.
If your visit coincides with such an event, you are likely to see locals perform traditional dances in costumes, taste local delicacies and wine, or catch a concert by a famous Greek artist, among other surprises.
9. WHAT TO WEAR FOR SAILING
You should bring with you the essentials.
Clothes: Because you will spend most of your time on the boat wearing a swimsuit, do not bring many clothes.
The average temperature of the Greek summer is 29° C and the evening temperature is 22° C.
Shoes: 1 pair for walking around the deck, and 1 pair of sandals or flip flops.
Gadgets: mobile, cables/charger, power bank, toiletries.
Sunglasses and hats.
Any medicines: Everything you use in your daily life.
It's a good idea to include some nausea medication in case you or any of your friends get dizzy.
10. BEST YACHT CHARTER COMPANIES IN GREECE?
Kavas started KAVAS YACHTING in 1985 and has since grown his fleet to 56 monohulls and luxury catamarans out of three bases, the following:
This is an actual family business with the second generation Kavas' family now running the day to day business of the Greek charter company.
Unlike many charter companies, our boats are wholly owned by the family, and you can be assured of the high quality and maintenance of the vessels at our bases on the Saronic Gulf, Aegean and Ionian seas.
Do drop by our website and Facebook page to see our insane special offers - book early as they get snapped up very quickly!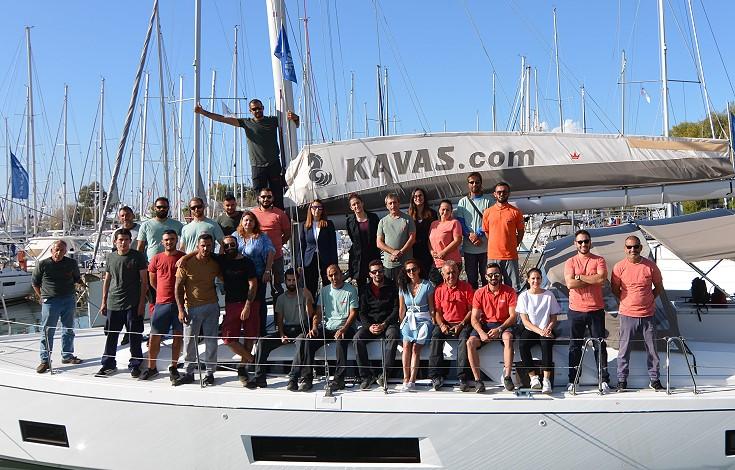 What our customers say!
Enough of what we have to say for ourselves - what about our customers?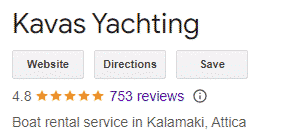 You can rely on us for an excellent sailing experience no matter where you wish to explore this culturally rich, yet fun country!
Here are our yachts:
Aug 21, 2022
Brand new boat, excellent service and outstanding skipper (George). Thanks!
Aug 15, 2022
We sailed on a Beneteau Oceanis 46.1 of Kavas. The boat was in a good condition and the Kavas crew was very nice and helpfull. Fantastic vacation, thanks to Kavas!
Jul 2, 2022
Kavas are a very friendly family run company and they run the check in/out process in a very professional and slick manner. Alimos marina is very convenient for Athens airport and also very sheltered to the katabatic wind that can be quite strong. There is a lot going on a Saturday, it is easy to get supplies. We ordered some basics from the recommended supplier and although there is clearly a slight premium, the service was faultless and the deli stuff was very good quality. Mr kavas even brought us a fresh loaf of bread before we departed on Sunday form a bakery, which was a very nice touch. We will definitely go back to kavas and the saronic gulf.
Jul 1, 2022
Thank you for perfect vacation! Super service and boat Oceanis 38. See you next year!
Jun 15, 2022
This is my second time with them and I'm very happy, great service and boat, Lliana and Penny in the office are very nice, thank you !
Jun 8, 2022
Sailing in Greece is amazing. There are many memorable islands in the Saronic Gulf (even a week of sailing just hardly scratches the surface). I've sailed there with Kavas Yachting ships a number of seasons now. Ships are always in full working order, minimum bureaucratic hassle, and when anchored in Alimos marina you get fresh bread in the morning! Truly nice and much appreciated personal touch by Kavas. Kavas Yachting takes their mission to make their sailors happy very seriously, and with that they win my thanks and the promise to return back. Best of luck, guys!
Jun 5, 2022
Had an awesome bareboat charter week on the Beneteau 51.1 out of Lefkas. Had an issue with the windlass motor and Minas organised us a berth and had it fixed whilst we had dinner that same day. Friendly guys, easy and hassle free. Recommend highly.
Jun 1, 2022
My wife and I spent a week in the Saronic on Mat 2022 on board an awesome Oceanis 40.1 The boat was absolutely fantastic, brand new, perfectly maintained and sailed perfectly. The team of Kavas Yachting is extremely friendly and super professional and Mr. Kavas himself is a great person. We can't wait sailing again with Kavas. Thanks a lot for an unforgettable sailing week, Kavas Team.
May 15, 2022
Very nice people, professionals ready to help you with any information. Catamaran new model 2022, no comment. I definitely recommend this company because it is at least a quality standard. Exemplary check in and check out.
Apr 17, 2022
A new/modern fleet of sailing yachts and catamarans, available from various locations in Greece: Alimos Athens, Lefkas for the Ionian and Kos for the Dodecanese. Affordable prices and helpful staff!
4.907063197026 out of 5 Based on 269 Reviews
Popular Destinations
Two seas. Four sailing areas: Ionian, Saronic, Cyclades, Dodecanese.
If you can't choose which area to choose to sail in Greece, then here you are.
View all Destinations