One of the cradles of civilisation and still a major tourist destination for millions of people, Greece has a vast array of land and seascapes to enjoy at all times of the year.
One of the jewels in the Greek crown is the sailing to be had on the Ionian and Aegean seas, where you can enjoy peace and quiet or hard partying – or a bit of both.
When thinking of sailing holidays in Greece, Kavas Yachting's fleet of yachts could be the way you get to explore our hundreds of islands at your own pace.
Greek Islands: Charter Experience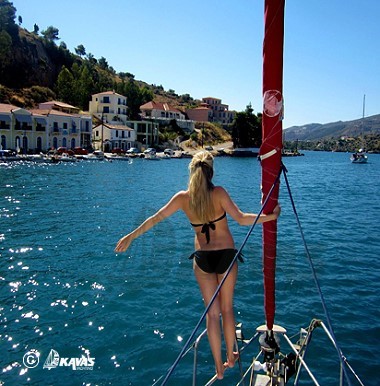 Sitting in the cockpit of your boat, in the early light of day with a freshly brewed coffee in the early morning breeze, feeling the world wake up as the coffee does its work on your system on a Greek yacht charter.
What better way to wake up is there on this planet?
As consciousness comes to clarity, thinking of what you will do in the day.
Checking the weather forecast and finding it will be steady but brisk winds, allowing a powerful reach to the next island - indeed, enough for you to circumnavigate the next island for the sheer hell of it and still make it in for a long evening at a restaurant you've heard great things about.
Or? Not so much as a fly's fart of wind and a day's sitting under sail for shade while quietly motoring to a well-known bathing destination.
Or? A muzzy head and a need for booze to avoid the colossal hangover from the night before so perhaps a visit to an ouzo distillery?
Explore the islands of Greece at your leisure but do remember to switch on, as discussed in our blog:
The joys and hazards of cruising Greek islands
Freedom
The choices are endless but the freedom is complete. In so many areas of the world in which we live, freedom is presented as a limited number of choices.
You have the freedom to choose between a corrupt and less corrupt politician, or the freedom to obey or ignore the traffic lights (with cameras on them to weigh the decision against ignoring!).
On a Greek yacht charter with Kavas Yachting, the options are almost unlimited and that means that freedom is a reality without comparison to the life in chains you have escaped by coming with us.
What is it you really want to do?

Yacht charter Greece choices
How much do you want to cut loose and how much sailing experience do you have?
Crewed yacht charters
You might be a highly experienced and qualified skipper who may want someone else to do the thinking and planning, so may go for a crewed yacht charter.
You may have no sailing experience at all and want the same.
Crewed yacht charters cost a little more but you will be bringing a wealth of knowledge of the waters and destinations to be experienced that you may never find without someone who knows the area like the back of their hand...
Flotilla holidays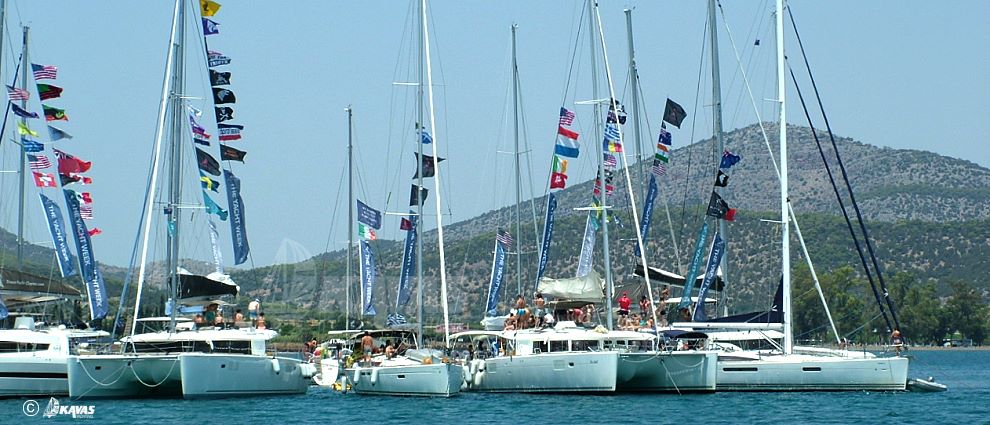 It's an option for those who may enjoy a package holiday with a little more freedom.
A small group of yachts will follow a crewed leader on an itinerary around the islands and mainland of Greece.
You will get to know your fellow crews and may get up to some high jinks in a collegiate yet separate environment.
Bareboat

Bareboat is about cutting loose and setting sail wherever you may wish to go.
You are the skipper and hold responsibility for the crew's fun and indeed, their lives.
You may have been chained to a desk at work and crave freedom to do as you please. While one of the important clauses of a Greek yacht charter with Kavas is that you shouldn't sail after sunset or before dawn, that leaves you to do as you please in daylight hours. The only limit is your imagination...
Modern cruisers - even big 50 footers - are built to be sailed by just one or two people.
Please visit our bareboat charter page, in order to be informed about the requirements and payment procedures:
Bareboat yacht charters requirements
Catamaran vs monohull
Having chosen how much time you wish to spend with strangers, what sort of boat do you want? Do you want a spacious catamaran or boisterous monohull?
The cat will get you there quicker but the monohull will often be more fun getting there!
Do you want en suite bathrooms and a sun deck that people can drape themselves across at all points of sail, with ample party space when you're alongside? The cat will answer that.
Do you want wet beats as you shoulder into the seas close hauled at a steep heel? The monohull will give that in spades.
Want to anchor just metres from the beach? Cat!
Ultimately it might come down to how much you can afford - slimmer wallets can reach a monohull while fatter wallets can afford the beamy luxury of an equivalent cat...
See here a comparison between life afloat on a catamaran and a monohull:
CYCLADES SAILING HOLIDAYS

Island hopping on the (windy) Cyclades Islands is barrels of fun. On a sunny day you may enjoy the sailing, perhaps anchoring for lunch in a deserted cove before heading off to a third island for the evening's entertainment.
The Cyclades have been inhabited since the dawn of civilisation which both means amazing history and archaeology as well as complex flavours of modern culture that are as different as fine wines.
Party hard at Ios (perhaps letting it all hang out with a nude swim) or chill out on the almost deserted Folegandros?
Party like there's no tomorrow at Mykonos or Paros?
Breathe in the salty, clean air as you make your escape in the crisp, clear dawn...
Cyclades Islands Guide for Sailors
OR SAILING IN IONIAN?

Sailing on the Ionian you have gentler breezes that come to life as the coffee goes to work on your system, and settle as you pour your gin and tonic in the evening.
There are fewer, yet larger islands in the region which because of their size have choices for you to make even without leaving the island.
Want to spend a couple of days exploring Corfu or Kefalonia in depth? You can party till dawn at Corfu Town and then sit the next evening out while your ears stop ringing in a quiet anchorage.
Lefkada and Paxos are places to chill as well! Sailing your boat around these two islands is especially popular among sailors as they have lots of almost deserted (yet well protected) anchorages, with the odd village nearby to enjoy a quiet, relaxed dinner and a glass of wine or two...
With a Kavas yacht you can cover from 70 nautical miles on a shorter itinerary with more shore destinations over a week or go the whole hog and do 170 plus miles with some great sailing and less time ashore at the other end of the scale.
See also a comparison between a Greek yacht charter on the Ionian and Aegean sea here: Ionian or Aegean?
Ionian Islands guide for Sailors
Mooring at a Greek town

Marinas in Greece will only set you back €2-€10 a night. There you can refuel and victual your boat, and perhaps let loose after being pent up aboard in a day's hard sailing.
As with the islands themselves, you will find quiet, out of the way marinas but you will find loud, busy ones.
Most marinas will have fuelling docks and have washing facilities for you to get the salt out of your hair and perhaps prepare for a long night's fun ahead.
Anchorages in Greece

As a rule, it is better to anchor where you see other boats. This both provides for a certain level of security and comfort - if no one else is mooring in that cove on an otherwise busy island, you need to ask yourself why this might be the case?
Are there local bylaws in place banning you to protect wildlife or military activities?
There are some private islands owned by oligarchs who have very protective security details too - you don't want to tangle with them!
Is there a storm coming? There are also places to use buoyed moorings for a small fee.
Is living in Greece expensive?
Greece's currency is the €uro which can have quite good exchange rates with the US Dollar and GB£. Typically you will see £1.15 to the €.
Flights from London Gatwick to Athens can be very cheap - a return flight can cost as little as £68 per person in October, though in July this can be as much as £330 return per person.
Eating in Greece

You won't want to cook for yourself every night, but you won't be broke after a good meal at a taverna.
Expect to pay €10 per person for a two course meal including half a litre of wine.
If you want to go super luxury there are Michelin starred restaurants where a taster menu can cost hundreds of €.
Greek food caters to all tastes!
For three days' provisions including a lot of wine and beer, you can expect to pay around €35 for two people from the local supermarket.
Cut out the booze and you will pay as little as €20, or €5 a day for two people.
The Mediterranean diet

People live very long lives in this part of the world. The Mediterranean diet is one of the factors behind this.
Peppers, artichokes, courgettes, aubergine and olives are core to this, with lots of healthy olive oil and garlic combined with local herbs to enliven the dishes.
Fresh fish is popular on the islands including meaty tuna or swordfish and lighter tilapia or squid.
We also love our meat! Spit roasted or grilled beef, lamb and pork are important parts of our daily food, though in moderation and in balance with lots of vegetables and fruit.
Citrus fruit grow everywhere - you can pick large lemons and oranges off the trees as you need them for your dish.
The dairy side of your dish may well come from our world famous yoghurts and different accompaniments such as tzatziki.
Boat friendly recipes when charter in Greece
Have heard of the Greek salad? The feta cheese? the Cretan dakos? Here you are:
Winds and climate in Greece
From our farthest northern islands to the farthest ones south you can cover nearly 1000 miles from end to end. Here we will look at the climate in the Northern Aegean, close to Athens and on the Ionian.
Northern Aegean - Cyclades - Dodecanese islands
(Reefing & skillful sailors areas!)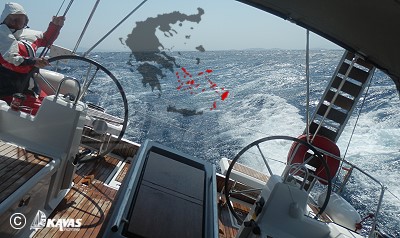 February temperatures are a chilly 11 ℃ though can warm to a comfortable 15 ℃. It will generally be overcast with a fair bit of rain at this time of year.
In July the temperatures can touch a scorching 30 ℃ or more. Wear sunblock as the skies are gin clear!
The winds can be feisty in summer with strong NE Meltemi winds, though the average is 11-13kts.
Don't be surprised to see a full-bore storm force gale from the NE in summer! If nothing else this will take the burn out of the hot sun... You're on a yacht charter in Greece - not the Volvo Ocean. You don't have to sail regardless of the weather conditions.
Have a look at our blog discussing why it is better to stay in port than to become a statistic...
Saronic Gulf (Athens)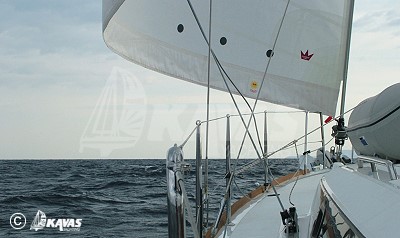 In February you will see a comfortable 10-14 ℃ though there may be rain and grey skies for much of the time.
In July temperatures in Athens can be a fiery 40 ℃, but the average is around 30 ℃.
Winds in summer can be tricky with a sprightly F5 not unusual, though the average is great sailing at around F3-4.
Sailing will challenge the beginner but be comfortable and not at all frightening for the intermediate.
Ionian Sea
In February temperatures in this area of the world can be a comfortable 15 ℃ though the average is 10-13 ℃. In July it is an average of 29 ℃.
The prevailing wind is the Bora, which builds from a zephyr to 10-15 knots at lunchtime and dies away in the evening. In summer you may see Gale Force from the NE, while in winter months you may see a Gale Force Bora blasting off the mountains.
Is Greece safe for sailing holidays?

Tourism is one of the country's major incomes. We welcome our guests warmly as a result.
Athens is widely regarded as one of the safest capital cities in Europe, though do take care where you go as not everywhere is paved with gold and ancient ruins there!
Islanders on the Aegean sea, Saronic Gulf and Ionian alike warmly welcome visitors.
You will find welcoming front of house staff at the restaurants - dining at many eateries can be like dining with family.
If you ask for help in getting around the locals will always stop to help.
A bit of street wisdom always helps when mooring. If the grounds are good for dropping anchor, ask yourself why you are alone? Is there wind coming that could put you on a lee shore?
Where possible, even if at a comfortable distance, do try to moor among other boats as many eyes keep unwelcome boarders at bay. There are very few crime instances in anchorages, but do keep your wits about you!
Kavas Yachting - Great Greek yacht charters since 1985

Kavas started his yacht charter business in 1985 and has since grown his fleet to 56 monohulls and luxury catamarans out of three bases, the following:
Alimos marina(covers Saronic gulf islands & Peloponese)
Lefkada (covers Ionian Islands)
Kos(covers Cyclades, South Aegean)
This is a truly family business with the second generation Kavas family now running the day to day business of the Greek charter company.
Unlike many charter companies our boats are wholly owned by the family and you can be assured of the high quality and maintenance of the vessels at our bases on the Saronic Gulf, Aegean and Ionian seas.
Do drop by our website and Facebook page to see our insane special offers - book early as they get snapped up very quickly!
Our boat rental prices (2018)
Charter pricing may vary depending on season, length and year built:
Monohulls: from 800 € to 8,000 €, per week
Catamarans: from 4,200 € to 20,000 €, per week
Discounts are provided for:
Repeted customers
2, 3 weeks charter
one way
Extras:
SKIPPER 150€/day
HOSTESS 140€/day
OUTBOARD 80€/week
What our customers say!
Enough of what we have to say for ourselves - what about our customers?
Here are two reviews from Trip Advisor, where we get overwhelmingly good reviews:
Irri_Tater, from Gothenburg said:
After a few years sailing in Croatia we decided to try Greece this year. Boat only 4 months old so still in good shape. Super effective service once we retuned and all carefully watched by Mr. Kavas himself. The whole team were super friendly and really keen on making sure we had all we needed before the trip. Also got a lot of helpful tips from Irene who seemed to know the islands very well. Overall a very positive experience that I can recommend to everyone!
Jay F, from Vancouver said:
We had excellent service from Kavas Yachting. You are always worried when you book a charter, especially so far away (we are from Vancouver), but on arrival the boat was in perfect shape and the staff were extremely well organized and helpful. Kavas seemed to have about 50 boats in Athens. All were within a few years old and well appointed...you won't be disappointed. We will be back again next year.
You can rely on us for an excellent sailing experience no matter where you wish to explore around this culturally rich, yet fun country!