Cruising catamarans or monohull for your sailing holidays?
Catamarans and monohull yachts are very different beasts on the water.
Let's look at them and help you choose what to sail with us at Kavas Yachting this summer.
Catamarans vs Monohulls
From a comfort perspective, catamarans win hands down.
Catamarans

Catamarans have a lot of space aboard and are very comfortable under sail.
A 40ft cat will have almost double the space of an equivalent monohull yacht.
You will find that they have very comfortable living arrangements with a large saloon, decent galley and even en suite heads in the sleeping cabins.
Our new Bali 4.0 catamarans have four heads aboard where typically the whole crew will share two heads in a monohull.
It is very rare that you will find the cat leaning over ('heeling') under sail unlike a monohull so there are no issues around cooking or even using the heads at a 45 degree angle.
The sail plans of many of our cats allow for people to sunbathe on the foredeck even under sail.
Monohulls

Monohulls have less space. On our 12 metre Beneteau Oceanis 41.1 (roughly the same length as the Bali 4.0) you will find three cabins and two heads where the Bali will have four cabins and four heads.
They heel in most wind conditions and from a pure comfort aspect, are not as nice to be aboard as a catamaran in any bigger winds.
Monohulls will often bury their bows into the waves when beating into the wind and you really only should hang out in the cockpit while at sea for safety reasons.
Under sail
Monohulls tend to be better into the wind and can be a lot more fun for sailing purists.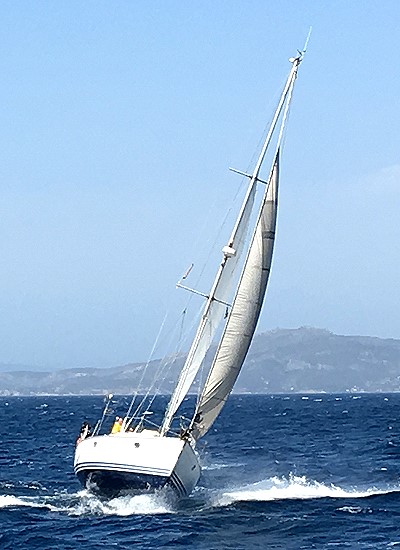 Cruising catamarans are a different breed to the racing multihulls that you see smashing world speed records and racing around the Great Sound in Bermuda. They are built for a relaxed sailing experience and will never behave the same way as racing catamarans.
OCEANIS 46.1: Yacht of the Year 2019
When under sail and a gust hits you on a cat, you should turn the helm downwind (in a monohull you would head into the wind slightly).
This is because cats have a love for 'apparent wind' and in turning the bow to windward will only make the cat accelerate hard and could lead to an accident.
Since you're not racing but cruising, caution is the better idea!
Cats are much faster downwind
You may even find yourself planing like a dinghy in some wind conditions. Where with the wind aft of the beam the cat will absolutely thrash the monohull it has an issue with leeway because of its shallow draft.
Catamarans achieve stability by having their hulls wide apart, as you might place your feet wide for stability on a rolling deck. They don't have much hull under the water and as a result they tend to skid sideways.
On a beat in lively conditions it is better to leave the sails alone and motor.
For the monohull sailor, beating can be fun. They can sail as close as 60 degrees to the wind with minimal leeway and will put a grin on your face as you blast over and through the waves.
As long as there is wind during your time afloat with Kavas Yachting, you may only switch the engines on for entering and leaving ports and anchorages. While much less comfortable than a cat they are the better sailing machine in the opinion of many a sailor. It is largely down to what you want from your time sailing.
Inshore and close manoeuvring
A skilled yachtsman should be able to turn a monohull in a very small space in a marina.
The catamaran will be able to turn within its own length by putting one engine into forward gear and the other into reverse. You will need a bigger spot in a marina owing to the cat's beam but should be able to get into one without touching anyone else.
Cats are also good for mooring closer to the beach. They will only draw a few feet under water and this means you might moor up at wading depth off the beach.
Monohulls need a little more water and should you run aground could end up leaning on your side as the tide retreats.
Cost
One of the biggest differences between two equivalent length boats is the cost. The Bali 4.0 will cost €5850 a week in peak season while the Beneteau Oceanis 41.1 will set you back €3000 at the same time of the year.
You will also pay a little more in mooring fees while aboard the catamaran as they are so much wider.
Overall?
Your writer's family has owned a cruising catamaran for the last 30 years. It is moored in Spain and is far happier on the Mediterranean than it was on the UK South Coast where it frequently got beaten back by headwinds. In Greece we have the Bourini and Meltemi – in Catalonia we have the Tramontana that is very similar, and this has held us from getting home before (though we have a 60 year old hand cranked tractor engine powering it).
Sailing experience
Even after 30 years sailing our old cat, I love monohulls even more because I am a sailing purist. I like to sail wherever I am going and am not fond of the sound of the throbbing diesel engine. While the Bali and even Beneteau yachts' engines above will be soundproofed, I prefer to go where the winds send me as opposed to under the 'D-Sail'.
Party lovers
You may be after a different sailing experience to me. You may be after a tan and parties – the catamaran is excellent for parties!
In the experience of Kavas Yachting, the customers who come for a catamaran are not afraid to spend a little more money on comfort, while the monohull sailors will come for more adventurous sailing.
Below, you may browse a large list of our owned charter yachts:
Hot Deals
Or check our yacht charter Hot Deals