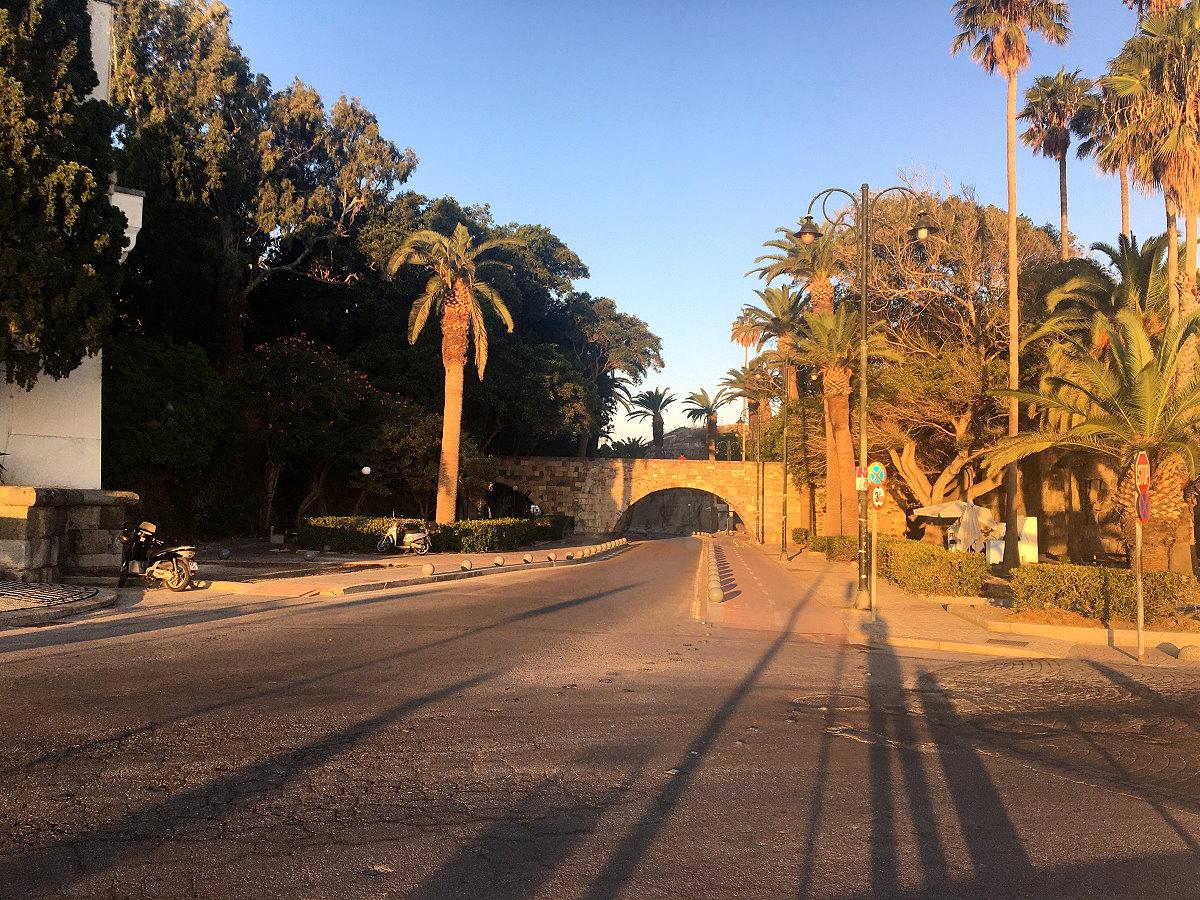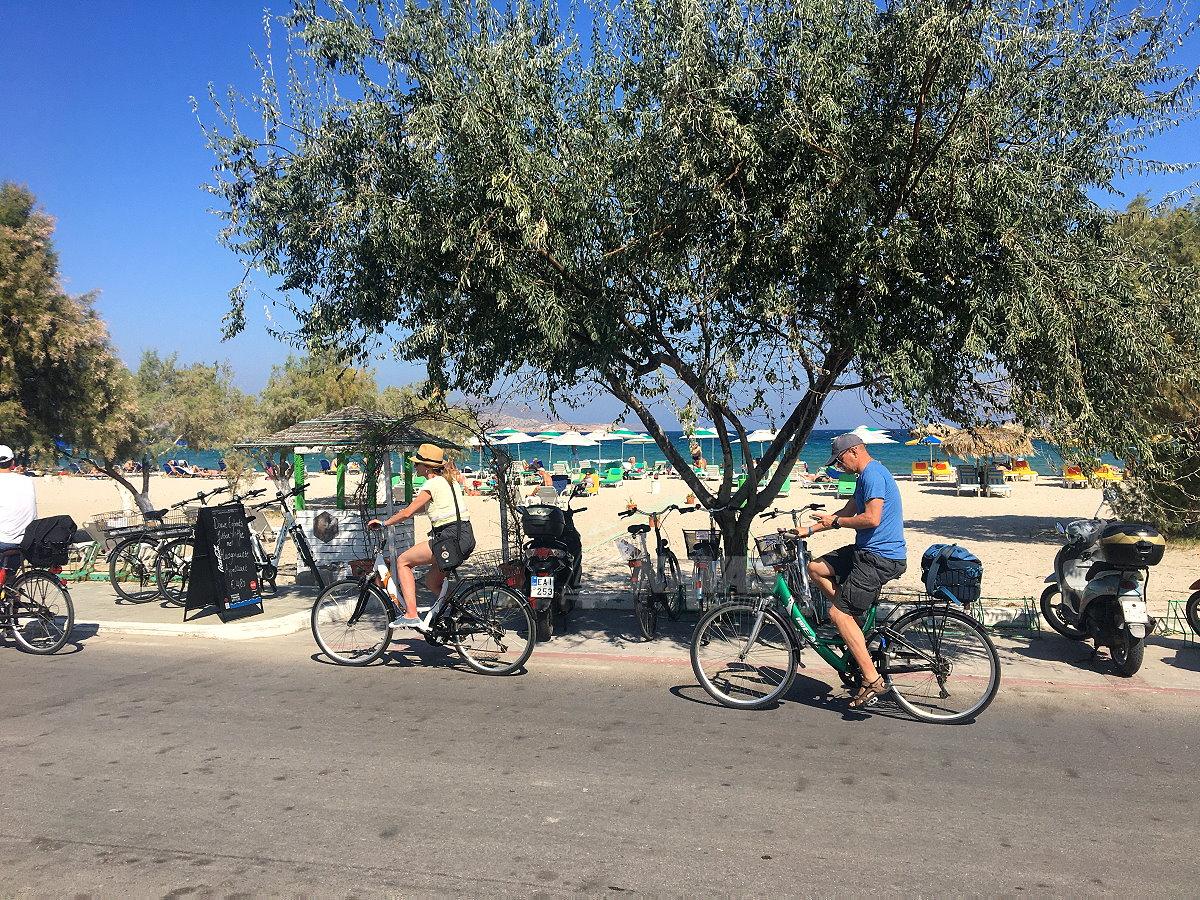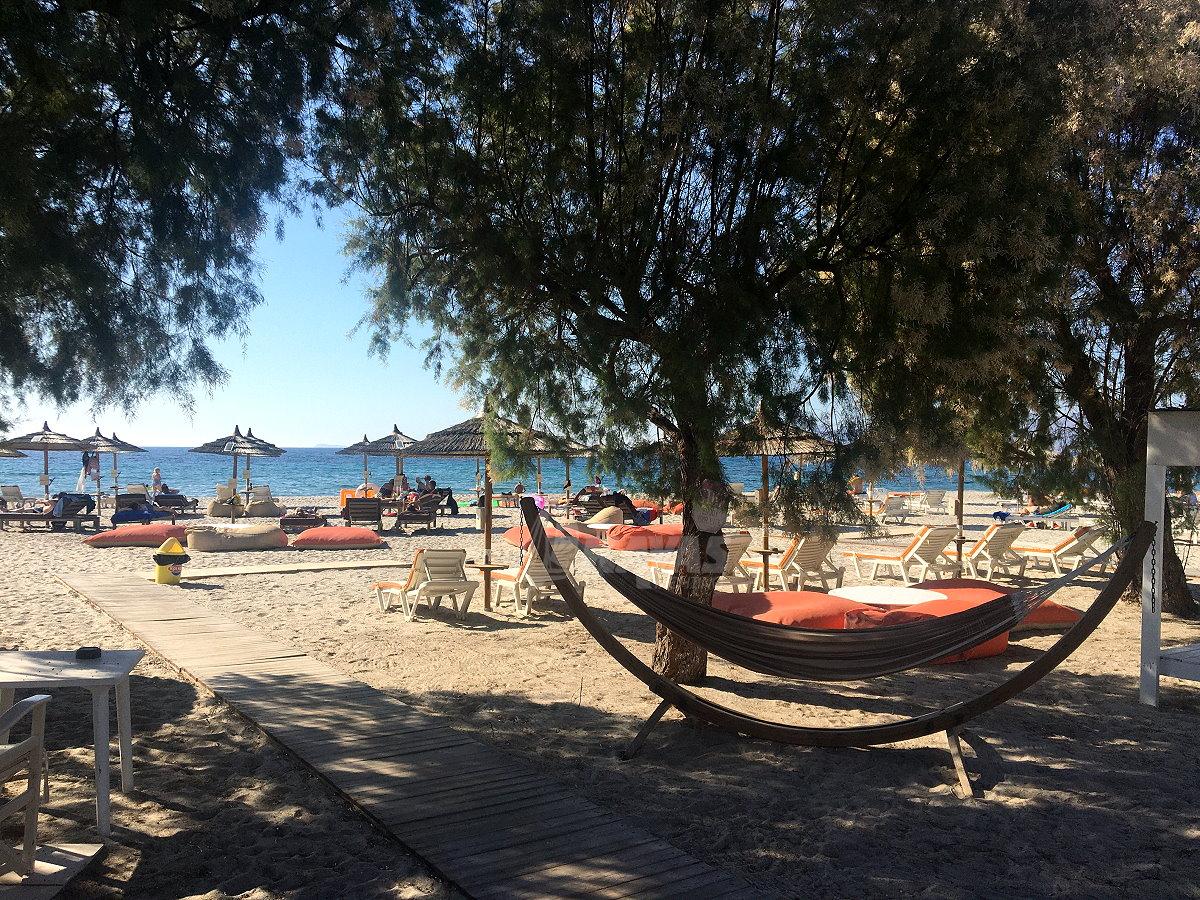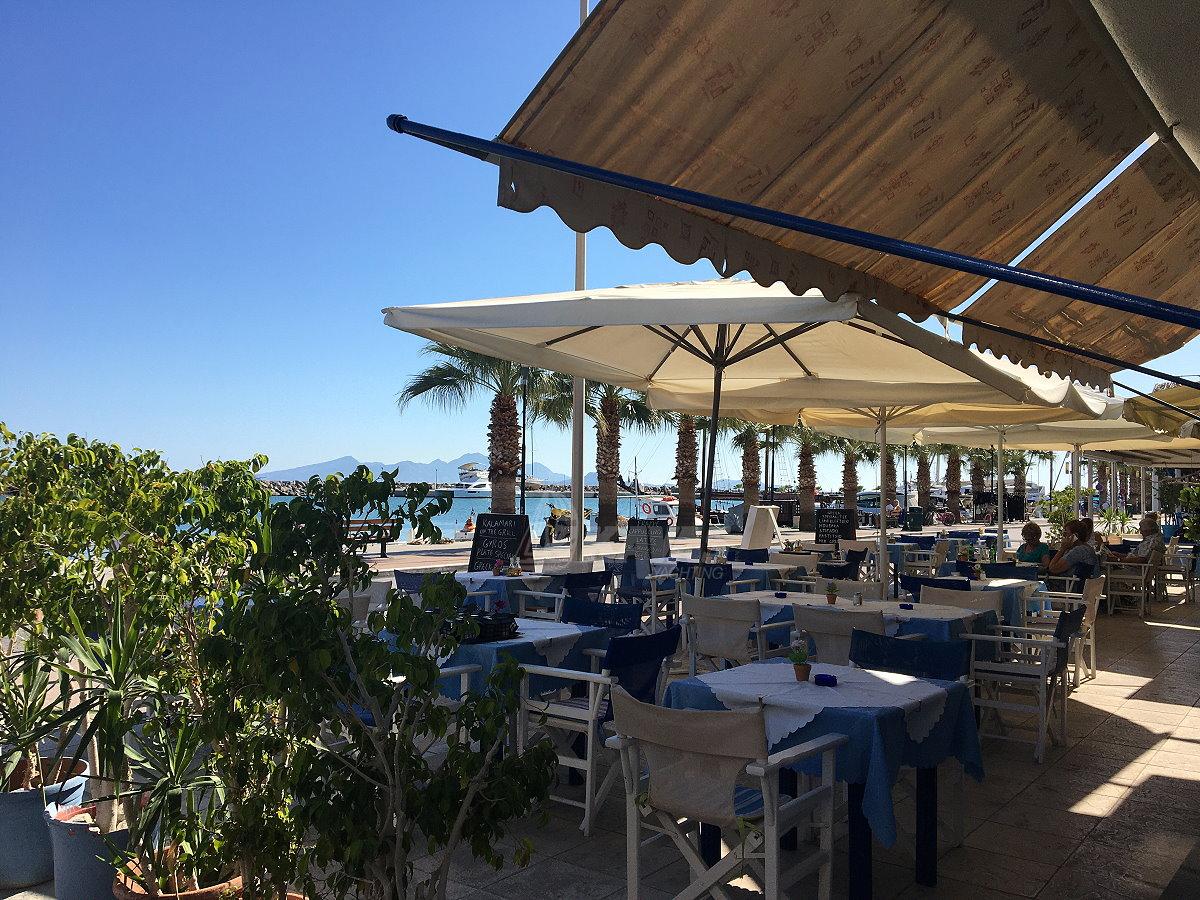 With near perfect sailing conditions and a real flavour of the Orient, a week or two on a Kavas Greek yacht charter will give you great memories of some of the most beautiful and diverse islands in the Greek Aegean.

The name Dodecanese literally means Dodeca (12) nisia (islands).
Being a remote outpost of Greece, they have their own cultures that are often very different to that of mainland Greece. You will find life laid back and the locals very welcoming to visitors.

While there are nightlife hotspots such as Rhodes and Kos that are heavily focused on partying, most of the Dodecanese islands are quiet outposts of the Hellenic nation.

Bring your young family sailing here to enjoy the laid back charms of islands such as Patmos, Kalymnos and Tilos without being kept awake all night by the nightlife!

The islands are often large enough that you might rent a car from a reputable car rental company (see Trip Advisor for the better ones - do not just go anywhere) to explore the islands and find your own bit of hideaway paradise!

Getting aboard a Kavas Greek yacht charter will involve flying direct to Kos or Rhodes airport, though if there are no direct flights from your home country you can fly into Athens and take a ferry to Kos to pick up your boat.
Climate
As a sailor you will always have an eye on the weather. Average temperatures can dip to a chilly 12 degrees in February but hit a roasting 35 degrees or more at the height of summer. In the winter months you will often find the sea is warmer than the air, with water temperatures rarely getting below 17 degrees even in the cold of winter.
It is hot and dry in the summer months, with much welcomed rain falling in Fall though don't expect British levels of rainfall at any time of the year!
The winds.
Sailing is all about the wind. The feisty Aegean Meltemi does come as part of the package of sailing in this region, but it does not blow as furiously in this part of the world as it does further south and west. Expect to see Force 3-4 winds year round which is near perfect if you are taking your young family afloat!
Culture
The Dodecanese lie at the crossroads of civilizations - to the east, you have Africa, Asia, and the Orient while to the west, you have Europe and the Americas.
This made the islands rich, due to trade that has passed through, along the Silk Road from China.
Religious festivals, local customs, and cuisine are often unique if not to the chain of islands but to individual localities themselves.
The islands themselves are products of intense geological activity owing to the tectonic plates grinding beneath the surface.
Expect to see high mountains jutting out of the sea or even a live volcano surrounded by lush vegetation in the case of Nisyros.
Some islands, such as Kassos, Symi, and Kastellorizo, grew very wealthy owing to the abundant fisheries around the islands. Sponge fishing is an ancient yet still prized trade in this area too.
Cost of living
This can vary from island to island. In the busy ports of Kos and Rhodes Old Town, expect to pay more than you would in a quiet fishing village such as Nisyros or Tilos.
Generally speaking, the quieter life is then, the less you will have to pay.
For the family sailing holiday, swimming in the sea or enjoying a good meal, you don't have to spend too much money on your holiday.
The local grocery stores are focusing on regional trade, so you can victual your Greek charter yacht very cheaply for the next few days.
On a sailing holiday in Greece, the choice is yours!
Do have a look at Tripadvisor to learn more about your planned destinations.
The islands
Here is a flavour of the islands you will be able to visit during your time in the Dodecanese. It is worth doing your research to get the right mix of high octane partying and chilled out bliss on in other locations but this should be a jumping off point.
Rhodes
started out as a wealthy trading and fishing port but has turned its gaze to tourism in recent years. With its bustling Old Town and fantastic beaches, you will not be disappointed in the opportunities to party and enjoy Greek tourism at its best. Do be aware that nightclubs sometimes close after dawn so you might not wish to stay there for a quiet night in...
Kos
home of medical philosopher Hippocrates, like Rhodes made its wealth from foreign trade and agriculture but has also turned its gaze to the tourist €. Modern delights are the order of the day although you will find Italian architecture in Kos Town and Roman ruins elsewhere on the island. Being close to Turkey, not all of the island is open to the public with regular military manoeuvres taking place on the fertile lands.
Kalymnos
was ruled over by nearby Kos in the Trojan War. Very close by its larger neighbour, it is extremely different. Life is very laid back here, and mass tourism a failed experiment as it vainly competed with Kos. You will find beautiful, almost empty beaches and locals who welcome strangers in as guests as opposed to major income sources. For those seeking adventure off the beaten track, you will do well to visit Kalymnos!
Patmos
is widely regarded to be among the most beautiful islands in the Dodecanese. Not having an airport it is very quiet too, with day trippers dominating the tourists to the island. Especially after the last day trip boat has left, you can find yourself on a stunning beach at least as good as any in Greece - but only you and your crew there. Don't be wary - you are just privileged to be on a Greek yacht charter holiday here...
Leros
has some great little coves to anchor in due to its pitted coastline. There is no commercial capital on the island as the towns are roughly equal in size. We recommend you go inland for dinner and drinks to Pandelli and Alinda as they are favoured among tourists. One peculiarity of Leros was that it was the scene of a ferocious battle in World War 2 when the Nazis retook the island from the Allies after Italy capitulated. There are bomb casings and detritus of war decorating many of the villages and homes here today as a result.
Nisyros
is the site of a still steaming volcano. Just a short drive inland you can see the steaming vents and cones that make this island so attractive. Due to the ash and lava the soil is very good and Nisyros is one of the most fertile in the Dodecanese. Day-trippers desert the island every evening so on a Greek yacht charter you may have the island almost to yourself - no bad thing for those after a bit of quiet. The local restaurants are definitely worth a visit in the evening too, as they cater almost exclusively to locals.
Tilos
has barely 100 inhabitants in the winter months which belies its rich history as the 'breadbasket of the Dodecanese'. Until globalisation destroyed `its farming in the 1970's, the rich soil made it the main wheat exporting island of the chain. A tiny island between Rhodes and Kos, it has had its own tale to tell in world history, and walkers will often find an abandoned knight's castle or two as they wander. Those who visit today tend to come for longer stays to chill out - Tilos is an almost deserted island year round.
Symi
was once busier than Rhodes due to its shipbuilding and sponge diving industries. A blight has killed off many sponges (as have artificial ones) and the industry itself. Need we speak about shipbuilding? Symi Town is extremely popular among sailors so expect to be elbow to elbow with your fellow Greek yacht charter types. Though there isn't a great water supply (just a few monasteries exist inland as well as the odd village) there are some excellent restaurants at the island's capital.
Chalki
is a limestone rock not far from Rhodes. Its sole industry used to be sponge fishing that died with the sponges and is now entirely day trip tourism. It has 300 inhabitants who make their money in the peak season and who have the place to themselves in the low season.
Karpathos
With its 1200 metre high mountain range dividing it in two, Karpathos is one of the most dramatic and beautiful islands in the Dodecanese. The mountain range splits it in two - the mountainous north with villages perched on cloud topped mountains and the lowland south. Karpathos is very wealthy owing to its children emigrating to America and sending money home so life is very laid back and other than welcoming tourists they don't need to worry too much about making the land work for them - expect instead a verdant, natural landscape that is very picturesque!
The 12 islands in the chain are in the northeast Aegean and have changed hands several times between Turkish, Italian, German, British and Greek rule over the centuries.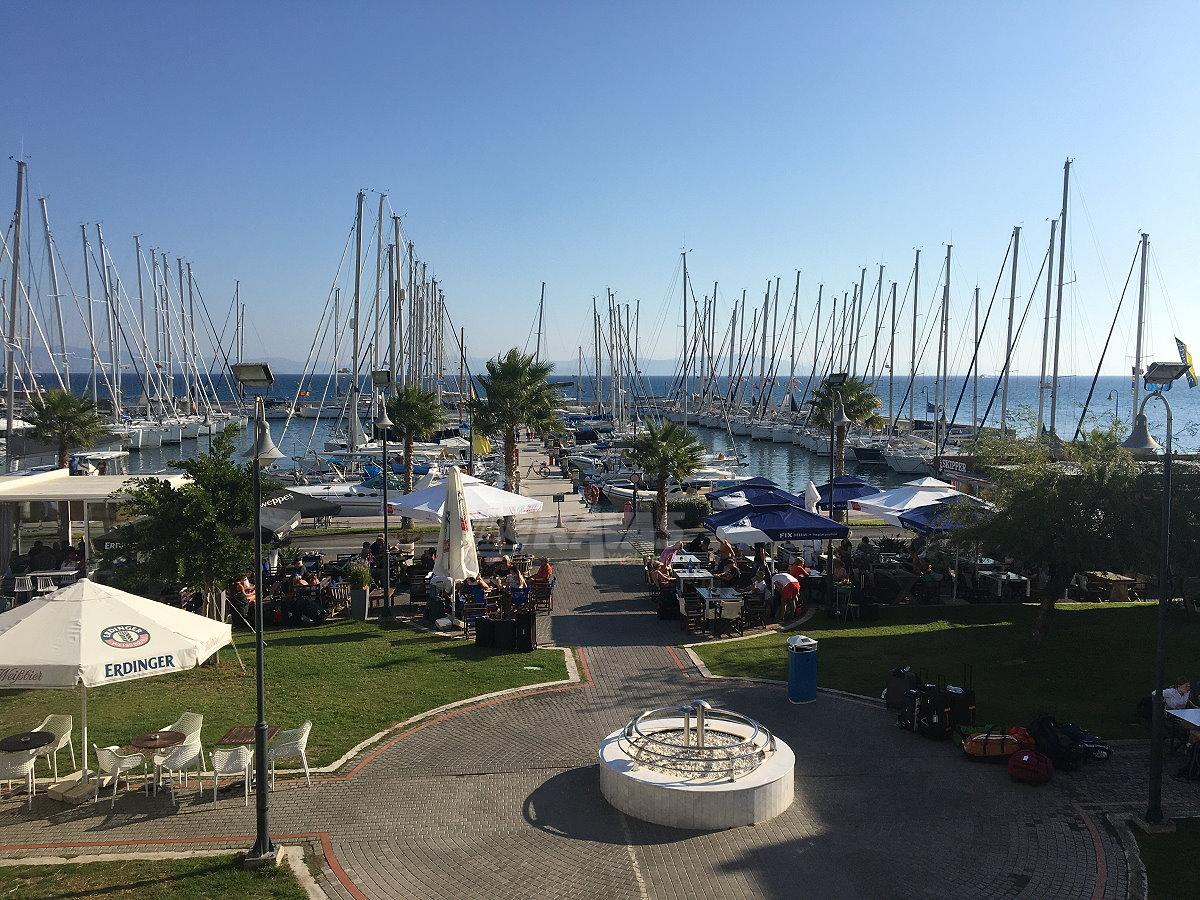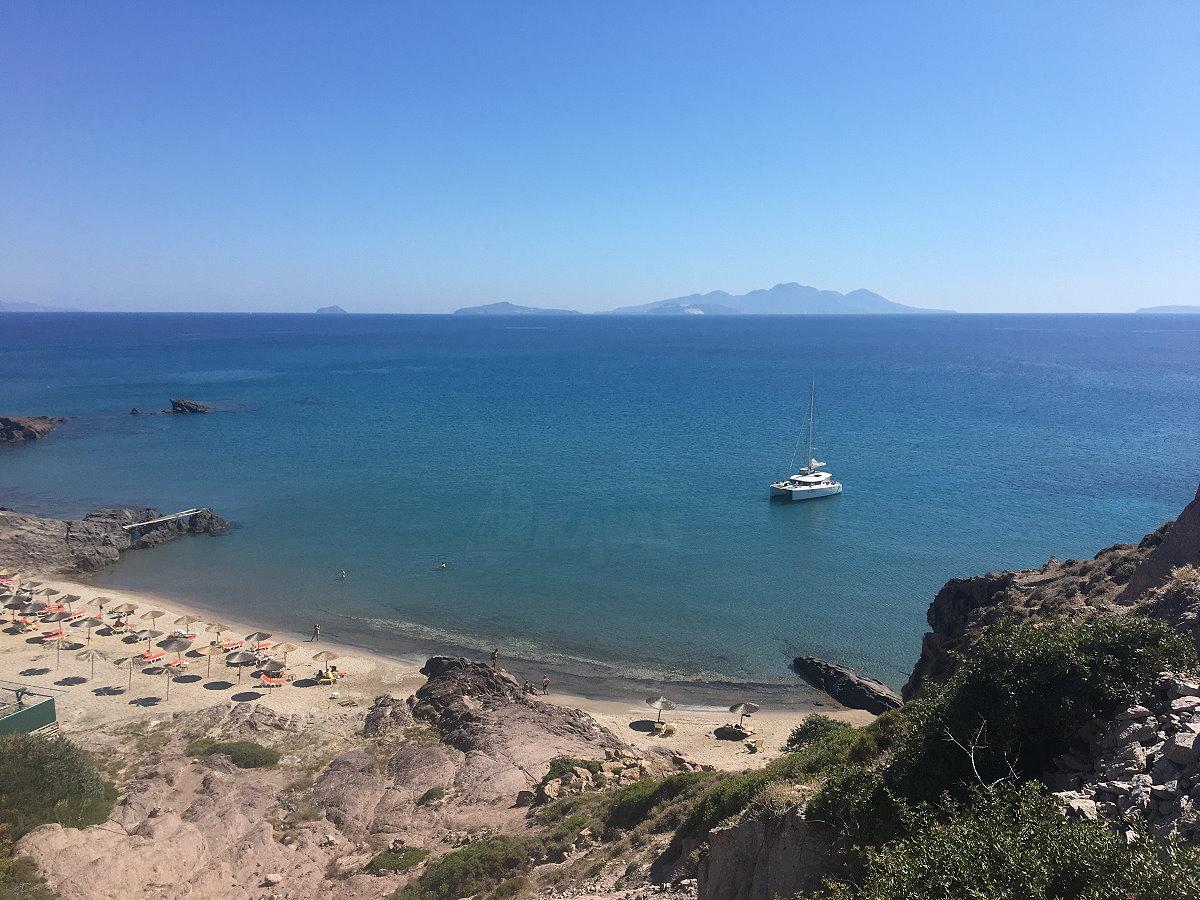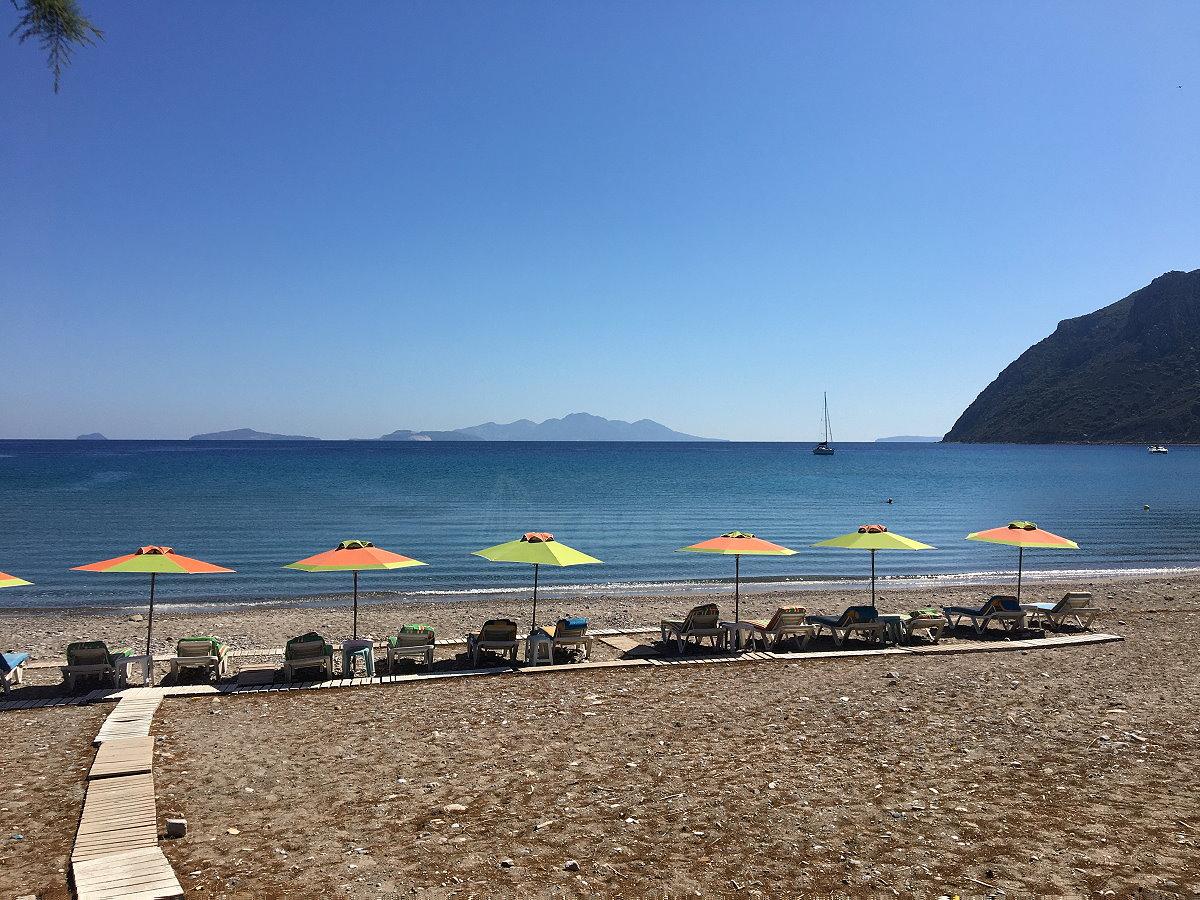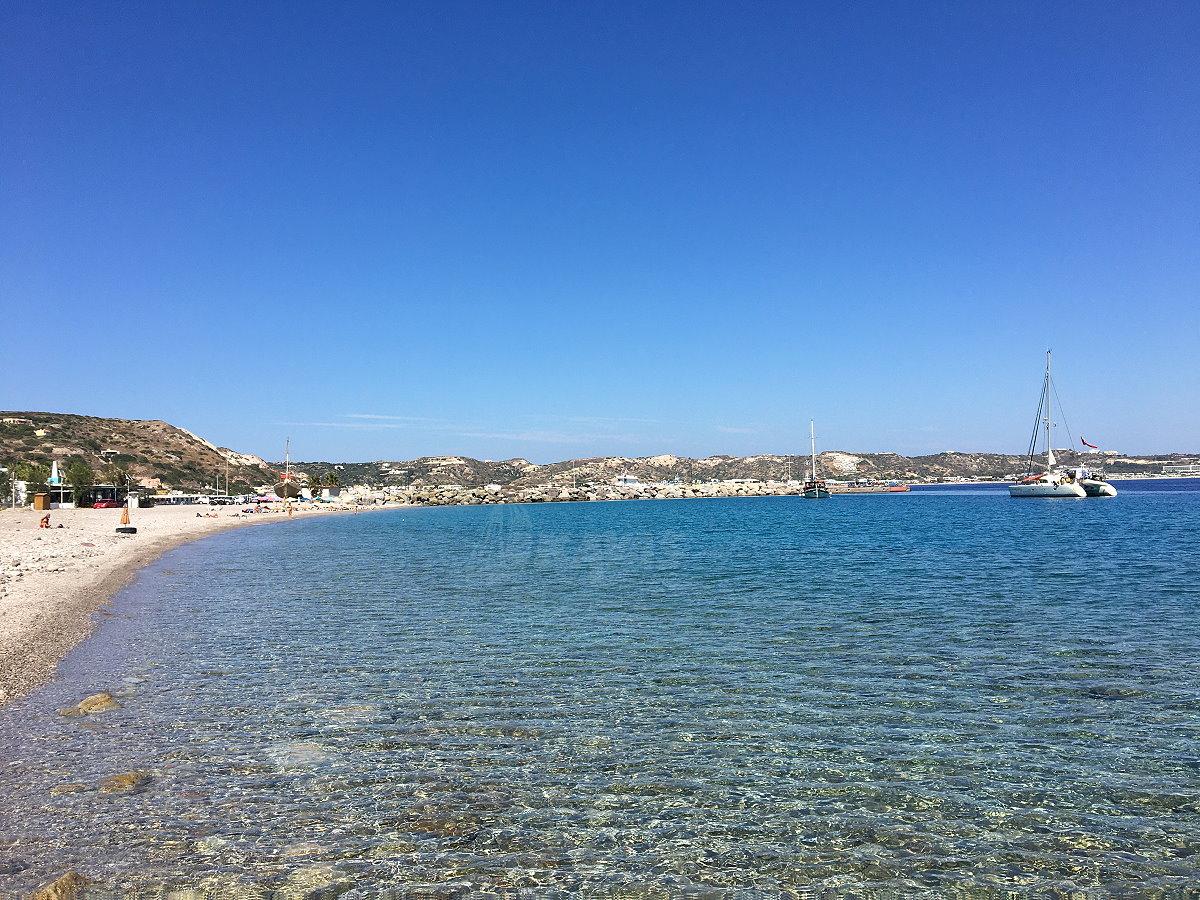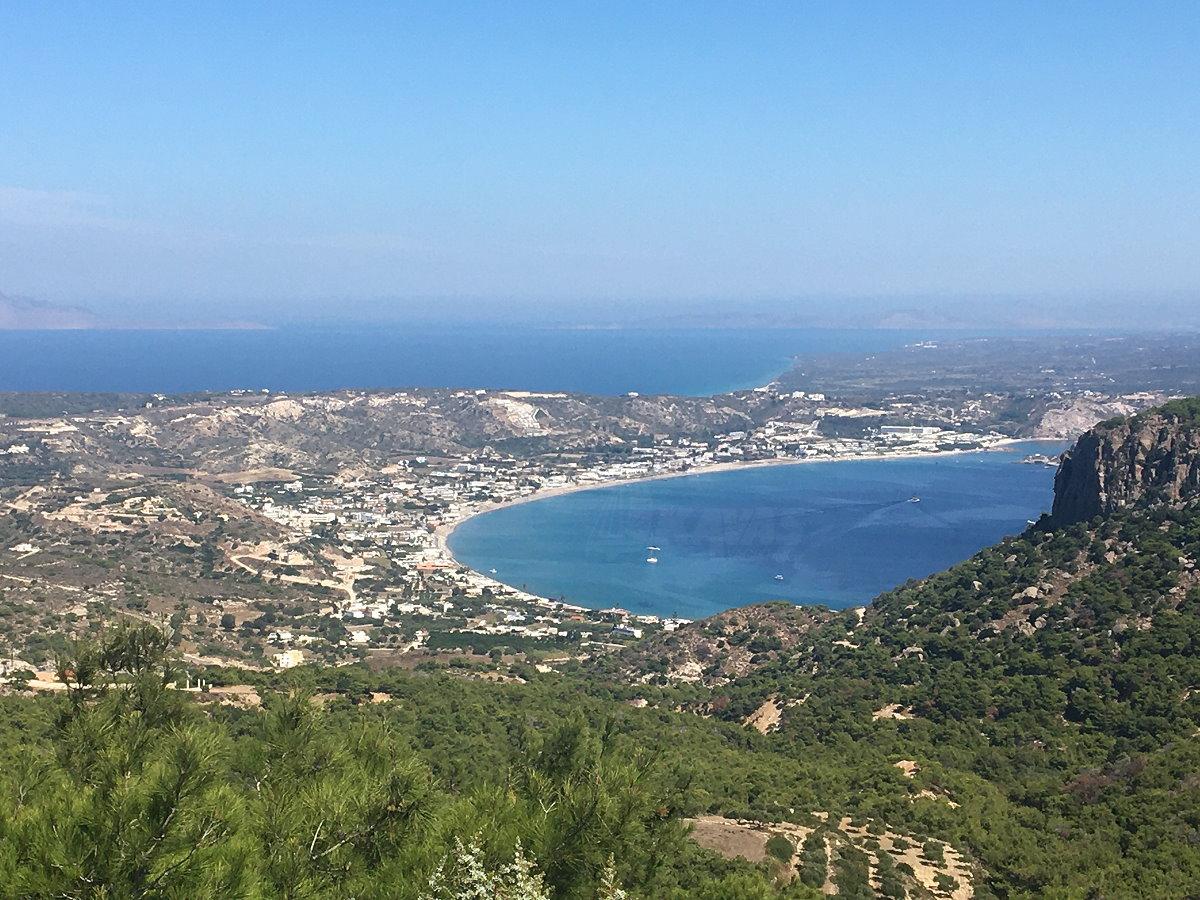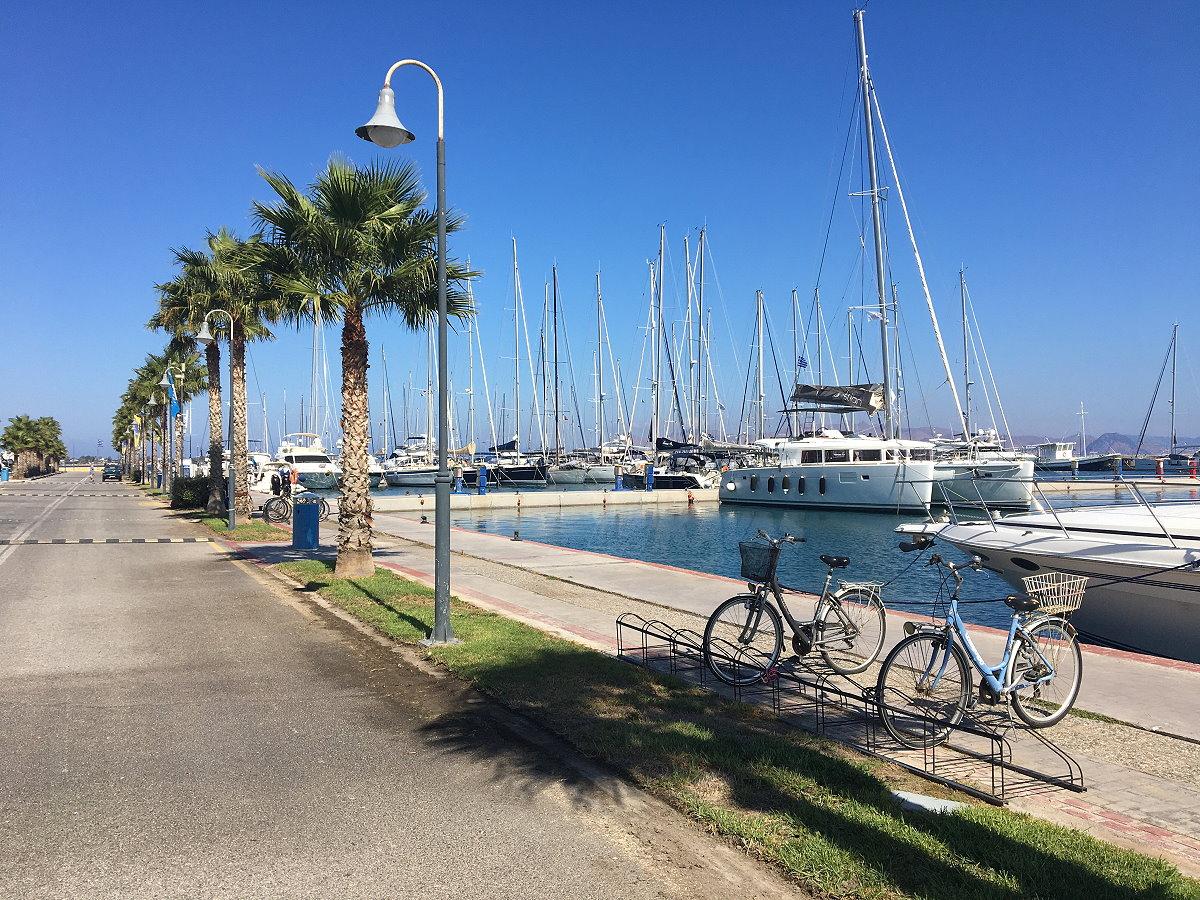 While having many of the comforts that you will want from time to time, marinas such as Kos, Rhodes, Leros and Patmos can cost around €40 per night for a typical 40ft (12m) yacht.
If you are on a large monohull or catamaran, expect to pay quite a bit more. They are also very busy so it is worth calling the marina the day before to see about reserving a berth there.
Ports will not always have showers or shore power electricity but you will pay a lot less for staying there. Expect to pay as little as €2 per night.
With the cost difference it might be a case of having one or two nights in marinas to victual and get clean, and then head for a quieter spot on most of the other nights.
Do consider a night or two in an anchorage! These will cost you nothing in many cases, and the peace and quiet, perhaps as you have a barbecue on deck will be just what you need after life in the rat race at home.
An important fact to note is that you are often sailing near the border with Turkey's national waters, so do keep your eye on your GPS.
Generally, flying the Turkish national flag instead of the Greek one is enough to avoid to speak to Turkish coastguards should they hail you.
Welcome to your one week itinerary in the Dodecanese, where you will discover four Greek islands and swim in the crystal-clear waters of the Aegean.
Please note that the map presented is not detailed enough for navigation, and you should rely on nautical charts for safety.
Your safety is our top priority, and we urge you to stay informed about any updates related to it.
Based on this itinerary, your starting point will be the island of Kos, the birthplace of Hippocrates.
From there, you will embark on an adventure to explore the beauty and culture of the Dodecanese islands.
Enjoy your journey!
CAUTION
If you have sufficient experience and the weather conditions are favorable, you will have the chance to spend the night away from the shore. However, if conditions are not favorable or if you don't have enough experience, we will need to dock in a nearby port for overnight stays.
We look forward to helping you make memories that will last a lifetime.
★ Dodecanese - One Week itinerary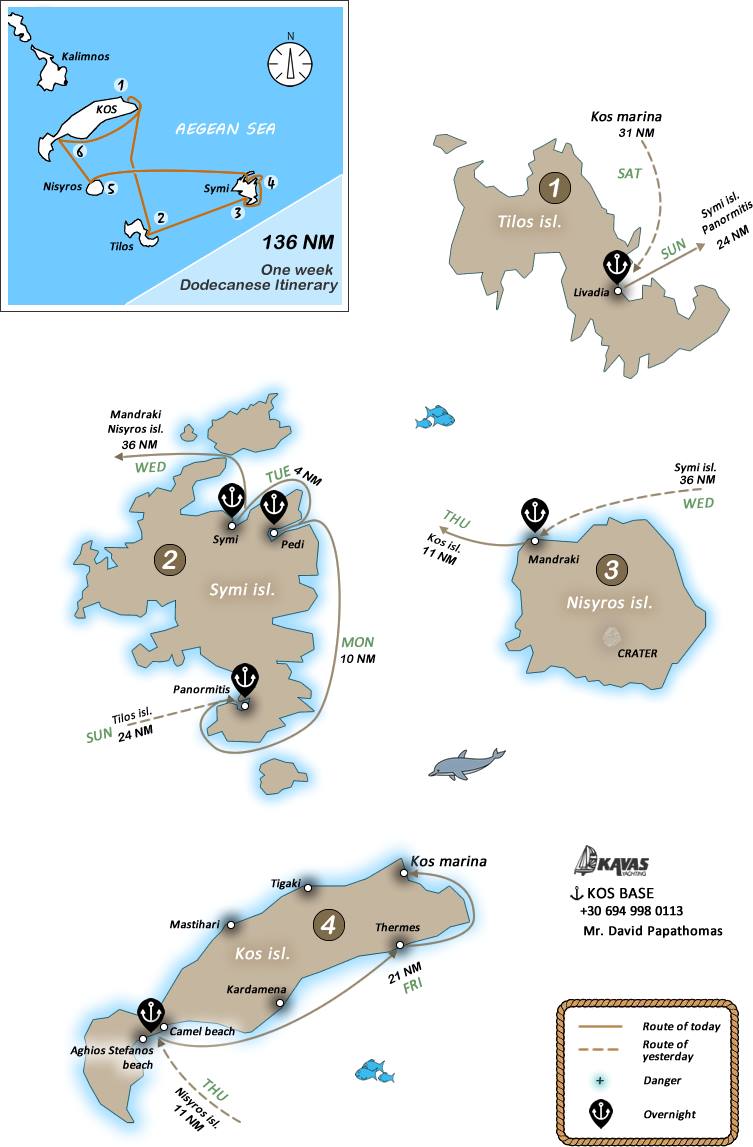 KOS ISLAND BASE
Starting Area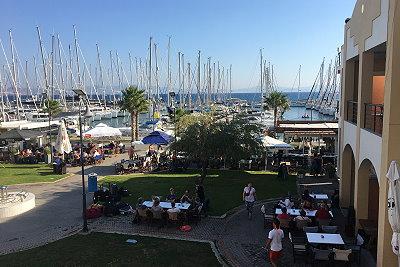 We have a wonderful yachts base in Kos Island, which is situated at the new marina of Kos town, within walking distance - 1 mile to the SE - from Kos old harbour. As one of the leading providers of yacht charter in Greece, we are very proud of our Kos Island base, which is manned with experienced and friendly personnel.
Read more