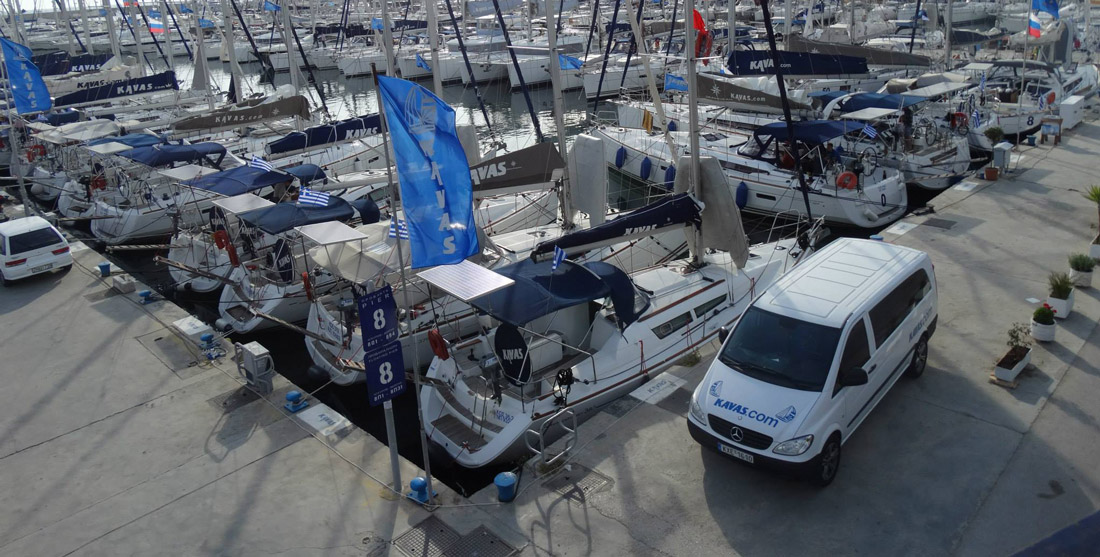 We are a well-established Greek yachting company with over 25 years of experience in our industry, offering services of yacht charter in Athens, Kos Island and Lefkas Island, as well as crane & shipyard services. Kavas Yachting was founded in 1985 by Vaggelis Kavas, a former Greek Naval officer, whose passion for yachting and the sea led him to venture into yacht charterting. It was a very humble beginning, with a tiny 30' yacht. Today, Kavas Yachting's company-owned fleet comprises more than 45 sailing yachts of all types and sizes, ranging anywhere from 61' to 30'.
The company maintains three yachts bases: a) Athens (Marina Alimos) base for yacht charter in Athens, b) Kos Island base and c) Lefkas Island base, which practically cover the ArgoSaronic Gulf, the Cyclades, the Dodecanese & South-Eastern Aegean and the Ionian Sea regions. Nevertheless, Kavas Yachting is not only about yacht charter in Athens, Kos or Lefkas islands.
Kavas Yachting is the only yacht chartering company in Greece to be able to offer a universal charter yachts service: a) Yacht chartering (bareboat, skippered or cabin charter), b) Charter management for third parties, b) Crane service and b) Shipyard services. Crane & shipyard services
Kavas sailing in greeceThe company owns five (5) cranes for lifting/launching yachts from/into the sea, as well as two (2) travel lifts (70t & 150t), while it also has a unique hydraulic remotely-controlled self-moving trailer that can haul and place in position yachts of up to 85 tonnes each. Needless to say, there is also a small fleet of trucks and trailers to support our numerous crane & shipyard activities.
Our major crane & shipyard activities take place in Athens, but we also provide crane and travel lift services in Lefkas Island and Kos Island. As soon as we lift and move a yacht - monohul sailing boat or cruiser, or catamaran - into the Marina Alimos shipyard, our service and maintenance team takes over, in order to perform all work necessary in order to bring the yacht in top shape. Marina Alimos is the largest marina in Greece; every year, Kavas Yachting undertakes more than 50% of the crane and shipyard services bought by its yacht professionals. Hence, it is only natural that we do our own maintenance work to our boats, which is why they are always at their best!
Why Choose Kavas Yachting
You can trust Kavas Yachting without hesitation, the expert company offering yacht charter in Athens, Kos Island and Lefkas Island.

GTO
Kavas Yachting is a certified partner of the Greek Tourism Organization

HYBA
Kavas Yachting also is a member of the Hellenic Yacht Brokers Association

HPYOA
Member of the Hellenic Professional Yacht Owners Association

SITESAP
Member of the Greek Professional Yacht Owners Bareboat Association