Ionian Islands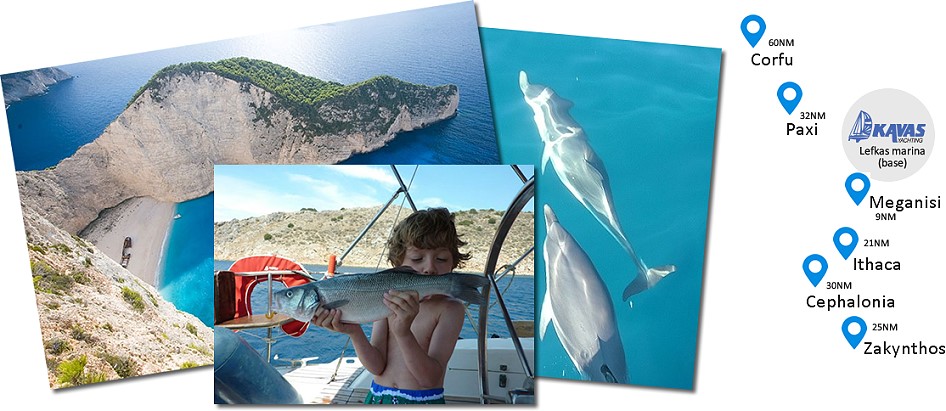 You have the choice every day between heading for the hustle and bustle of a busy town, or chilling out in peace and quiet off an uninhabited island. The islands being often only 2-3 hours sailing apart you can stay a little while or a lot longer – the world is your oyster.
Where the Aegean is known for its green shallow waters, the Ionian has the deepest water on the Mediterranean with its deep blue waters measured at 4406 metres at one point.
With its gentle Maistro sea breeze and its deep azure waters, sailing the Ionian is as good as you will find anywhere in the world. Accessible with only a few hours travel from most of western and northern Europe, it is a jewel that can easily be reached too.
The Maistro wind picks up every morning at around 9 and settles to a zephyr at around sunset in the evening. Chartering a yacht with Kavas Yachting this is perfect as you are discouraged from sailing after sunset, but equally this means you can enjoy sailing by day and the flavours of the region by night in perfect synchrony with the sailing conditions. Unlike the Meltemi on the Aegean the winds never really get above a Force 5 in the summer (though in winter it can get quite angry). In summer this makes for some of the best sailing conditions you will find in the world at that time of year.
For sailors this means you can have a great time sailing yet enjoy a restful evening with barely a ripple rocking the boat.
The Greek islands of the Ionian lie at a maritime crossroads and have been dominated and brought into a number of empires over the centuries. Home of the Minoans in pre-history they became part of the Roman and then Corinthian empires. In the last 500 years the islands have been part of the Venetian, French and British empires with a brief and brutal occupation by the Nazis around World War 2. While now firmly a part of Greece, it won't take long for you to see, smell and taste flavours from times long ago with their rich cultures of the past interwoven with the ones of today.
More recently in 1953 there was a devastating earthquake in the region that took 453 lives and flattened most of the buildings on Kefalonia and Zakynthos. While the buildings are new, the fascinating culture remains intact as not even the movements of the Earth can change human nature…
Sailing around the Ionian islands today you will find a heady mix of hedonism and relaxation. Some islands have both peace and quiet and partying – it is just a case of mooring up at the right spot to get what you need. There are waterside cafes where locals will leave their coffee for a moment to help you moor up in the Mediterranean style, and there are islands with no one at all living there except yachts people seeking solitude. Whether your attitude to partying is 'go hard or go home' or you like a more gentle pace to life, you will find all you need as you cruise the azure waters of this beautiful part of the world.
Let's get a flavour of what you might find below:
LEFKADA ISL. (Ionian isls. base)
To the east of this awesome island you will find some of the best nightlife in the region, where those seeking peace and quiet will find some of the most beautiful swimming waters to the west of the island. Dominated by the Venetians for a time, Lefkada City has a strong resemblance to cities found in Italy today.
Throughout summer there are festivals and attractions that you will catch depending on the time you arrive. You may want to spend 24 hours here or stop by twice for different flavours of the same island.
As well as Lefkada City, drop by Sivota. A small town in a natural harbour on the island of Lefkada this is a worthwhile stop as you cruise the Ionian. You will find some very good tavernas that won't break the bank while serving you a sailor's bellyful of good food. Also stop by Vasiliki to the west of Sivota, one of the best kite surfing and windsurfing locations in the world. Meeting the demands of a young, energetic crowd there is a very good evening and nightlife to be had there too.


PAXI ISL. - Distance from Lefkas marina: 32.8NM
Said to be the home of the Greek god of the sea Poseidon (who according to legend broke it off the tip of Corfu with his trident), Paxi is a jewel of an island to the south of Corfu.
While not one of the largest islands it is steeped in European culture with a British Governor's mansion, a Venetian fortress and several stunning churches and museums, the culture vultures will have a lot to choose from. Those visiting for the pleasures of today will find a gentle nightlife but very good, affordable food and friendly locals…
Protected from the elements by an islet just outside the natural harbour, the town of Gaios is a great spot to stop by during your visit to Paxos.
Those seeking to get away from cafes and restaurants should drop by the nearby uninhabited island of Antipaxi which is renowned for its swimming and beaches.
Another harbour on the island is Lakka. Again, almost completely protected from the elements due to the shape of its harbour, you can come in to rest from a hard day's sailing. Locals especially recommend the Italian restaurant called La Bocca D'Oro. A water taxi service can take you round most of the rest of the island too, as you learn just why Poseidon decided to set up home here!


KEFALONIA ISL. - Distance from Lefkas marina: 27.5NM
The largest of the Ionian islands, Kefalonia is rich in culture and geology. While much of its architecture was destroyed (as well as hundreds of its citizens) in the 1953 earthquake, many of the buildings were replaced sympathetically to the culture of those who live here.
You can climb the largest mountain on the island, Mt Ainos in a few hours before enjoying the famous Robola wine from grapes grown on the mountain's slopes. Swim in the gorgeous waters, watch the rare sea turtles and monk seals, and chill out enjoying the culture that stems from thousands of years of history of survival and conquest.
While cruising around the island drop into Fiskardo that can host a large number of yachts so you won't have to search for a spot elsewhere most of the time. The restaurants, coffee shops and souvenir shops are excellent though locals point out that it can be extremely expensive, with one coffee shop charging €7 for two cappuccinos!
For those seeking respite from the hustle and bustle, drop by Poros for the sights and sounds of a quiet and friendly fishing village where you can rest your mind and wallet…


CORFU ISL. - Distance from Lefkas marina: 62.0NM
Home of the first university in Greece, Corfu is one of the most cosmopolitan islands of the Ionian. It is also one of the only islands that the Ottomans didn't conquer and repress in Greece. It was however invaded and dominated by the Romans, Venetians, French. To this day then island has a very British leaning firstly as part of empire and then as a very popular British holiday resort in part due to author Gerald Durrell recounting his eccentric family's experience of the island in the 1930's in his book My Family and Other Animals. Whether you are seeking culture that dates back to the Minoans and Romans or you are seeking pleasures of today, you will find what you seek on this very colourful island. For those feeling energetic you can walk some of the Corfu Trail that can take 10 days to do end to end, while those seeking beaches and sunburn are spoiled for choice with a vast array to choose from. Those seeking boutiques and elegant cafes should get down to Corfu Old Town, a UNESCO World Heritage site.


ZAKINTHOS ISL. (or Zante) - Distance from Lefkas marina: 60.3NM
Locals advise that you should hire a car and spend two days to get a good flavour of this rich and beautiful island's geography, history and culture. Wars have been fought over it – notably the newly independent Greece chased the British Empire away in 1864, bringing it under Greek control.
Those seeking ancient architecture will be somewhat disappointed as, as with nearby Kefalonia it was hit very hard in the 1953 earthquake and much of its buildings old and new were flattened. While not original, locals rebuilt their homes and businesses in the way that they loved and you will see pretty but modernised homes and shops throughout the island.
For those seeking sun, sea and sand, get to Navagio for its stunning beach and nearby Blue Caves. The sand at the beaches of the southern side of the island is of such good quality that the Caretta Caretta sea turtle lay eggs on the beaches, meaning that at certain times of the year you will see nature release baby turtles into the sea…
The nightlife is a delightful mix of outright hedonism and gentle fun – seek and you will find.


KALAMOS ISL. - Distance from Lefkas marina: 18.4NM
A quiet, sleepy island where you can moor in one of the three main ports of Kalamos Port, Porto Leone, or Episkopi, you can chill out quietly after a great day's sailing. Rent a bicycle to see some of the ruined settlements and places of a bygone era, and enjoy the deserted yet stunning coastline at your leisure. It has been a place of retreat and different times of history, notably when refugees from the 1821 War of Independence arrived from the Peloponnese and neighbouring islands to escape the worst of the fighting. For those with sore heads from hard partying today Kalamos will be a welcome retreat too
MEGANISSI ISL. - Distance from Lefkas marina: 10.4NM
While many of the Ionian islands have homes, hotels and restaurants built hundreds of years ago, Meganisi is notable for its modern architecture. Even so it is an extremely popular destination and the nightlife can be a lot of fun! The island is small and very popular with yachts, whose crews can easily walk to one of a number of beaches and attractions from wherever you choose to moor. Do seek out the giant sea cave of Papanikolis which is so deep and large that during World War 2 it is said that submarines used to hide out there away from bombs and surveillance. You can sail in there on your tender and sit on the beach inside. A mid-point between head spinning hedonism and rest, you can enjoy some of the amazing fish restaurants and party til late or just relax and enjoy the great beaches and culture.
ITHACA ISL. - Distance from Lefkas marina: 24.2NM
According to legend this is the home of Ulysses and visiting this stunning place, you will come to understand why he chose this over the other islands. One local said of the town Vathi, "I love the evening life there, with the people sitting in the tavernas, ready to give you a hand when you will try to moor. They're able to help you tight your lines and after this they get back to their table. Get out, have a lovely dinner, have a walk between children playing and screaming, enjoying a tasteful ice cream." Do drop by the beaches of Filiatro, Sarakiniko and Agios Ioannis that are some of the best in the region, while sailors will find some secluded coves for a quiet swim away from the hubbub of landlubbers who don't have such a choice. Sail to the beach of Gidaki that has no road access and only the most adventurous can access this by boat.
For those feeling energetic, there are hiking paths leading to quiet villages inland.
SCORPIOS ISL - Distance from Lefkas marina: 8.5NM
Unusually for a Greek island the advice is to stay at least 2km offshore and do not come closer. Originally owned by shipping magnate family the Onassis it has recently been bought by the Russian oil billionaire Ekaterina Rybolovleva whose armed thugs get extremely aggressive with those who seek shelter there. Where in Greek mythos the unwary were turned into stone by Medusa, this is the home to very modern, and extremely unfriendly inhabitants.
PARGA - Distance from Lefkas marina: 30.0NM
The mainland town of Parga is on the Ionian and has many of the delights to be found elsewhere on this bewitching and wonderful sea. You will find pretty buildings right up the steep hillside in an 'amphitheatre' shape around the coast. While there are the ruins of a large Venetian castle and remnants of other cultures that passed through in history, those visiting today will find excellent beaches, great shopping and a range of nightlife to suit everyone's needs. It is one of the most appealing towns on mainland Greece and is a must do for those sailing around the Ionian. Don't forget to drop by the islet of the Virgin Mary that lies just offshore, protecting those anchoring from the elements.
| | | |
| --- | --- | --- |
| | | |
| 1. Lefkada - Sivota 15.5 NM | 1. Lefkada - Paxi 33.7 NM | 1. Lefkada - Fiskardo 24.7 NM |
| 2. Sivota - Vasiliki 7.6 NM | 2. Paxi - Lakka 4.6 NM | 2. Fiskardo - Poros 20 NM |
| 3. Vasiliki - Poros 8.5 NM | 3. Lakka - Corfu 32.5 NM | 3. Poros - Zakintos 23.9 NM |
| 4. Poros - Kalamos 13.5 NM | 4. Corfu | 4. Zakinthos |
| 5. Kalamos - Meganisi 12.5 NM | 5. Corfu - Sivota 23.5 NM | 5. Zakinthos - Vathi 41.5 NM |
| 6. Meganisi - Scorpios 3.0 NM | 6. Sivota - Parga 12 NM | 6. Vathi - Meganissi 21.0 NM |
| 7. Scorpios Lefkada 9.0 NM | 7. Parga - Lefkada 30.8 NM | 7. Meganissi - Lefkada 10.5 NM |

© 2015 Kavas Yachting. All Rights Reserved.