Saronic Gulf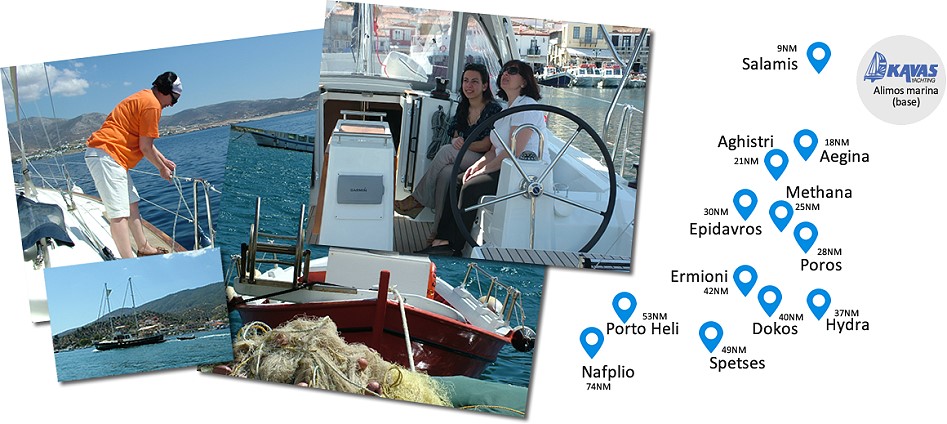 Sailing is popular in the Saronic Gulf which, like the neighbouring Argolic Gulf, benefits from the Attic mainland's partial shelter from the summer Meltemi wind that can reach Force 7 and above further to the east in the Aegean islands.
The Saronic Gulf has a delicious mix of great sailing, ancient culture and nightlife that goes from dusk to dawn. You will be able to sail between the mainland and islands in just a few hours, with the mainland sheltering you from the feisty Meltemi winds that can hit Force 7 in summer.
As with most sailing charters with Kavas Yachting, you will have the choice every day between busy, loud and fun destinations or quiet, laid back and chilled out spots. You may wish to enjoy the relative silence of an uninhabited island or the dusk to dawn partying depending on your mood.
The Saronic Gulf has been the centre of many turning points in Greek history. Nafplio was the Capital of Greece before Athens, while Spetses played a major role in the 1821 War of Independence. You can visit the site of what is widely held as the oldest known shipwreck in the world (2700BC) on a virtually uninhabited island or a cave that was used by man 5000 years ago.
Though Greece is famed as one of the cradles of civilisation, we know that not everyone likes to wander around museums and archaeology. Why not taste our fine local food? You will be spoiled for choice, eating the full range of seafood and fresh local farm produce that abounds in the region.
For those who seek a modern day bacchanalian adventure, there are many villages and towns that wake up at sunset and are alive until sunrise. Not everyone can stand the pace of hard partying for days on end, so the best thing to do is to pace yourself between the odd hard session, a quiet evening eating under the stars at anchor and dining out at a quaint local restaurant.
As to the sailing? What can be more fun than island hopping at your own pace away from the strict itineraries of ferries and public transport? It may only be a few hours between departure and destination so you can leave when you feel ready and enjoy the journey as much as arrival. The Meltemi wind can make for really fun sailing, perhaps under a reef or two as you blast along in the green, clear waters of the Aegean. Some of the anchorages are challenging and others are extremely busy (so an early afternoon arrival may be necessary), while others are some of the best in Europe.
Let's look at some of the islands, towns and villages you will likely drop by on your sailing adventure around the Saronic Gulf:
AEGINA ISL. - Distance from Alimos marina (Athens base): 18NM
One of the most beautiful islands on the Saronic Gulf, and home to the annual four day Fistiki (pistachio nut) festival in September, Aegina is just a short hop from the mainland and Athens. With a mix of good nightlife and great beaches, this is a very good stop on your way out into the region by sea. While the main anchorage in Aegina town is poor, you should try Aghia Marina, Perdika or Vathia and explore the island from there.
Port authority phone: 22970 22272.

Must visit anchorages:
- Perdika: The bay is an attractive place! Get here early and take some time off for a walk around the village and a beer on the seafront!
Good tavernas on the waterfront, some of which specialize in seafood!
- Aghia Marina: provisions, tavernas, swimming
AGHISTRI ISL. - Distance from Alimos marina (Athens base): 21NM
This is a short hop from Aegina, and may be visited as an alternative to Aegina or as part of a two island day while you select your favourite spot to stop for the evening. The sailor should beware of the shallow waters that can make for safe bathing for children but can be a headache for navigation! Skala is the main town on the island, but for those seeking a quieter time they can head for Milos (Megalochori).

Must visit anchorages:
- Megalochori: provisions, tavernas, swimming
- ⚓ 37°41'N 23°21'E: swimming, snorkeling
- Skala 37°42'N 23°22'E: swimming, snorkeling
HYDRA ISL. - Distance from Alimos marina (Athens base): 37NM
Locals say that if you are visiting the Saronic Gulf you should definitely stop by in Hydra! There are no cars on the island though this is more than offset by its popularity among tourists as a must see in the region. Hydra Town has some of the best tavernas in the region, as well as museums, jewellery shops and narrow streets you can explore at your leisure on foot. For those seeking peace and quiet, head to Mandraki Bay where the sole taverna is also the only shop
Hydra port authority phone: 2298052279

Must visit anchorages:
- Mandraki, 37°21'N 23°28'E, swimming, snorkeling
- Molos, 37°19'N 23°24'E, swimming, snorkeling
- Aghios Nikolas, 37°17'N 23°23'E, swimming, snorkeling
DOKOS ISL. - Distance from Alimos marina (Athens base): 40NM
At the 2011 national Census, Dokos had a population of 13 people, mostly Orthodox monks and shepherds. Virtually uninhabited, this is a great place to chill out, perhaps after a hard few days of partying. Just off the coast is the site of what is widely reckoned to be the oldest known shipwreck in the world, that dates back to around 2700 BC. The sailor should note that there is no water on the island for yachts so you should have a good supply before you visit.

- ⚓ 37°20'N 23°20'E, swimming, snorkeling ★★★★★
POROS ISL. - Distance from Alimos marina (Athens base): 28NM
The small volcanic peninsula on which Poros town is built was known in ancient times as Sphaeria.
One of the first things a sailor will spot as they head into the main port in Poros is the clock tower in amongst the pine trees that cover the island from coast to coast. Poros is also home to one of the main Greek Navy training academies at Progymnastirio. Poseidon's Temple, dating back to 520 BC is well worth a visit for the culture vultures, while there is ample choice of good tavernas and nightlife for those who want to party. For those seeking a quieter spot to anchor at night, try anchoring of Askeli Beach
Poros island port authority: 22980-22274

Must visit anchorage:
- Askeli 37°30'N 23°28'E, swimming, snorkeling
SPETSES ISL. - Distance from Alimos marina (Athens base): 49NM
While this has a rich history and can be fun, locals in the region rate this as an 'average' destination. It is notable for playing an important part in the 1821 War of Independence and in September one will see the re-enactment of a famous sea battle that took place just off the coast. Spetses is also famous for its athletics, and in April holds an athletics competition. Sailors will find that they must only anchor in the old port and have to use your dinghy to get ashore
Port authority phone: 2298075025.
Available services: refuelling/water/provisions

Must visit anchorages:
- ⚓ 37°14'N 23°09'E, swimming, snorkeling
- ⚓ 37°16'N 23°07'E, swimming, snorkeling
EPIDAVROS - Distance from Alimos marina (Athens base): 30NM
A very good place to rest and recover, Epidavros is a fishing village with some fantastic seafood to be had at the local tavernas. In ancient times the most important port in the Peloponnese it is a gentle backwater now. For those into the history of Greece, Epidavros village is only 15km away from the 4th Century BC theatre of Epidavros that is known for its amazing acoustics
ERMIONI - Distance from Alimos marina (Athens base): 30NM
This town on the Peloponnese mainland is on a peninsula hand has sea on three sides. There are three main parts to the town – the commercial port of Limani, Mandrakia with its buzzing nightlife and the thoroughly chilled out Bisti where one can snorkel, enjoy the archaeology and pine forest. As such Ermioni has whatever you seek from all night partying to serious resting. The sailor will moor off the Mandrakia waterfront and is free to explore from there
ASTROS beach The further you walk up the beach from Paralios Astros, the further from the rush and bustle of civilisation you get. It will be a long walk too – the beach is 10km long and you can totally escape your fellow tourists by walking as far as you feel comfortable! Anchoring away from the hustle and bustle is possible here as well so you don't need to tire your legs out. Paralios Astros is the port for the inland town of Astros, where amongst other things you can enjoy the Roman ruins there
NAFPLIO This was the Capital of Greece before Athens and as such has a rich history and modern culture. Held by some as 'one of the most elegant and romantic cities in Greece' you can enjoy a drink at one of its lively bars, clubs or cafes and watch the sunset over the mountains. For those who have been at sea too long this is definitely a place to visit, a cosmopolitan fix for the culture weary
MONEMVASIA You will see Monemvasia long before you arrive, with its large rock just offshore where the medieval village of the same name lies. Linked by bridge to the mainland where the new town lies, there is an obvious choice for those who seek modern or older culture. Do you want to visit ancient Orthodox churches? Wander around the medieval town. Want to party til dawn? Drop into the new town and enjoy the modern tavernas, and cafes where you can taste the best of the local food.
KITHIRA While one can enjoy the beaches and fine food of the main town of Kithira, it would be a shame to miss the ancient roots of the town. You should definitely visit the caves of Chousti where there have been traces of mankind as far back as 5000 BC. There are also Minoan tombs at Paleopoli and the Byzantine city of Paleochora. For those seeking a laid back, and interesting visit with your camera you will certainly be spoilt for choice
| | | |
| --- | --- | --- |
| | | |
| 1. Alimos - Aghia Marina 12.9 NM | 1. Alimos - Poros 29.0 NM | 1. Alimos - Aegina 17.0 NM |
| 2. Aghia Marina - Perdika 8.0 NM | 2. Poros - Spetses 26.8 NM | 2. Aegina - Aghistri 4.1 NM |
| 3. Perdika - Aegina 3.8 NM | 3. Spetses - Ermioni 9.9 NM | 3. Aghistri - Epidavros 10.5 NM |
| 4. Aegina - Aghistri 4.2 NM | 4. Ermioni - Hydra 9.8 NM | 4. Epidavros - Poros 21.4 NM |
| 5. Aghistri - Epidavros 10.8 NM | 5. Hydra - Epidavros 32.9 NM | 5. Poros - Spetses 27.3 NM |
| 6. Epidavros - Poros 21.0 NM | 6. Epidavros - Aghistri 9.0 NM | 6. Spetses - Nafplio 25.0 NM |
| 7. Alimos marina 29.0 NM | 7. Alimos marina 20.6 NM | 7. Nafplio |
| | | 8. Nafplio - Leonidio 25.2 NM |
| | | 9. Leonidio - Monemvasia 33.5 NM |
| | | 10. Monemvasia - Hydra 46.6 NM |
| | | 11. Hydra |
| | | 12. Hydra - Poros 12.3 NM |
| | | 13. Poros - Aegina 15.7 NM |
| | | 14. Alimos marina 17.0 NM |

© 2015 Kavas Yachting. All Rights Reserved.