OCEANIS 46.1: European Yacht of the Year 2019
The winner of the European Yacht of the Year 2019 in the Family Cruiser category in the"Flagship Night" ceremony of the Düsseldorf 9 boot was the OCEANIS 46.1
The 19 candidate vessels that claimed the title were tested in Spain last October by yachting journalists, represent the following 5 major categories:
Family-Cruisers
Performance-Cruisers
Luxury-Cruisers
Multihulls
Special Yachts
Kavas Yachting has already added five of these magnificent yachts in its fleet!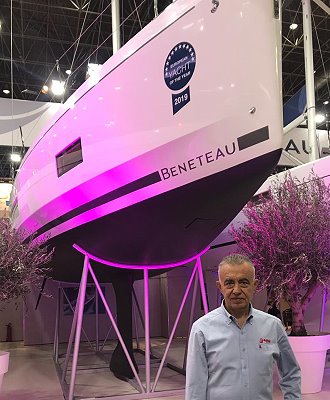 Get to know Oceanis 46.1
With Ocanis 46.1, Beneteau replaces the also wonderful Oceanis 45, wanting to offer as much as possible to the family vacation by boat, in terms of space, elegance & performance.

The large space of the boat is due to its large hull, while a large number of smartly designed components aim at usability through luxury.
Ocanis 46.1 design
The vessel's design was provided by Finot-Conq, who created the perfect means for floating family holidays.
The mast has been extended by one meter, widening the surface of the sails by 28%.
The fairly spacious cockpit features 2 reel wheels for unobstructed contact with sails and the route, while the big folding table at the cockpit lounge will serve the needs of 8 guests for their food and drinks.
The two reclining sun loungers on the front of the cockpit are also quite impressive.
Cruising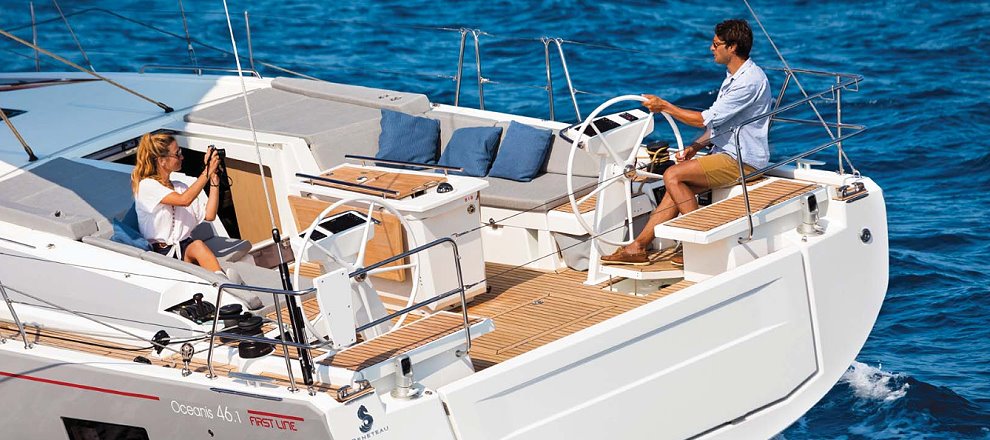 Cruising is not a problem and is particularly comfortable as the well designed hull keeps cruising smooth, even in bad weather, while the deep lead-bulb keel significantly reduces drag.
Moving on the deck is safe and carefree, even in difficult conditions.
Moving urgently to the bow, if needed, can happen instantly.
Ocanis 46.1 interior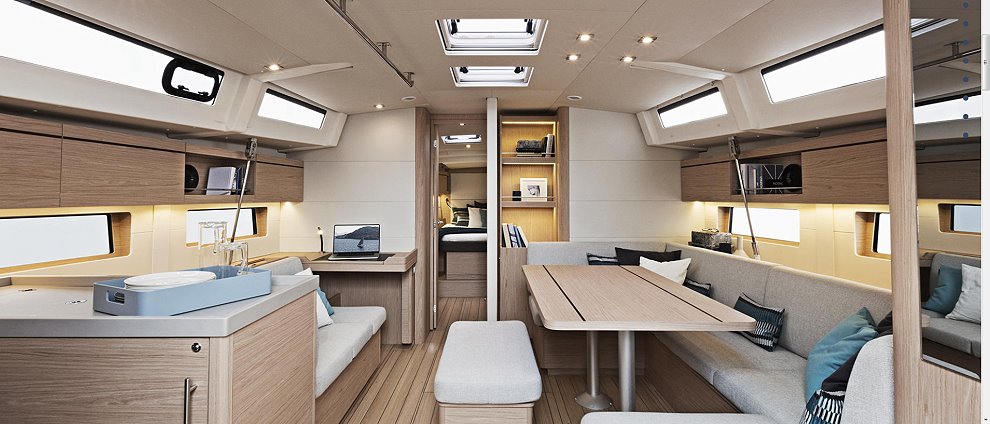 Going down the inside ladder, you will immediately see how much natural light fills the room thanks to the large hull portholes.
The luxury interior does not fail to impress, with impeccable combination of wood brushed oak with metal parts.
The particularly large table is ideal for even a big group of guests, whether it comes to dining or enjoying drinks.
Ocanis 46.1 details
5 Cabins,
8-12 Berths
3 Heads
Length Over All: 14.60m
Hull Length: 13.65m
Hull Beam: 4.50m
Light displacement: 10 597.00
Fuel tank capacity :200 L
Fresh water capacity:370 L
Max Engine Power (Hp):57 CV
Send a Request or Book this yacht now and enjoy the Greek islands: