Wine and winemaking in Greece
Good wine makes man wiser and the soldier braver.
Aristotle
The wine in Ancient Greece
Wine and winemaking were an important part of ancient Greek culture. The Greeks believed that wine was a gift from the gods, and they used it in religious ceremonies and social gatherings.
Greek god of wine, Dionysus, according to Greek mythology, was the first one to invent viticulture.
The Greeks had a deep knowledge of winemaking techniques, and they made a variety of wines using different grape varieties and production methods.
Wine played an important role in Greek literature and art, and it was often used as a symbol of luxury and pleasure.
Wine culture has been strongly linked to Greeks either through their philosophical texts, such as Plato's Symposium, or through their Dionysian cults which became popular throughout the Mediterranean from 1600 BC until year 1 AD.

Modern Greek wines
Greek wine has made significant strides in recent years, elevating its status among other international wines.
While Greece may not have the global recognition and market share that countries like France and Italy have, its unique grape varietals and terroir produce wines with distinct flavors and aromas.

One of the characteristics that sets Greek wine apart is the use of native grape varieties, some of which are not found anywhere else in the world!
These grapes have adapted to the Greek climate and soil, resulting in wines that have a distinct sense of place. For example, Assyrtiko, a white grape variety grown primarily in Santorini (Cyclades), produces wines with a unique minerality and acidity that are not found in other white wines.
In terms of winemaking techniques, Greek wine producers have embraced modern methods while still respecting traditional practices. This has resulted in wines that are both innovative and steeped in history. Many producers have also adopted sustainable and organic farming practices, emphasizing the importance of protecting the land and environment.
Overall, Greek wine offers a unique perspective on winemaking and a range of flavors and styles that are worth exploring. While it may not have the same global recognition as other wine-producing countries, it is a rising star in the industry and offers a taste of Greece's rich culture and history.
Greek island cuisine and wine pairings
Greek cuisine is closely connected to Greek wines, especially on the islands and each island has its own specialties and local products, including wines.
The pairing of Greek dishes with Greek wines is an art in itself. For example, a local dish on the island of Crete, Dakos, is best paired with a crisp white wine like Assyrtiko.
Similarly, on the island of Santorini, the famous dish of grilled octopus goes well with the island's signature wine, also made from the Assyrtiko grape.
Greek wines are often made with indigenous grape varieties, which are unique to the country, and there are over 300 different grape varieties grown throughout Greece. This diversity of grapes means that there is a Greek wine to pair with every Greek dish, making dining on the islands a true culinary experience.
here is a brief reference of some of the most popular Greek wine varietals and the types of dishes they pair well with:
ASSYRTIKO: a white wine from Santorini that pairs well with seafood, grilled vegetables, and salads.
MOSCHOFILERO: a floral and aromatic white wine from the Peloponnese region that goes well with spicy dishes, poultry, and salads.
XINOMAVRO: a red wine from the northern region of Greece that pairs well with red meats, and spicy cheeses.
AGIORGITIKO: a medium to full-bodied red wine from the Peloponnese region that pairs well with grilled meats, pasta dishes, and hard cheeses.
MAVRODAPHNE: a sweet fortified wine from the Peloponnese region that pairs well with desserts, chocolate, and dried fruits.
Experience Greek Culture through Local Wines
Ιf you want to make your visit to Greece even more interesting, there are a few things you could do in addition to enjoying the beautiful waters of the Greek islands.
One idea is to visit a local winery and try some of our wines. This will give you the opportunity to experience the culture of our region and learn more about the history of winemaking in Greece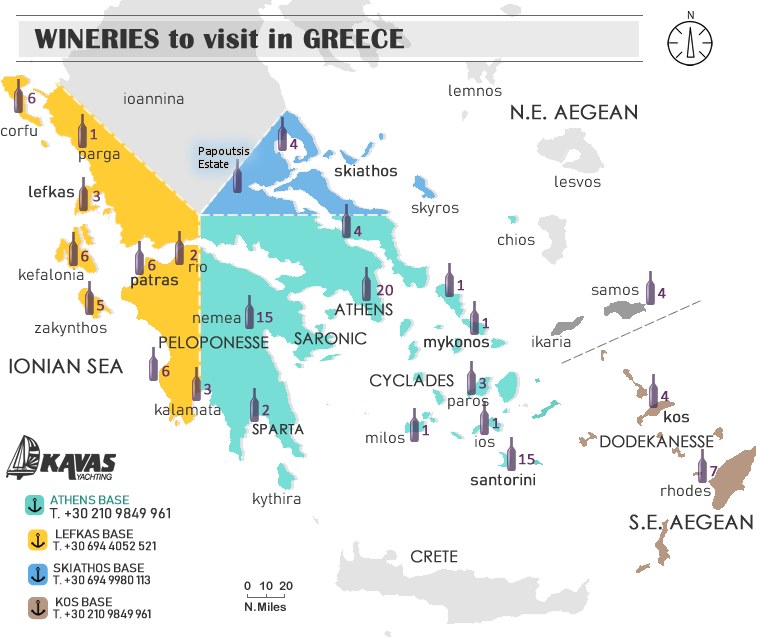 Whether you're exploring the Ionian or Aegean, don't miss the chance to try out local wines such as Robola or Muscat in Ionian islands, or Assyrtiko and Mandilaria in Aegean islands.
KAVAS YACHTING & WINE
Kavas, being a genuine admirer of this Mediterranean gem that is Greek wine, offers to his clients a bottle of one of the most refined varieties from the Papoutsis Estate to accompany their journey.
Using exclusively organic methods of farming, George Papoutsis and his spouse Despina, both oenologists, produce exceptional dry, red and white wines, which you are welcome to enjoy at their winery located just 2km outside of Atalanti.