Cultural sailing: Ancient Greek Theater
Greece has much more to offer...
For a yachting charter expedition but for the traveling tourist as well, Greece has much more to offer than just its scattered islands and ports, the sapphire waters, its unique cuisine or its Mediterranean temperament.
You might be wondering what could be more extra than all of that.
But of course, its culture!
The Greek Culture
Greece, this small country at the middle of the Mediterranean Sea, has been a cultural center since the 7th century BCE when it was still condensed to the ancient city-state of Athens.
With its expansion, Greek culture quickly travelled to other centers like Delos, Delphi, Dodoni, Olympia
and others, like Alexandria and Constantinople.
Starting from the autonomous and self-sufficient city-state of Athens, Greek culture, apart from its co-evolving branches of architecture, philosophy, mathematics, sculpture, et cetera, mainly overtook the lives of ancient Athenians through the Theater.
The spoken word, Aristotle thought, was the most powerful way of communicating ideas and ancient Greeks with their playwrights were all about that!
The ancient Greek Theater
Tragedy, comedy and satyr, explored the human condition and what it meant to be human with the utter goal of giving the viewer catharsis - the relief of knowing that the human experience is common and that all their matters of concern like love, loss, guilt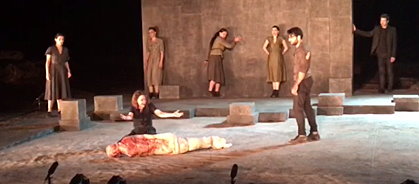 or anger were vicariously solved through the protagonist.
The ancient Greek Theater, although it eclipsed with regards to its original works, during the Hellenistic period and the Roman era, around the 2nd century AD, it's still alive today with plays like Oedipus Rex, the Oresteia, Antigone, Medea, the Frogs, Lysistrata and others being performed and adapted to express modern human affairs like the arrogance of men in power, women's struggle against the patriarchy, sexual liberation, but also sacrifice, heroism and hope.
What could be more fulfilling than combining your vacation time in Greece with a taste of ancient Greek drama?
With your yachting charter expedition, you can easily visit ancient Greek Theaters that every year perform the works of Aeschylus, Aristophanes, Sophocles, Euripides and others, conveniently located around the Greek shores.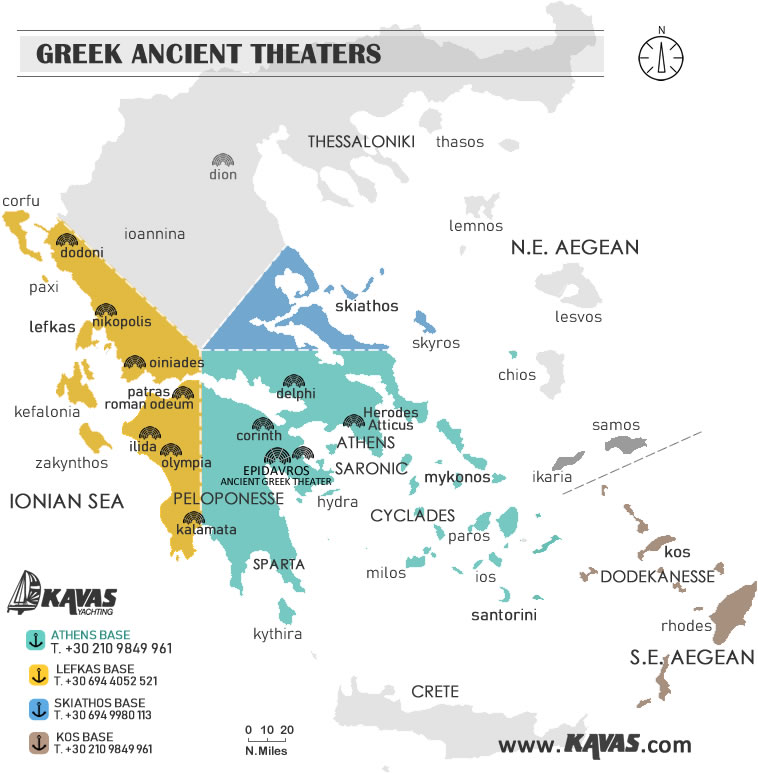 Some of the most popular Plays
The tragic epic by Sophocles is one of the top plays you might be lucky to catch on this cultural adventure!
Oedipus Rex is an undoubted masterpiece that people never get tired of watching, performed every year in various ancient Greek theaters where it was originally played.
When Oedipus tries to run away from a tragic prophecy, he only falls right on the path of fulfilling it with catastrophic consequences for him and his family.
Modernly adapted and artistic with regards to costumes, make-up etc, this play lures you into thoughts about inevitability and fortune and makes you wonder whether or not there is really something directing our actions, even inside of us, as Freud suggested, using Sophocles' masterpiece to convey his thoughts.
Considered an essential cultural experience, watching Oedipus Rex performed in an ancient Greek theater will surely amaze you!
Considered the third part of a trilogy that starts with Oedipus Rex, Antigone proceeds from Seven Against Thebes where we see the heroine's brothers, Eteocles and Polyneices, fight for the throne of Thebes -the war resulting in their mutual death.
The play picks off as Polyneices' body is ordered to be left to rot on the battlefield in shame by their third brother, Creon, who is now king of Thebes.
In Antigone we see the heroine tormented by a moral dilemma:
Should she disobey the king's order and bury Polyneices alone?
Is morality greater than the law?
Should citizens rise against the pride and vanity of men in power?
Antigone is a play that will forever raise questions about social disobedience, human arrogance towards the natural law, fidelity and many more.
A popular play, performed every year in adaptations that could only be described as artistic exaltations to Sophocles' masterpiece, Antigone is a play that everyone should get the opportunity to watch in an ancient Greek theater.
Revealing the atrocities of war, Euripides' Trojan Women follows the fate of the women of Troy after its conquest by the Athenians.
A strong anti-war protest even from its conception, this play was Euripides' attempt to dissuade Athenians from the catastrophic crusade that followed a year after the play was first performed in 415 BCE.
The story follows Hecuba -the dethroned queen of Troy- and other Trojan women like Cassandra and Andromache who lament for the loss of their husbands and children while dreading the fate that awaits them in the hands of their conquerors.
Watching the Trojan Women, a timeless masterpiece dedicated to the victims of war and performed every year in various ancient Greek theaters will surely make the hairs on your arms stand up.
Written at a time long before women had any real place in the world, Medea could be seen as an early approach to the catastrophic results of patriarchy, where women's honor is absolutely depended on the men that rule society.
After Jason (the same hero that slaughtered the monster of Medusa and took the golden fleece) abandons his wife Medea for another woman, she is overtaken by feelings of unimaginable cruelty, poisoning her husband's new wife and father-in-law and killing her own children in an act of vengeance.
A true masterpiece that manages to shock readers and viewers trough the centuries, Aeschylus' Medea is a valuable piece of heritage that everyone should have the chance of knowing.
Get well-read

Although the list of plays that Greeks never stopped loving and still produce and watch is long and difficult to choose from, our advice is that you go to the theater well-read as you will not find any real-time translation, but also prepared to be taken away by their modern twist that manages to keep them still relevant to the world of today in what could be described as their reincarnation.
So whether you choose to sail south, north, east or west, you can do much more than just enjoy the Mediterranean climate and those beautiful gems that are the Greek islands.
Don't miss out on visiting one of Greece's ancient Greek Theaters to admire remnants of an era bygone and watch ancient Greek drama plays with the modern twist needed in order for the art to stay true to its original goal:
"sharing the human experience".
Epidavros Ancient Theatre
Closest port: Palaia Epivavros (Saronic) - 14 km
JUL 26 & 27: ELECTRA & ORESTES by Euripides
AUG 02 & 03: THE CLOUDS by Aristophanes
AUG 09 & 10: PROMETHEUS BOUND by Aeschylus
Palaia Epidavros (little theatre)
Closest port: Palaia Epivavros (Saronic) - 500m
JUL 26 & 27: PHÈDRE by Racine
AUG 02 & 03: DANAIDS by Andreas Kalvos
Karthea Ancient Theatre
Closest port: Korissia (Cyclades/Kea island) - 15 km
AUG 03: SΑLON & KRISOS by Andreas Kalvos