Cultural sailing: Ancient Greek Theater
We believe that your experience can be enriched by more than just sailing and swimming.

That's why we encourage you to explore fascinating activities like attending an Ancient Greek Theater performance.

These captivating shows take place during the summer on Greek islands and even in Athens, allowing you to immerse yourself in our culture and truly get to know better our country.
The spoken word, Aristotle thought, was the most powerful way of communicating ideas and ancient Greeks with their playwrights were all about that!
Ancient Greek Theater: Unveiling the Depths of the Human Soul
The performances express modern human affairs like the arrogance of men in power, women's struggle against the patriarchy, sexual liberation, but also sacrifice, heroism and hope.
The three genres of drama: Comedy, Satyr and the most important of all Tragedy, explored the human condition and what it meant to be human with the utter goal of giving the viewer catharsis - the relief of knowing that the human experience is common and that all their matters of concern like love, loss, guilt or anger were vicariously solved through the protagonist.
How all started
The oldest known Greek theater is the Theater of Dionysus in Athens.
It was initially constructed to host an Athenian festival called the Dionysia, dedicated to Dionysus, the god of winemaking, wine, festivities, and theater, among other things.
This theater served its purpose for hundreds of years and had the capacity to accommodate up to 17,000 spectators.
Over time, the Theater of Dionysus became a symbol of artistic and cultural expression in ancient Greece.
The theater became a platform where the human experience, with all its complexities and emotions, was brought to life on stage.
It not only entertained the masses but also served as a reflection of the values, beliefs, and struggles of the Greek civilization.
What could be more fulfilling than combining your vacation time in Greece with a taste of ancient Greek drama?
Performances Under the Stars
Performances of ancient Greek theater take place during the summers at the Ancient Theater of Epidaurus in the Peloponnese, and sporadically, on a case-by-case basis, at other ancient theaters scattered throughout Greece.
The Ancient Theater of Epidaurus, located in the picturesque surroundings of the sanctuary of Asclepius, is renowned for its exceptional acoustics and well-preserved architecture.
Due to its remarkable acoustics, the ancient theater of Epidaurus, boasting a capacity of 14,000 seats, ensures that the actors' words resonate throughout the entire venue.
Also, it not only served as a venue for theatrical performances but also held religious and healing ceremonies in ancient times.
In addition to the Ancient Theater of Epidaurus, Greece boasts other significant ancient theaters that contribute to the cultural landscape of the country.
These include the Theater of Dionysus in Athens, the theaters of Delphi, Dodoni, and many more (see map below)
While some of these theaters may no longer host regular performances, they remain as captivating reminders of Greece's rich theatrical heritage.
Below, the Epidavros Ancient Theatre, 2023 Programme:
JUL 21 & 22: Medea, Based on Euripides
JUL 28 & 29: The Frogs, by Aristophanes. A comedy with the DNA of a tragedy
AUG 4 & 5: Oedipus at Colonus, by Sophocles
AUG 11 & 12: Ecuba, by Euripides
AUG 18 & 19: The Trojan Women, by Euripides
AUG 25 & 26: Oedipus Rex, by Sophocles
Closest port: Palaia Epivavros (Saronic) - 14 km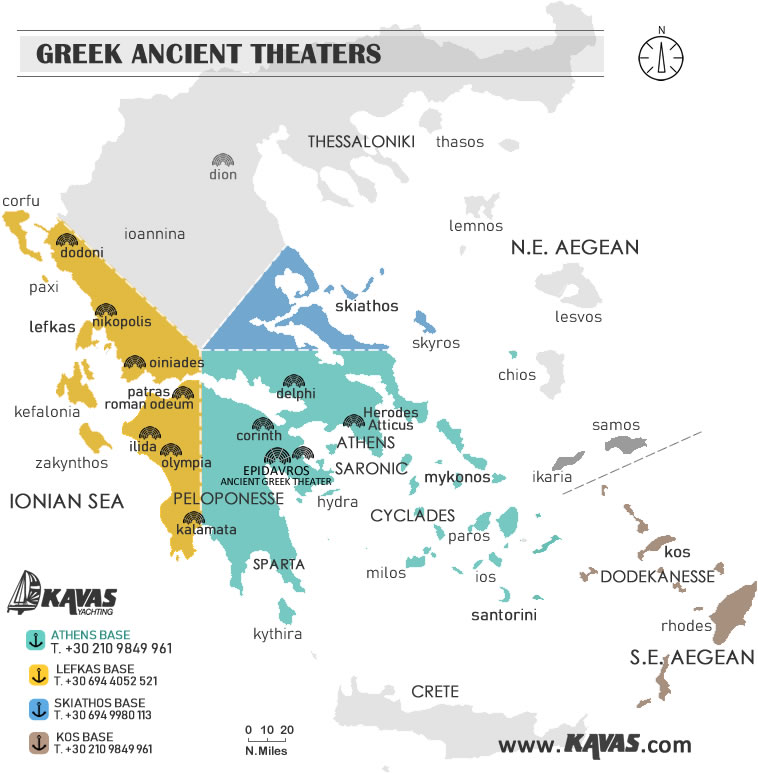 Some of the most popular Plays
The tragic epic by Sophocles is one of the top plays you might be lucky to catch on this cultural adventure!
Oedipus Rex is an undoubted masterpiece that people never get tired of watching, performed every year in various ancient Greek theaters where it was originally played.
When Oedipus tries to run away from a tragic prophecy, he only falls right on the path of fulfilling it with catastrophic consequences for him and his family.
Modernly adapted and artistic with regards to costumes, make-up etc, this play lures you into thoughts about inevitability and fortune and makes you wonder whether or not there is really something directing our actions, even inside of us, as Freud suggested, using Sophocles' masterpiece to convey his thoughts.
Considered an essential cultural experience, watching Oedipus Rex performed in an ancient Greek theater will surely amaze you!
Considered the third part of a trilogy that starts with Oedipus Rex, Antigone proceeds from Seven Against Thebes where we see the heroine's brothers, Eteocles and Polyneices, fight for the throne of Thebes -the war resulting in their mutual death.
The play picks off as Polyneices' body is ordered to be left to rot on the battlefield in shame by their third brother, Creon, who is now king of Thebes.
In Antigone we see the heroine tormented by a moral dilemma:
Should she disobey the king's order and bury Polyneices alone?
Is morality greater than the law?
Should citizens rise against the pride and vanity of men in power?
Antigone is a play that will forever raise questions about social disobedience, human arrogance towards the natural law, fidelity and many more.
A popular play, performed every year in adaptations that could only be described as artistic exaltations to Sophocles' masterpiece, Antigone is a play that everyone should get the opportunity to watch in an ancient Greek theater.
Revealing the atrocities of war, Euripides' Trojan Women follows the fate of the women of Troy after its conquest by the Athenians.
A strong anti-war protest even from its conception, this play was Euripides' attempt to dissuade Athenians from the catastrophic crusade that followed a year after the play was first performed in 415 BCE.
The story follows Hecuba -the dethroned queen of Troy- and other Trojan women like Cassandra and Andromache who lament for the loss of their husbands and children while dreading the fate that awaits them in the hands of their conquerors.
Watching the Trojan Women, a timeless masterpiece dedicated to the victims of war and performed every year in various ancient Greek theaters will surely make the hairs on your arms stand up.
Written at a time long before women had any real place in the world, Medea could be seen as an early approach to the catastrophic results of patriarchy, where women's honor is absolutely depended on the men that rule society.
After Jason (the same hero that slaughtered the monster of Medusa and took the golden fleece) abandons his wife Medea for another woman, she is overtaken by feelings of unimaginable cruelty, poisoning her husband's new wife and father-in-law and killing her own children in an act of vengeance.
A true masterpiece that manages to shock readers and viewers trough the centuries, Aeschylus' Medea is a valuable piece of heritage that everyone should have the chance of knowing.
Reading the Play Beforehand

Although the list of plays that Greeks never stopped loving and still produce and watch is long and difficult to choose from, our advice is that you go to the theater well-read as you will not find any real-time translation, but also prepared to be taken away by their modern twist that manages to keep them still relevant to the world of today in what could be described as their reincarnation.
So whether you choose to sail south, north, east or west, you can do much more than just enjoy the Mediterranean climate and those beautiful gems that are the Greek islands.
Don't miss out on visiting one of Greece's ancient Greek Theaters to admire remnants of an era bygone and watch ancient Greek drama plays with the modern twist needed in order for the art to stay true to its original goal: "sharing the human experience".