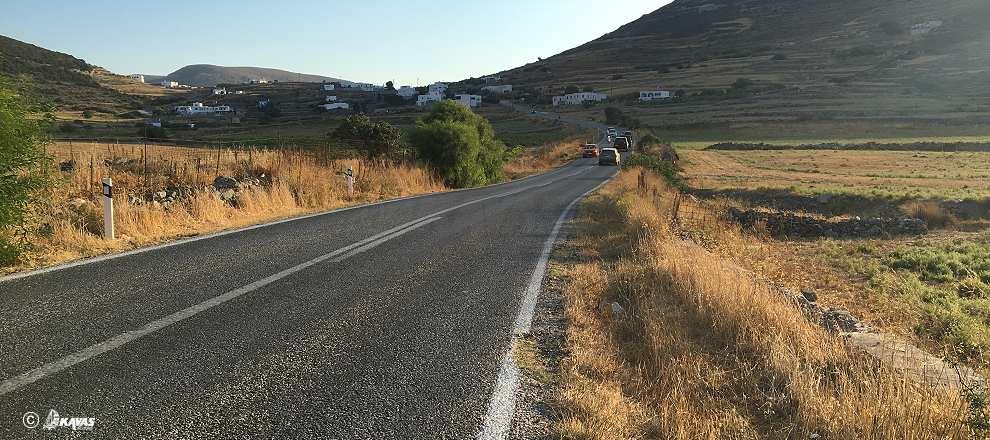 Paros is the 3rd largest island of the Cyclades, with an area of 196,300 km2 and a circumnavigation of 33 NM.
The soil is stony and consists of granites and limestone rocks of excellent quality.
The island's local Parian marble has been used in the making of magnificent, famous sculptures such as:
Τhe Aphrodite of Milos (Louvre),
Hermes of Praxiteles (Archaeological Museum of Olympia), and
Niki of Samothraki (Louvre).
Shrub vegetation covers most of the island which it alternates with vineyards, small olive groves, fig trees, and horticultural plants.
The Paros road network will easily take you to any part of the island.
It consists of two-way paved, helical roads and great care is required when driving. The good news is that there are no potholes on the pavement, something quite common in other Cycladic islands, such as in famous Mykonos.
Among the many advantages of visiting the island is the Paros airport, which is connected with flights to Athens and other major European cities and is the main motivation for a yacht charter expedition around Paros.
COST OF LIVING IN PAROS
The abundant supermarkets on the island will supply you with everything you may need on your boat, always offered at low prices.
Your pocket won't suffer big damages in Paros as coffee at a cafe will cost you around €4, while a bottle of beer (500ml) will costs about the same.
For a meal or dinner, you will need €20 per person on average, including a salad and a glass of wine.
Keep in mind that this amount can go even higher at branded restaurants (e.g. greek salad €14, french fries €7.50) or way lower at a fishing village like Alyki where the food will be of the highest quality but also cheap (eg 1 serving of moussaka with 1 bottle of beer 500ml: €11).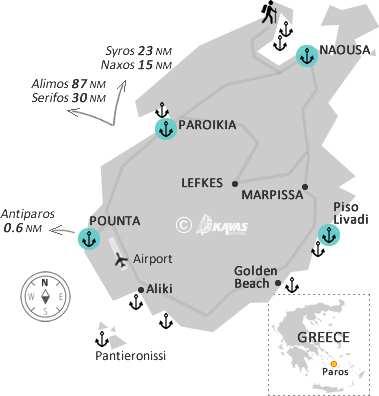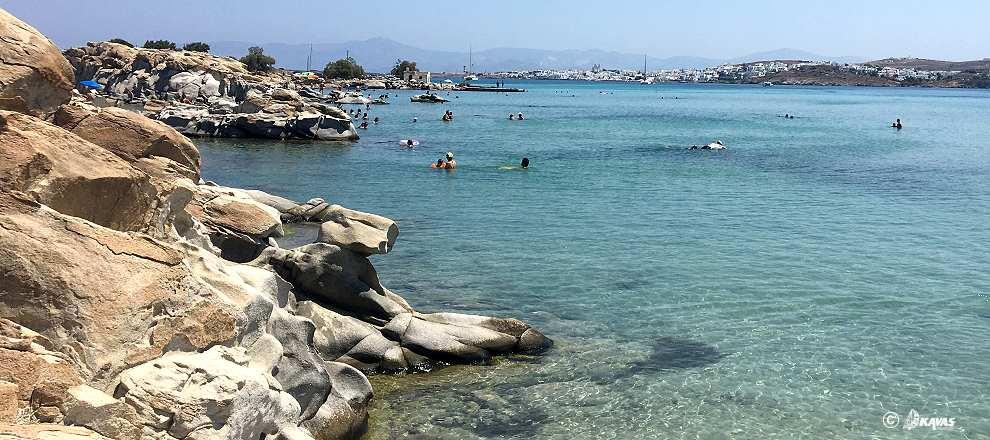 The climate of Paros is temperate and dry, and winters are mild with little rainfall.
The heat of the summer is never a problem for Paros and the Cyclades in general, since the Meltemi winds (northern winds usually 5-7 Bft that occur when high pressure forms over the Balkans and low pressure forms over Turkey) cool the island during the day.
Limited docking spots in Paros
Given the small size of the quays in Paros and their limited docking spots, you may be forced to drop your anchor in the bay, especially if you visit the island during high season.
Our yacht charter expeditioners, need to be very careful, as mooring in Paros requires expert skills especially during the summer months when the Meltemi winds become stronger.
Mooring in Parikia
Located in the western part of the island, Paroikia hosts the island's commercial port, connecting it with Piraeus (Athens) and some of the surrounding islands.
Caution is needed when approaching to this port, as there are rocks in the entrance, visible or invisible!
Given that there are no mooring lines in the port, you will need to use your anchor –the bay's depth is about 3 meters.
The port of Paroikia provides water, electricity, and a communal W.C.
If there is no free space to moore, Paros' wide bay, with a depth not exceeding 25 meters, can be your host!
VHF Communication: Channel 73
Mooring in Naousa
The marina of Naoussa is located at the North part of the island where mooring lines are available and can accommodate up to 75 yachts (anchors are not allowed).
There, you can supply your boat with water and fuel. Electricity, showers with hot water and W.C are also available.
VHF Communication: Channel 12
Although in the port of Naoussa it can be difficult to find a place to moore (especially during the summer months), the bay is quite accomodating and a pole of attraction for vacationists (read below to see why)
Mooring in Piso Livadi
A small picturesque fishing village is located at the East side of the island.
Though it is quite limited in places to moore, its beauty is definitely worth the visit.
There are taverns and cafes for your enjoyment and it also provides a supply of fuel and water.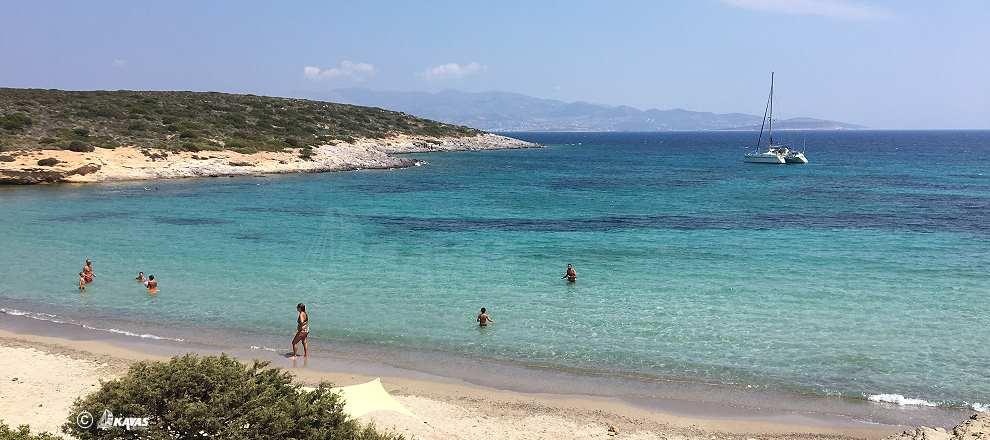 The waters that surround Paros are magical.
Paros has many beaches and inlets where you can drop your anchor for a short stop or even for an overnight stay.
Their distinctive turqoise waters generate the feeling as if you are sailing through the paradisic waters of the Pacific ocean.
This is also evident in the photos that are attached.
Anchoring in Naousa
The most interesting part of Paros for anchoring is undoubtedly the bay of Naoussa and specifically the bay of Aghios Ioannis, where depths range from 10 to 20m.
There you can have almost everything you need:
Wind protection from the meltemi winds.
Taverns and restaurants with good food, and a wide price range.
Entertainment, like open-air summer cinemas or theater shows at the "Paros Environmental and Cultural Park".
Near there you can also find Paros water slides that will offer pleasant moments to the young members of your crew!
A small shipyard for repairs or even for wintering your boat (Call +30 6974 025 143).
Anchoring in Golden Beach
The truly gold "Golden Beach" is about 10m deep, ideal for resting in its green waters.
On this beach - known for windsurfing races - you can have windsurfing lessons or rent the necessary equipment if you already are initiated, the charge being €40/hour or less (Paros Windsurf Center).
Anchoring in Aliki
A picturesque fishing village in the East, with many taverns providing very good quality food at much lower prices than Naoussa.
Pantieronisi islands
These are 3 small islands between Paros and Antiparos, ideal for a romantic night out and dinner under the stars.
During the summer months other boats are also likely to stay overnight, providing you with a feeling of safety.
Paroikia
It is the capital of the island, with numerous shops that provide everything.
In the narrow cobblestone streets of the old town, you can do your shopping, have a snack, and drink your coffee or beer.
If you happen to be a nightlife enthusiast, Paroikia won't disappoint, as there are several bars scattered everywhere.
Restaurants and traditional taverns can be found on the town's long promenade, with a plethora of interantional cuisines to choose from: Greek, Italian, Mexican, and even Chinese.
★ A remarkable International Cuisine restaurant that stood out for its quality and prices, was the NAMI Chinese/Japanese restaurant in Paroikia which also has a balcony view!
If you want to enrich your visit with more than just fun and food, we would recommend you visit:
The Archaeological Museum of Paros, exhibiting findings from the Neolithic Age until the early Christian times.
The church "Ekatontapyliani" built by St. Helen in the middle of the 4th century AD. The Byzantine Museum nearby is also worth a visit.
Naousa
Cube-shaped buildings, with wooden windows (usually blue) built very close to one another.
In our opinion, Naoussa is more beautiful than the island's capital of Paroikia.
It is a completely traditional settlement, where all buildings, houses, and shops follow the genuine Cycladic Architecture:
In the narrow streets of Naoussa you will be pleasantly surprised, as the city seems to have made the reception of visitors from all around the world an organic part of its character.
Cars or motorcycles do not have access to Naoussa, a large (free) municipal parking lot at the entrance can accommodate them for as long as it takes.
Naoussa Tip: At the city's best restaurants you will probably be offered the locally produced MORAITIS wine.
So if you are a wine lover, in the city of Naoussa you can visit the MORAITIS winery and taste some of its best produce!
Lefkes
A mountainous settlement built at the center of the island, at an altitude of 200m above sea level.
A visit to Lefkes for dinner and a walk is guaranteed to fill your day pleasantly.
Every year, on the first Saturday after August 15th, a big event takes place with a feast and lots of dancing!
The villagers' favorite snack on this day is big snails!
Naturally, seafood plays a leading role in the island's traditional cuisine.
White seabreams, red porgys, mullets, red snappers, squid, cuttlefish, octopus, are offered everywhere, either roasted or fried.
It is also worth trying the fishermen's favorite dish of Paros:
Nettle or mackerel baked in the sun, known as "fur".
You will be able to find it anywhere on the island.
Other treats the Parians adore are meatballs made from zucchini, eggplant, or tomato, as well as mushrooms, fried or grilled.
Car / bike Rental
Regardless of where you anchor you will enjoy the island to the maximum, by renting a car or a motorbike.
You will be amazed by the multitude of such businesses!
But beware:
As we mentioned at the beginning, the roads are narrow and overtaking other vehicles can be dangerous.
The brewery
There is also a small, award-winning brewery on the island.
Paros Micro Brewery's "56 Isles Aegean Wit" wins three stars (ie the highest distinction) in the internationally renowned Great Britain Taste Awards.
Ask for it at any of the island's pubs!
Spectacles under the stars
In the bay of Ag. Ioannis (Naoussa bay) there is a summer cinema but also an active outdoor theater: see curriculum (parospark.com).
There is also a summer cinema in Parikia (cinerex.gr).
Reviews
In order to protect the quality of your yach charter vacations in Paros make sure to use the ratings service on Trip Advisor or Google Reviews beforehand rather than afterwards, as a way to punish the business that disappointed you.
Choosing Paros for your yacht charter expedition is a safe bet whether you are traveling with friends or with family, as the island can accommodate your every need and preference thanks to its cosmopolitan and hospitable character.
Guaranteed your camera roll will be filled with memories of an unforgettable experience!