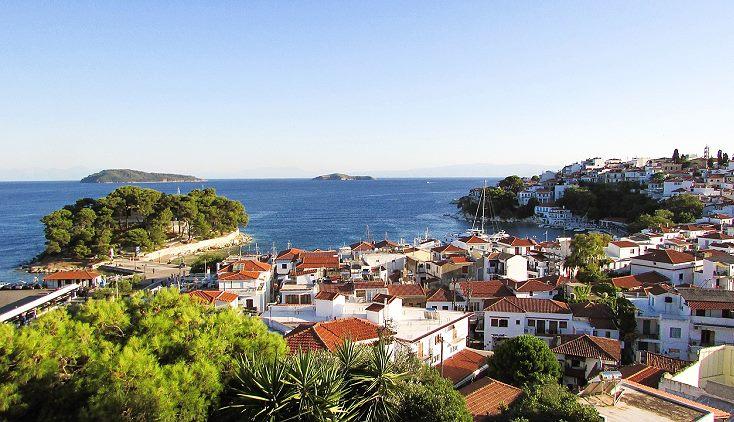 The beauty of Skiathos island will captivate you, before you even set foot on it.
The landscape that you see when landing at the airport of the island, is composed of turquoise waters, white houses, small fishing boats, Venetian fortresses, wetland, and all kinds of geomorphy.
Rightly, the island's airport won 3rd place in "Europe's most Scenic Airports Award 2020".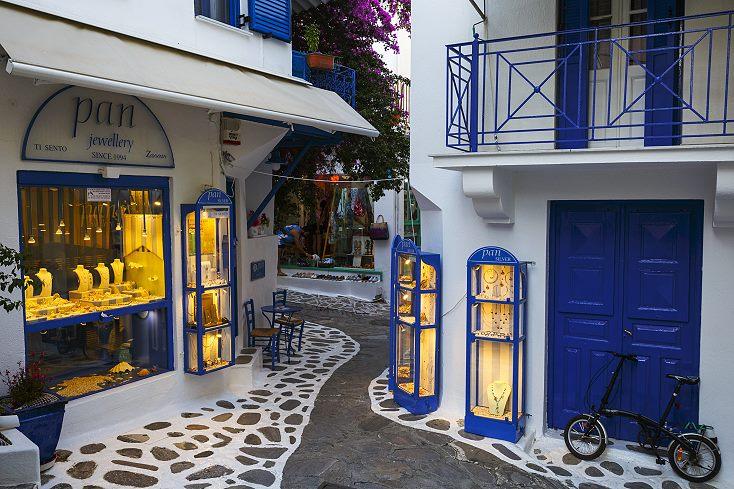 The city is picturesque and pleasant to explore, stroll through its narrow cobbled streets, and end up in a secluded restaurant for a glass of wine.
Skiathos' architecture moves between the traditional islandic style and the architectural style of Pelion, the mainland city across the waters.
Sailing around the Sporades is quite a pleasure during the summer months, with the gentle breeze and the company of dolphins, since Skiathos is part of the largest Mediterranean Marine Park.
The climate of the area is mild, with low humidity and (especially in the summer months) tons of sunshine!

The temperature ranges between 20ºC and 33ºC.
The winds are mainly north, with a mean intensity of 3 Bft (a gentle breeze!).
For your summer vacations in Skiathos pack only light outfits: a cardigan for cool evenings should be enough (see more at "Gear you should always have when sailing").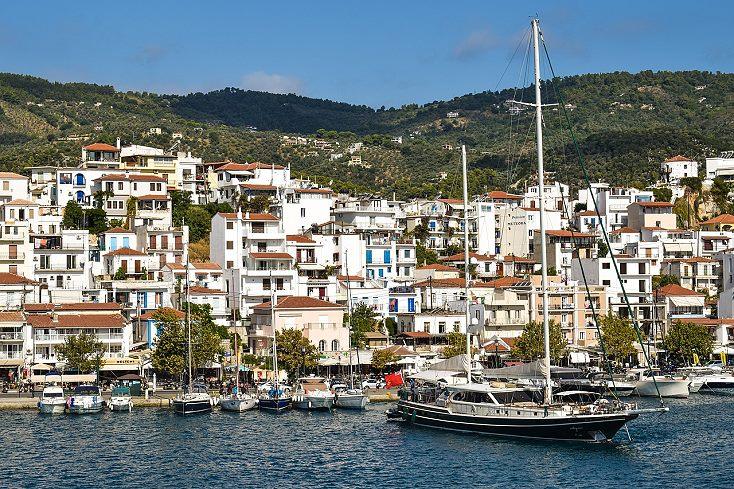 Next to the new port of Skiathos town, there is a boat dock (about 30 seats).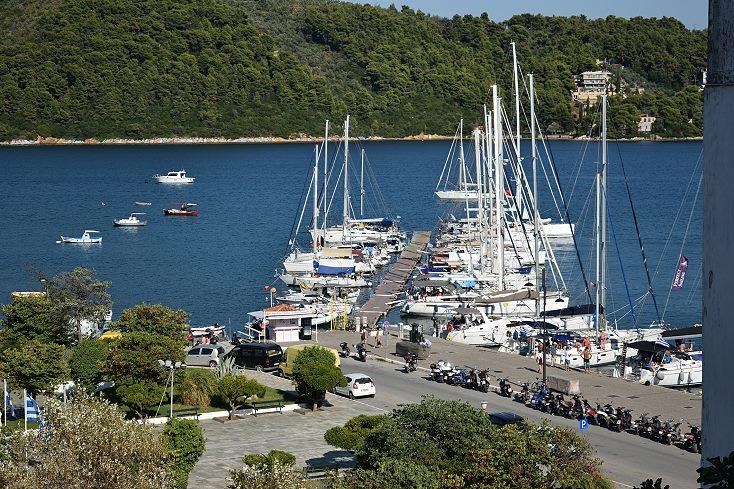 If you are accustomed to overnight stays away from the coast or just like excursions, in Skiathos you will find many beautiful options: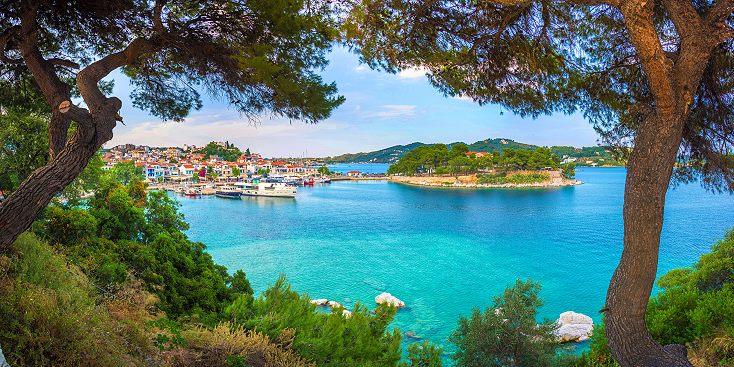 Kolios Bay
It is located in the south of the island, with wonderful turquoise waters and a shallow sandy bottom -20-30m.
The beach is very beautiful and covered with fine sand.
There is a bus to the city and the port, 5km away.
Koukounaries Bay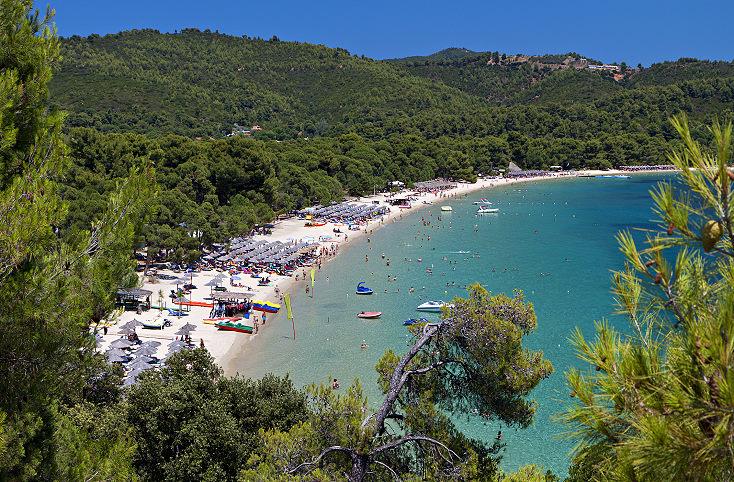 Beautiful, large, sandy beach, with beautiful crystal clear waters, at the outskirts of a pine forest.
The seabed is sandy and shallow, 12-18m deep.
If you like horses and horseback riding, day trips to the forest, beaches and other trails are organized in Koukounaries, with a price of 30€ per person
Tsougria Island
It would be a good idea to spend part of your time in the eastern part of Tsougria Island, located 2NM from Skiathos.
The landscape is as wonderful as the anchorages we described above.
Tsougriaki Island
At the same distance and west of Tsougria island, Tsougriaki is just another great idea for swimming and sunbathing.
The island has been inhabited since prehistoric times and has a rich history.
Romans, Byzantines and Venetians passed and left their mark: Byzantine and medieval monuments and many old churches and monasteries are spresd throughout the island.
Turkish rule lasted 291 years and ended in 1829.
It should be noted that the first Greek flag was designed in 1807, in a monastery on the island: a white cross on a blue background.
The Bourtzi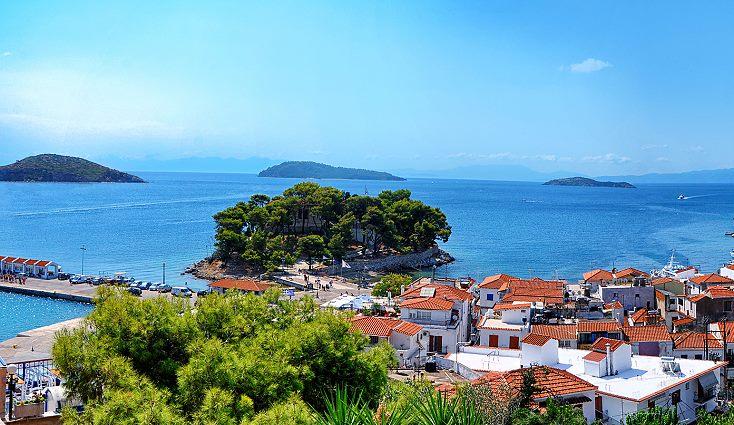 On the small peninsula, which separates the old from the new port of Skiathos, there is a small verdant hill, which used to protect the city with a fortress.
Beautiful place to enjoy your coffee or soft drink.
Religious celebrations
Two important religious holidays take place on the island:
On the 25th of July (Agia Paraskevi) and
the 15th of August (Assumption of the Virgin), which can definitely give you a taste of the Byzantine era.
These celebrations are accompanied by cultural events and local traditional music.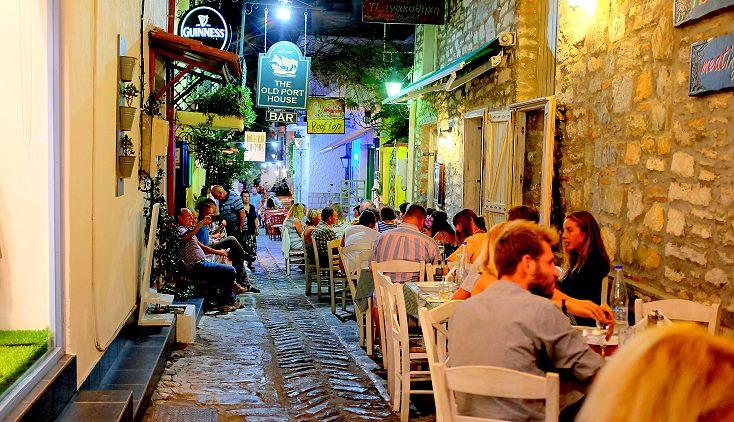 Knowing the local cuisine of a place is as important as knowing its history.
Each place in Greece has to present its own gastronomy secrets.
To get a true taste of Skiathos see our proposals below:
Kakavia Skiathos
Fish soup of small fish, boiled with potatoes, onions and oil, flavoured with lemon.
Peskandritsa (Monkfish) stew
Monkfish, sautéed with many onions, quenched with wine and baked in the oven, flavored with bay leaf, allspice, oregano and rosemary.
Delicious!
Museum of Naval and Cultural Tradition of Skiathos
This Museum presents two centuries of Shipbuilding and Naval History of Skiathos, hosting more than 600 exhibits:
Shipbuilding tools, sailboat construction plans in the Skiathos shipyards, a representation of a traditional shipbuilding log, a rare collection of microshipbuilding, as well as paintings (late 19th century) of Skiathos sailboats.
Skiathos Traditional Dance Festival
If you are in Skiathos in the last week of June, you will have the opportunity to get to know the dances of another era, performed by dance groups from all over Greece.
Celebration of Classical Music
It is organized at the beginning of each September (duration 2 days).
Wineries
People enjoy good wine and Greek wineries have a lot to offer!
At Kavas, we make it a habit to offer a bottle of our favourite wine to each charter, and we have even written an in-depth article dedicated to Greek wine.
To make your vacation in Skiathos as enjoyable as possible, we recommend you get to know the Parissis winery, not just to taste wine, but to become a true Greek wine connoisseur!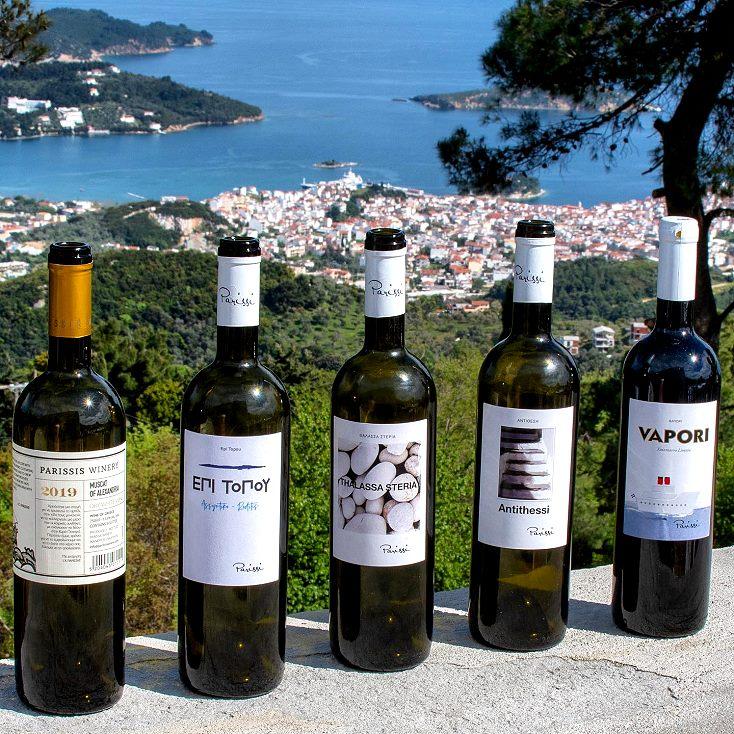 Open Air cinema
Summer cinemas are something relatively unknown to our foreign friends.
During the Greek summer, locals often enjoy watching movies under the stars in open air cinemas which are found almost in every corner of Greece.
The performances start at 9pm when it gets dark.
So grab a beer and enjoy old movies at the Skiathos Summer Cinema during your visit to the island!
Have fun!