The joys and hazards of cruising Greek islands with Kavas Yachting…
Set sail on a Kavas yacht out of one of our bases and have the freedom to explore the Greek mainland and islands under your own steam.
You need to be switched on as all sailing is technical and you will have to deal with the issues as they arise.
Let's have a jaunt through the joys and hazards of sailing your own bareboat charter in Greece with Kavas Yachting.
Sailing in a moderate breeze
Sailors who sail year round will take away memories of all weathers and situations.
To a man or woman they will describe that hour or so where they are on a broad reach in a Force 4 sitting on the windward rail with a grin on their face.
Sailing on Greek waters, you will get to enjoy these moments enough for it not to be a bore, and want to come back time and again for more.
To be unable to find place to berth
If you are heading for a very popular island or port, you may do well to get a mooring in the early afternoon.
Hydra Island is a classic example of this.
Unable to sail at night due to insurance limitations, people will anchor just offshore. This throws up problems such as people getting their anchors tangled. If this does happen, remember how we showed you to tackle the problem on our sailing course
Visiting multiple Greek islands
If you stick to beer, fish and chips, you might see nothing new.
Nearly every island in our archipelagos has its own culture and history, and even when 10 miles apart can be as different as landing in a new country.
If you want to see, smell and taste something different? You will be spoiled for choice.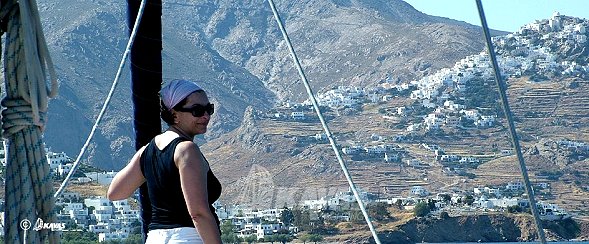 Narrow passes
Sometimes you need to be switched on when using certain waterways.
Crossing through the Corinth Canal, or approaching Lefkas marina from the south are very tricky to deal with.
You'll need your crew to keep their mouths shut and their eyes open to spot problems before they get too close.
Piloting is never easy, and some ports are harder than others...
The port of Messolonghi is one where you really need to switch on long before you get in. You will enter the channel some 2.16 nautical miles N of the port, and the channel depth is dredged to between 5.5-6 metres in depth.
If you stray out of the channel you will end up aground very quickly, as it is wading depth in places.
Once in there's no worry about the water under your keel as it reaches 10 metres by the quay.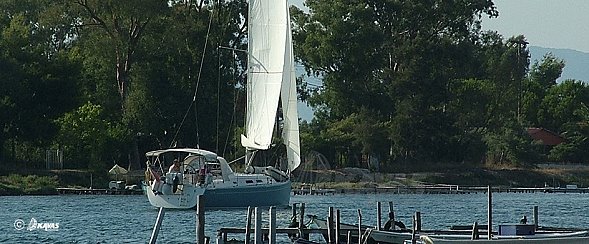 Enjoying berthing in a quiet bay
How about mooring at a buoy or coming to anchor?
You don't have to moor up in a chicken coup marina every night.
Dokos Island is one of many places where you can sit just offshore and enjoy the peace and quiet of a moonlit dinner in the cockpit.

Shoaling areas or sand bars
Familiarise yourself with your chart before entering any new port or inlet.
There will be hazards in every such place, if only the beach itself! Two examples are the estuary of Acheloos river in northern Gulf of Patras.
Once familiar with what to expect, make sure that your echo sounder is set to the right measurements.
It won't help at all if you're coming into port thinking it is reading in metres when it is in fact feet and the first you realise is when you are stopped suddenly having hit a sand bar at 5 knots!
Swimming in famous crystal waters
Freedom means that you don't have to set sail for different shores every day.
How about pottering up the coast for a swim or a sunbathe?
There are some fantastic beaches that you can only access by sea such as Paradise Beach in Mykonos or Santa Maria in Paros.
You can savour those moments of privacy and quiet, with the madding crowd sometimes miles away from your eyes and ears…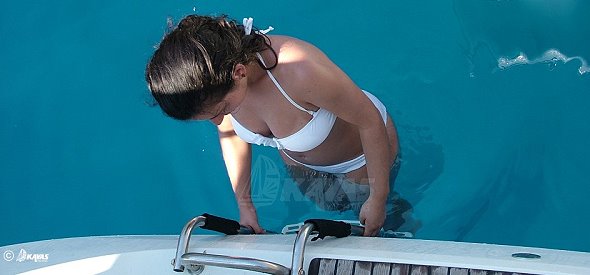 Tides and currents
No matter what you may have heard in Northern European waters, the Mediterranean has tides.
You won't find they move as dramatically as they so in the North Sea or Severn Estuary, but you may find yourself high and dry one morning if you don't.
Currents are an issue too - this may speed or slow, or even swerve you off course.
Meeting the sea creatures
Sailors are some of the luckiest people in the world where it comes to wildlife.
Animals frequently come to visit you to see what you're about.
Have you had dolphins porpoising at your bow? Take a sneaky shot with your camera - they love to try to dodge being photographed.
Monachus seals frequently come onto the rocks of the Alonissus Marine Park, where you will also see schools of dolphins feeding, playing and enjoying the richness of their home waters.
Visit the caretta caretta turtles (Loggerhead) , at Zakynthos Island where they come to lay their eggs in June and July.
On hatching the juveniles love to hang out close to the coast. Look closely - you never know what you will find by your boat!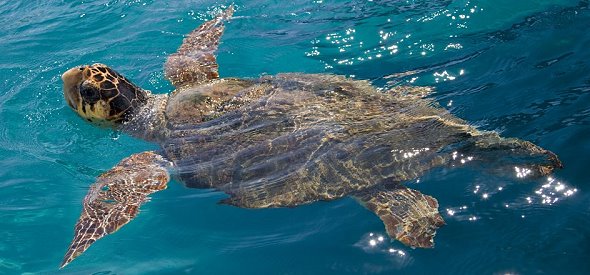 Injury or sickness
For all the fun you can have, sailing is dangerous.
Have a mind for First Aid, and if no one is trained have a look at our website here for advice as to handle different injuries or illnesses.
Your boat as a cafe or a bar
As much as the nightclub and restaurant owners would love you to spend €1000 a week on food and booze, what's stopping you from getting your wine from a local winery and your food from local markets?
You can taste the finest food without paying someone to cook it and our great drinks without paying someone to pour them for you.

You also don't have to jostle for a place at the bar to order it! The practice is popular among boating types, with people throwing parties in the marinas and moored / anchored just offshore of the nightlife. It is a very good way to meet fellow sailors without spending €€€ on beer and food. Examples where this occurs are Ios, Naousa/Paros isl., Gaios/Paxos isl., Ithaca, Poros, Hydra, and Symi.
Fuel or water tanks
The first thing a mechanic will check if your engine stops is whether you have enough fuel. It is far cheaper to pay for the fuel than to pay someone to tell you you need it! Check your water levels as you might not be able to top up your water tanks at the next port due to it being too full to let you in.
The low cost of berthing!
Typically you will pay as little as €2 a night and a further €2 for energy and water, which includes 2KW of power and up to 150 litres of water as part of the deal. Anchor in a secluded inlet and pay nothing at all…?
While there is freedom to go where you choose and do what you choose, and even wear clothes if you choose, there are some drawbacks that you may need to deal with sailing on Greek waters with Kavas Yachting.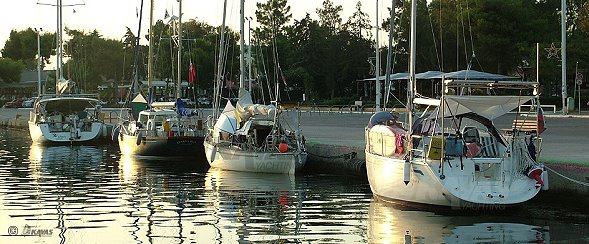 Winds
Two of the most famous winds you will have heard of are the Meltemi (on the Aegean) and the Bora on the Adriatic.
These can be fairly predictable - the Bora will build every morning and peter out every evening, while the Meltemi can be quite exciting in summer.
Did you know of the ultra-local winds that manifest only around certain islands? To the SE of Evoea, you have winds off the headland of Cavo d'Oro. It is known locally as one of the most difficult places to sail on the Mediterranean due to the strong winds and uncomfortable seas.
These winds are so central to Greek culture they are part of the Ancient Greeks' mythos. Four gods were collectively known as the Anemoi - Boreas and Zephryus, Eurus and Notus. A Greek website explains the old tales: "Boreas from its home to the north in the mountains of Thrace was clear and strong; Notus, wet and stormy. Zephyrus has two guises: the violent west wind characterized above or the gentle Zephyrs that refresh the Elysian fields, where "no snow, no winter onslaught, never a downpour there night and day the Ocean River sends up breezes, singing winds of the West refreshing all mankind" (Odyssey, IV.637-639). Eurus, which has no characteristic epithet associated with it (and is not mentioned by Hesiod), was warm, melting the heavy snow on the high mountain ridges, piled there by the West Wind (Odyssey, XIX.237-239). Each associated with its respective season: Boreas, the North Wind, bringer of winter; Zephryus (Zephryos), the West Wind, bringer of spring breezes; Notus (Notos), the South Wind, bringer of storms in late summer and early autumn; and Eurus (Euros), the East Wind, which seems not to have been associated with a season."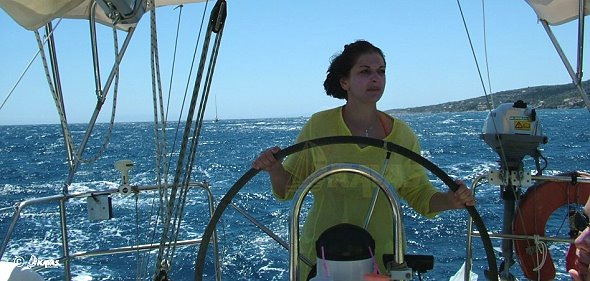 Other things?
Never put your foot in a bight.
Always put the flat of your hand on a winch - not your fingers.
Head down when you gybe or tack!
Motor slowly in busy marinas and for manoeuvring.
Sail like you enjoy it - not like Jimmy Spithill on Oracle Team USA.
But most of all?
Have fun!!!