Unveiling the Untouched Beauty of Ionian Sea: A Comparison with the Aegean
There are literally hundreds of choices of destination for you on a Greek yacht charter.
If you want to charter a yacht to explore Greek waters you are spoiled for choice as to where you can visit.
Here, we will quickly dance through the Aegean and Ionian islands and give you an idea as to what might suit from a sailor's point of view…
Sailing difficulty
One of the most obvious differences between the Ionian and Aegean is the colour of the waters. The Aegean is deep blue while the Ionian is often a beautiful turquoise in colour.
For the Greek yacht charter sailor things go a bit deeper than that.
Winds in Ionian
Simply put, the Ionian has the Bora wind that rises first thing in the morning in summer to a maximum of a Force 4-5 and eases in the evening shortly after you have moored up.
While there will always be exceptions due to Climate Change, you will find that the Ionian is a more comfortable sail for less experienced sailors.
For the Ionian yacht charter sailor the experience will be as memorable for the shorebased experiences as those on the water.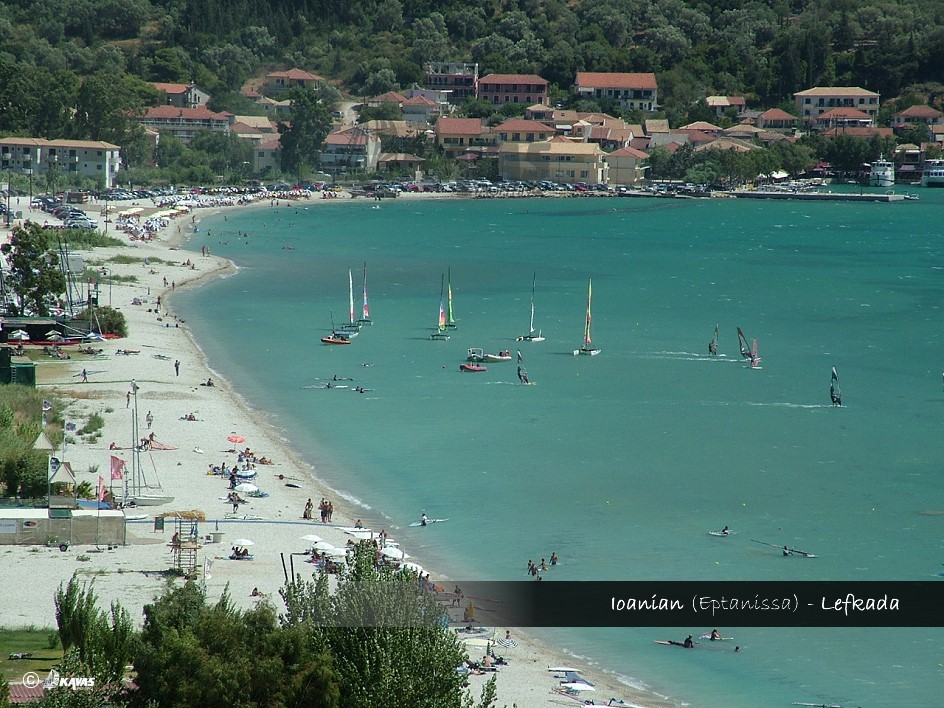 Winds in Aegean
The more experienced sailor and those who need to be stretched may come to the Aegean for the exciting sailing.
The Aegean is renowned for its boisterous Meltemi that can blast at Force 7 for 3-4 days at a stretch in summer.
You may choose to travel further over a week than on the Ionian, beating north east for the first few days. Reaching under a double reef in 30 ℃ of heat in F7 winds will put a grin on everyone's face!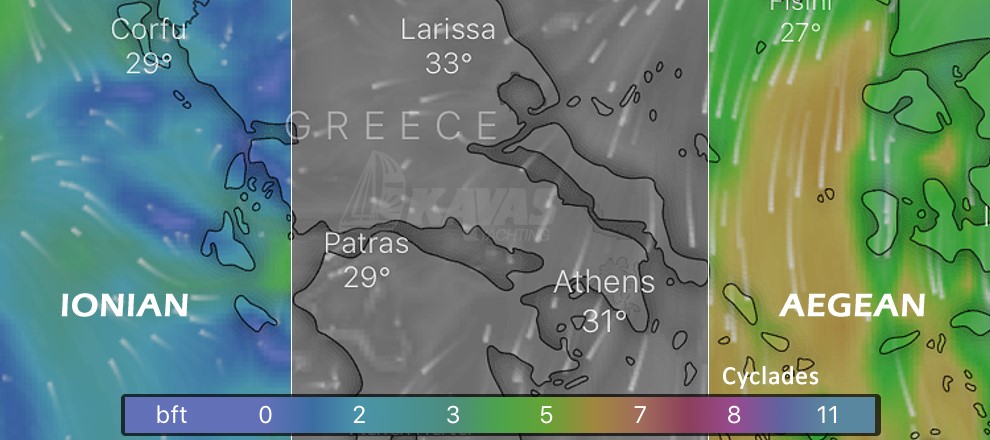 Culture
All islands will have a current culture of what they are now and an old culture of where they have come from.
Looking to the US, Las Vegas has no old culture but it is a party town.
Certain islands and towns in the Greek islands have a party culture that isn't related at all to where they come from.
Only in the last 15-20 years have teenagers flown abroad to challenge their livers and undergo hedonistic mating rites, though of course the term 'hedonism' comes from Greek culture!
The Greek word hēdonē refers to the "doctrines of certain schools of philosophy in ancient Greece (such as the Epicureans and Cyrenaics), who held that happiness or pleasure constituted the chief goal in life."
Everyone comes on holiday to enjoy hedonism but the bacchanalian rites that some people fly to a specific town to enjoy may differ from the adventure and daytime fun that those on a Greek yacht charter may seek.
We will touch on the modern culture and the old culture in the next two sections.
Cosmopolitan islands
For those who live 'in the now', you could go to the Ionian or Aegean and find just what you need.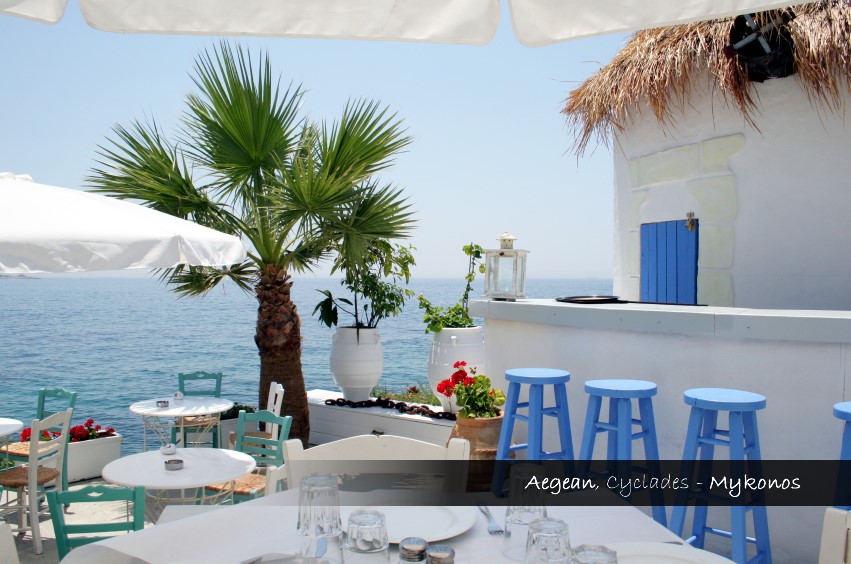 There are oceans of booze and sunshine to be found across both!
Kos (one of the Kavas Yachting bases) and Mykonos are two of the most popular party destinations on the whole of the Mediterranean.
Two much time in either may cause harm to your wallet as they also relatively expensive.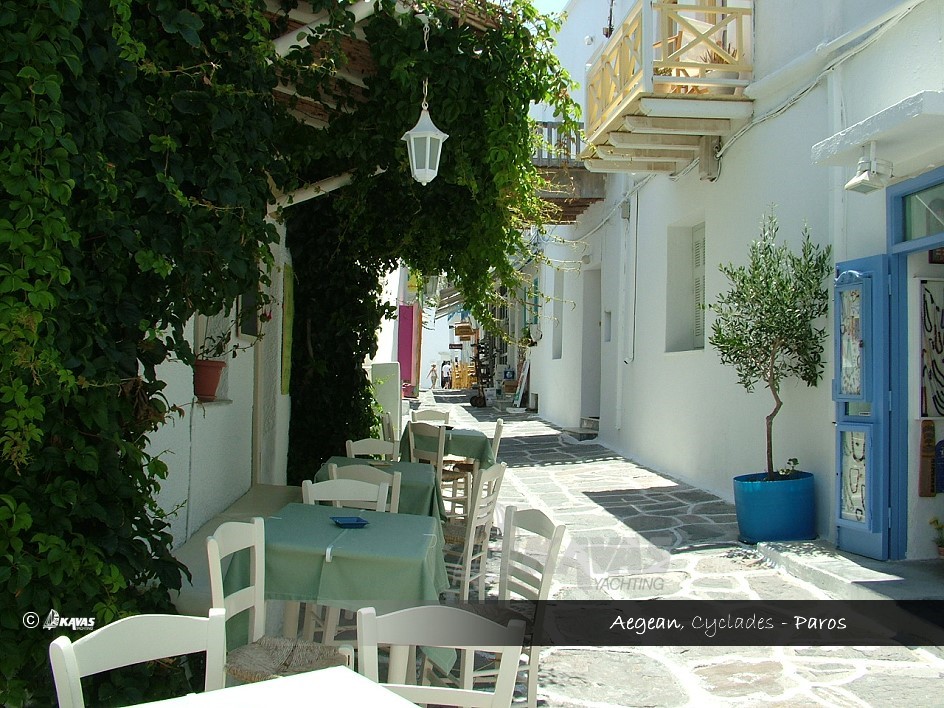 The Aegean has more on offer with regards both peace and quiet and crazy all nighters as there are so many more islands. For those who seek a bit of both, you can even alter your Greek yacht charter itinerary to allow for a couple of nights at full blast and then one or two relaxed and quiet.
On the Ionian you have the towns and cities of Corfu and Kefalonia. The Pink Palace is a nightclub complex in Corfu Town that has a reputation that may draw many a sailor who has been at sea too long. However, the Ionian islands are very laid back and more suited to those who may enjoy a little too much wine or ouzo of an evening but won't be disappointed if they are asleep in their bunks just after midnight.
Old culture
Greece's history goes back thousands of years and our islands have been dominated by different armies of occupation throughout history. The Ionian islands have been ruled by different European empires, while the Ottomans had control of much of the Aegean until relatively recently. Some islands have had a little bit of everything! Those who have ruled over the islands have left their footprints in the local cultures of the islands you visit.
You will find a lot of Middle Eastern culture and foods in the Aegean due to the Ottomans (who also ruled over some of the Ionian islands) but the Ionian islands have a lot of British and Italian flavours. This is not to say you will see a lot of 'greasy spoon cafes' in the Ionian islands – you will see some of the better things the Brits left behind!
The islands on both seas have their own hyper-local cultures that define them from one another. The Ionian islands are known in Greek as Eptanissa – in Greek, 'epta' means 'seven' while 'nissa' means 'islands. The Ionian islands the 'Seven Islands'. The Ionian / Eptanissan islands have a particular culinary culture that includes the dishes savoro fish, sofrito, and pastitsada. Do try to taste these as you travel – they will really show you what the Ionians are about.
Ikaria on the Aegean is known for the longevity of those who call the island home, and this is very much down to the quality of the food they enjoy as well as a lifestyle that barely raises the pulse year in year out, while Samos is famed for its sweet wines. The North Aegean islands have different folk dances and stories to the Sporades, Cyclades islands and Dodecanese islands, and their diets will be subtly different too.
If you are offered ouzo with your mezedes before lunch, then try it – a sip of this quintessentially Greek liquorice spirit is a perfect accompaniment with fish, including grilled shrimp and fried octopus. This is descended from a Greek fishermen's tradition of enjoying their watered down, cloudy ouzo with a piece of fish before lunch. The best ouzo distilleries are on the island of Lesvos, so if you do get the chance to run ashore there, perhaps bring back a souvenir or two.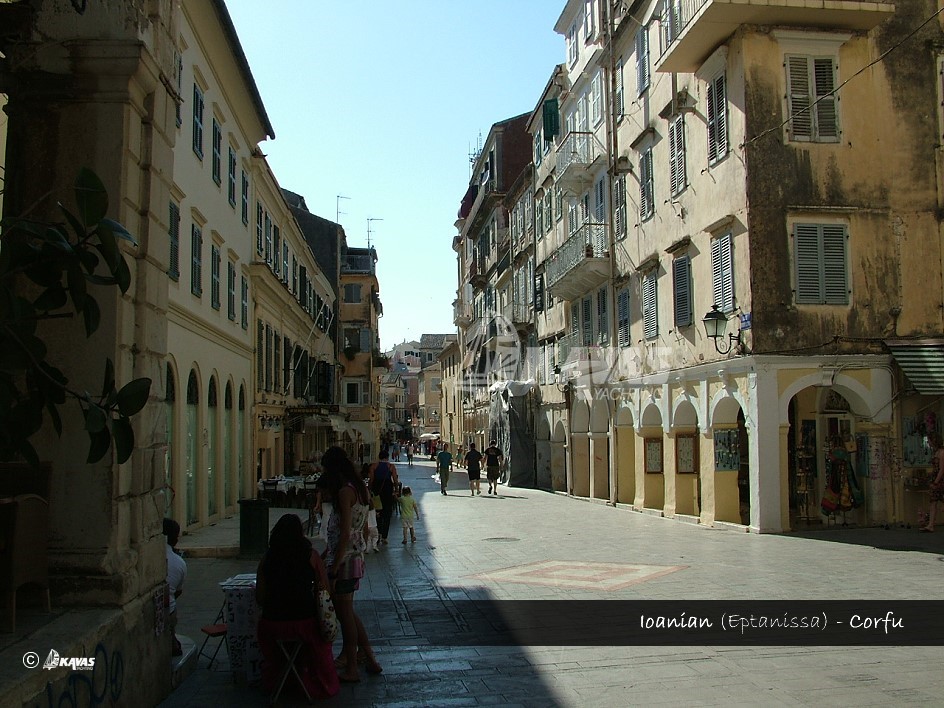 Corfu culture
Visiting Corfu you won't be able to ignore the local music. There are 18 marching bands in that one city. Nearly every hamlet and village on Corfu has a band. One Greek news website explained the history: "The island's musical tradition dates back to the time when the Seven Islands were under Venetian rule. The Venetians introduced opera to Corfu.
They converted the local "Loggia" into a theater (the first on Greek soil in modern times) where opera performances started in 1733 and continued for several years after the union with Greece. This theater was called the San Giacomo.
In 1903, it was converted into the present Town Hall and a larger theatre was built, which was bombed and destroyed in World War II."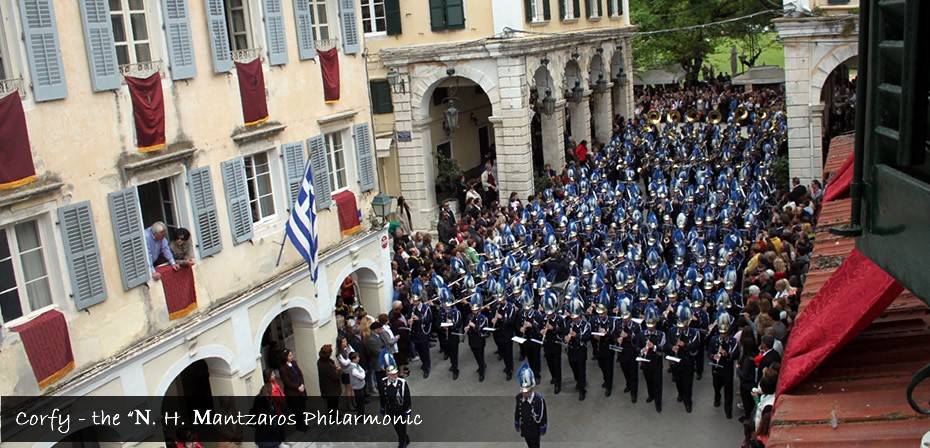 The history article continued, "During the British Protectorate, the musical tradition was carried on by Nikolaos Chalikiopoulos-Mantzaros who founded the first modern school of music on Greek soil. A large number of musicians were trained by Mantzaros. Among them was Spyros Xyndas who composed the first Greek opera."
The article concluded that today, "Locals who get involved with the island's philharmonic bands are usually not professional musicians but they have music in their blood. They later become teachers for the children who join the bands, helping them excel as soloists, conductors and teachers in the country's music scene. It is impressive that an island of 105,000 residents counts over 20 major music education organizations and many musical clubs, while it also hosts a School of Music as part of the Ionian University.
Nature and beaches
One of the advantages of a Greek yacht charter is that you can see places in just a few hours sailing that are impossible to see if you flew in on a package holiday. There are beaches throughout the Aegean and Ionian that are only accessible by sea.
In the Sporades (Aegean) you have the Alonissos Marine Park that is home to a number of species of dolphins and sea turtles.
How about stopping at Antipaxos (Ionian), a 3km long island off Paxos with a year round population of 20 people? You can't get much more chilled out than that.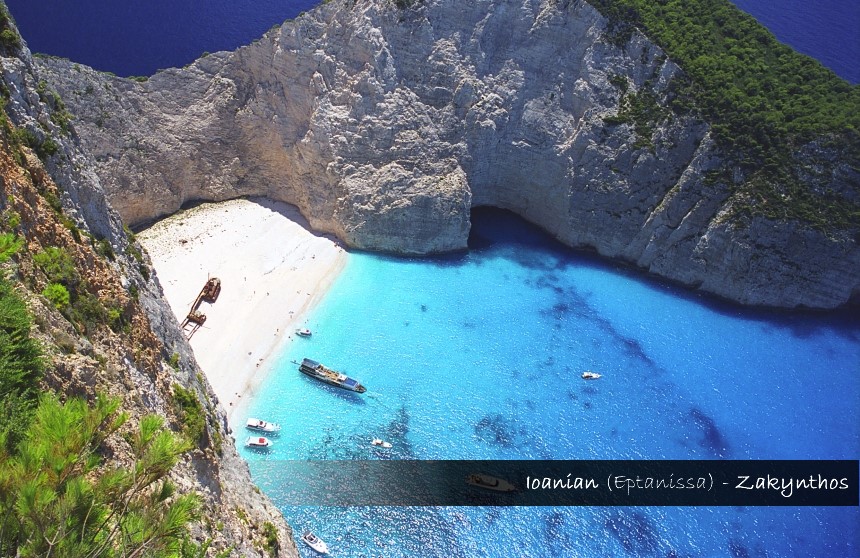 On the Ionian you really should visit the Navagio Beach on Zakynthos (Ionian), one of the most stunning beaches in Greece, that can only be accessed by sea. While a number of tourist boats unload the more adventurous sunseekers from nearby towns there, those on a Greek yacht charter are privileged to be able to enjoy the stunning sunset alone there, at anchor, surrounded by their favourite people.
Vassiliki Beach on Lefkas (Ionian) is renowned for its windsurfing and kite surfing - a local wind builds from lunchtime until late evening that will thrill the socks off those who love to blast along under kite or sail!
Ionian vs Aegean Infographic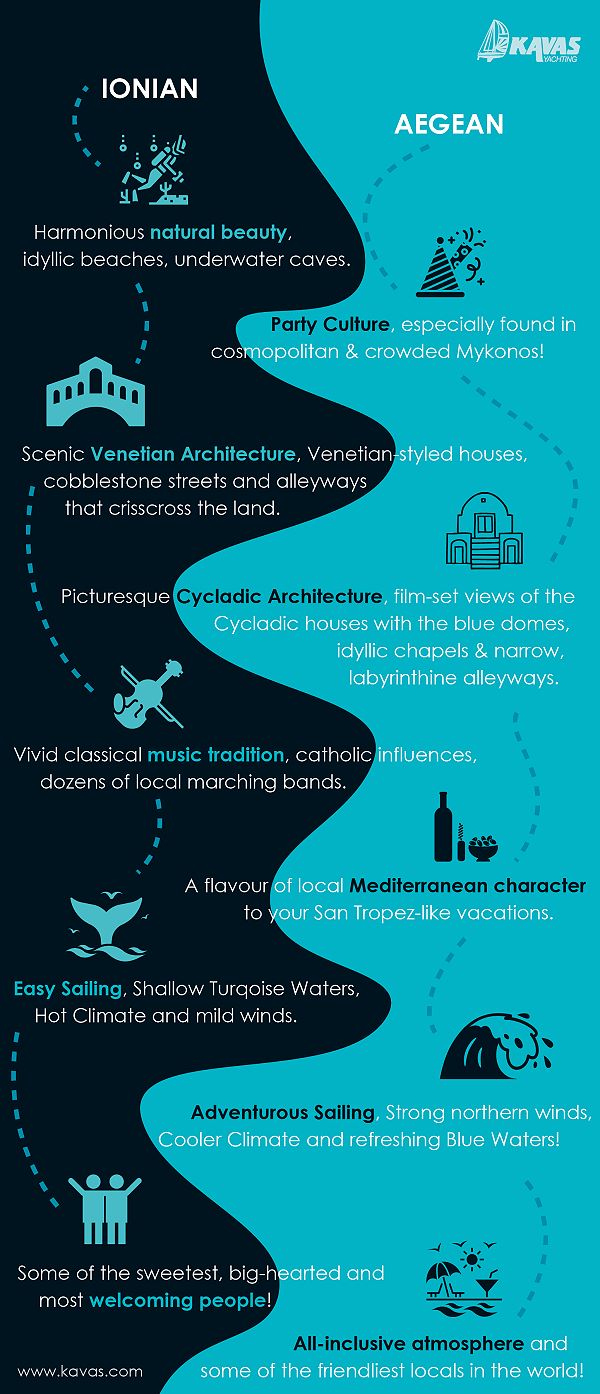 Greek yacht charter - the choice is yours
Ultimately you will be going sailing with Kavas Yachting on a Greek yacht charter because you want to cut loose and do your own thing. You may change your plans midway according to something a local told you you absolutely had to see due to your particular interests.
For those on a Greek yacht charter the choice is ultimately down to you – you wake up and choose what you feel like when you feel like it. Generally, for those who seek peace, quiet and gentle sailing the Ionian is for you while for those who seek something a bit wilder you can find all you need on the Aegean, from the big winds to the huge evenings out!