An enthusiastic review for sailing holidays in Greece
Dear Kavas team,
I would like to thank you sincerely for a wonderful holiday of this year.
Until the very beginning of this journey on June 19th, I and my family as well as friends really had great doubts as to whether we would be able to arrive in hospitable and beloved Greece without hindrance this year.
With this letter I'd like to share information with other sailors currently planning a vacation on a yacht in the Aegean or Ionian Seas.
So about everything from beginning.
The situation in airports
We traveled from the Lithuanian capital Vilnius via Frankfurt to Athens.
Although our first airline tickets were canceled by the airlines back in early April. However the Greek government's decision to open its borders from 15 June has led to new airline ticket offers and, by the way, almost twice as cheaper as we had in February 2020.
Before leaving for the flight, we're really worried regarding travel by plane, situations in airports, how it will be managed contact with the sick of the COVID-19 virus.
However, the airports of Vilnius, Frankfurt as well Athens were quite empty and proved to be safe for travelers.
Many of the shops and restaurants at the airports are still closed, so we didn't meet large crowds. Airport services are truly professional.
As a result of the Covid-19 airlines, the order of embarkation and disembarkation has changed. Passengers are now invited in groups according to seating, which increases the safety of travelers. Travelers by the way can carry up to 0.5 liters of disinfectant with them self in to airplane without restrictions.
Perhaps due to the fact that we traveled from safe country (Lithuania is one of the best countries fighting Covid-19 in the EU as Greece is as well), therefore, neither in Germany nor in Greece we didn't face any additional difficulties, health checks, submission of additional health documents or similar requirements that apply in other countries (not Greece).
Therefore, both the journey forward and the journey back home went perfectly standard and smoothly.
Our Trip
This year I planned our sailing vacation from Athens around the Cycladic archipelago.
Although I am a regular customer of Kavas, I have to admit that the Kavas team is able to surprise every time with its sincerity, attention and professionalism.
This year we had booked a brand new 2020 KOS 46.7 (Beneteu Oceanis 46.1) yacht. We were the first sailors to sail on this yacht.
The boat was great, sailing even with an enough strong wind (30 kn), we enjoyed safe sailing and almost a sport yacht speed of 12-14 kn.
All yacht equipment, accessories, utensils and other details are selected very carefully, with love. And upon request from the Kavas team we received additional feedback immediately. As always, Mr. Jason Petsas is the person you can turn to with all your questions and get all the answers you need.
We sailed with this yacht for two weeks (2020.06.20 - 2020.07.03), visited:
the Temple of Poseidonos,
Loutra in Kythnos island,
Foinikas in Syros island,
Mykonos and Delos islands,
Naxos in Naxos island,
Platis Yalos in Sifnos island,
Adamas, Klefticos in Milos island,
Mandraki and Hydra in Hydra island,
Poros and Poros island,
Agkistri island and
Aegina in Aigina island.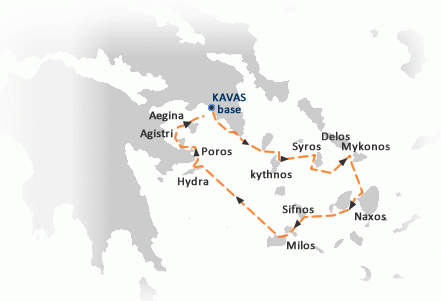 The situation in Greece
Throughout the trip, as and every time, we arrived in Greece, we felt the sincere attention and endless service of the people. At the moment (until there is an influx of returning tourists) sailing around the Greek islands is a real tale.
The ports are completely free, arriving even late in the evening will find a place you like to moor the ship. Despite the previous quarantine, prices have remained completely unchanged, in some places even declining.
There are not many visitors in the restaurants. Although guests are served six at one table (Greek government decree), the larger company certainly doesn't feel separated.

We traveled at nine, so we use to took two tables next to each other. At the end of the trip, my crew and I joked that we had spent this year's vacation traveling on the journey of discovery in gourmet Greece.
Trip Overall
The trip of this year was a real success.
Great weather, great food, amazing views, kind people and service.
The yacht we returned as beautiful and new as we took, only an already tested team of experienced sailors!

Thanks again to the Kavas team and especially to Vaggelis Kavas for his personal efforts and help for a well-organized charter and for helping us decide to come on holiday to our much-loved Greece.
See you next year!
Sincerely the captain sailed around the world in a sailing boat and twice sailed the Cape of Horn.
Saulius Budrevičius