3 best sailing apps for happy sailing
The reason behind the creation of this article was our intention to help mainly those who choose to take a bareboat yacht charter vacation, ie without a skipper.
Captains of this category need substantial help with the following 3 issues, since they take the responsibility of being in charge of a sailing trip only occasionally:
Weather Forecast: What is the weather forecast for the next hours (or days)?
Navigation: How will the route of the day be planned and what distances are to be traveled?
Safe Anchoring: How is it ensured that the (temporarily) moored boat will remain in the same position and will not float off?
The 3 sailing apps we like
Thanks to our digital age, the above problems can be easily addressed by installing the right apps on our mobile phone.
Below, we present you 3 popular apps, which work on both major operating systems: IOS & Android.
★ WINDY: Wind forecast & marine weather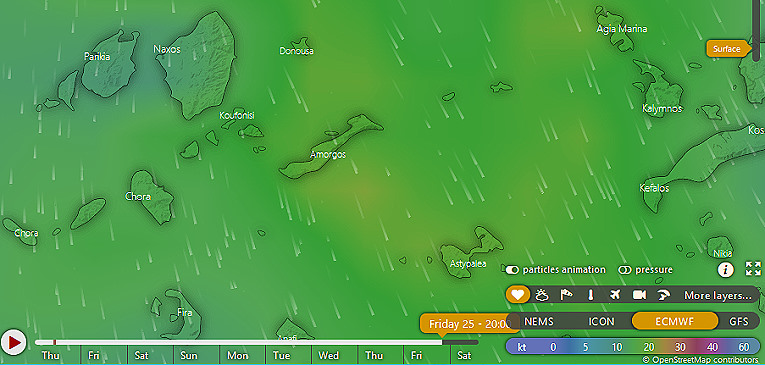 Without exaggeration, the best weather forecast app is Windy, for 3 important reasons:
It is incredibly user friendly.
It covers so many layers: winds, stormy winds, waves, temperature, rainfall etc.
It allows you to select the forecast model: NEMS or ICON or ECMWF or GFS!
To top it off, Windy provides these services free of charge!
Yes, ten days forecast (animated) panel, and no ads, even if you use it without even creating an account.

★ NAVIONICS: Marine Navigation
An award-winning application (by Yachting World) that shows our current position on nautical maps while offering many more navigation tools.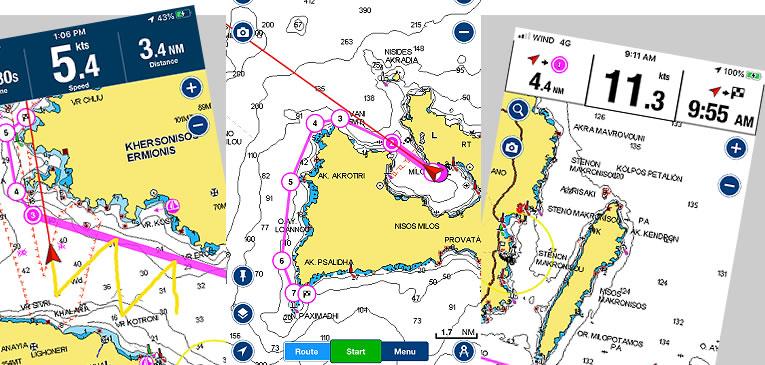 You may think that all boats have electronic means of navigation, such as GARMIN, so having such an application on your phone would be redundant.
And yet, navigating the seas with the help of your mobile phone would, in fact, be more convenient for 2 main reasons:
Using your mobile, you are informed from anywhere on the boat and not just from the cockpit.
You will be more familiar with the app on your own device.
Speaking from experience, last week, I sailed on an Oceanis 46.4 and immediately noticed that the GARMIN navigation system was set in Italian, apparently by a previous customer.
In summary, Navionics presents nautical charts with:
the depths and the reefs, in detail
lighthouses and floor plans of ports
weather information (temp, currents, tides etc)
This means that with this app, you have the information you need to move safely in real time.
Daily navigation plan
What you will really love about Navionics is the ability to plan your route by placing markers on the map, while keeping track of the total distance you have to travel.
In addition, during your trip, you will be able to monitor:
the distance traveled
the current speed of the vessel
estimate of arrival time (upon completion of the route).
known (and popular) anchorages
As another interesting feature, we would mention the recording and display of your trail.
The application is also available for free with limited features.
To give you an idea of the cost, a map of the Mediterranean & Black Sea, costs €17.99 per year.
Note that the chart layers you have downloaded, remain on your device even after expiration.

★ ANCHOR ALARM: Safe Anchoring
During our sailing vacations, we often need to drop our anchor in the open almost daily, in order to enjoy a swim, have lunch, or even spend the night.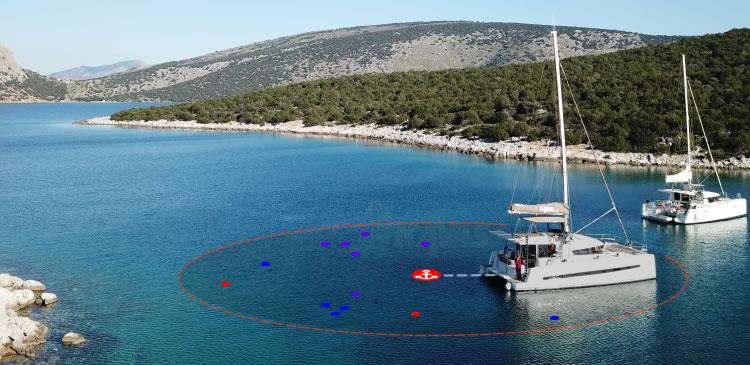 Spending the night outdoors, surely involves some risks and should be done under favorable circumstances:
shallow depth & enough chain extension
safe distance from other, already anchored boats
good weather, without waves etc
weather forecast that promises favorable meteorological conditions.
Provided safe anchorage, only one thing should concern us: that we will not move away from the point of our initial anchoring!
And the only solution to this problem is to use an application that will constantly monitor our position.
Fortunately, there are several mobile applications that inform us about it, such as the Garmin devices of KAVAS YACHTING boats.
But because we find it more convenient to use our personal device, we will present here the application we liked the most: the Anchor Alarm.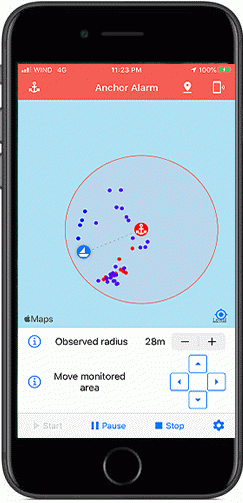 Once you open the app, you will see where you are on the familiar Google Maps.
Determine the maximum estimated radius for a safe stay, at the specific anchorage depth, hit activation and you are set!
If there is more movement than allowed, the alarm will sound.
The initial limit can be changed whenever you feel that the alarms are due to incorrect (limited) monitoring limits.
This wonderful app amounts 3.99€ - one time purchase.

Useful tips: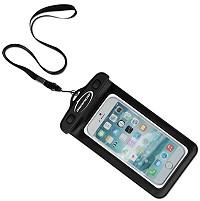 ★ Waterproof Mobile BAG (or case)

Make sure your cell phone is protected from seawater.

If seawater happens to get inside your device even a little, the corrosion will surely shut it down very soon.
So keep it safe in a waterproof case.

★ Mobile POWER BANK

If you assign the above tasks to your mobile, the battery usage will decrease, so you will need the help of a PowerBank.
We would recommend one with a capacity of at least 10,000 mah.

Being in charge of a sailing trip can be very exciting but also potentially dangerous, depending on the captain's experience.
However, the above apps can substantially help you to keep your crew and yourself safe so you can enjoy the adventure responsibly!