MacArthur's solo circumnavigation of the globe in 71 days
From the moment she took her first steps aboard her aunt's boat at aged four, Ellen MacArthur was hooked on sailing. Determined and focused this little lady knew what she had her sights set on and later saved her school dinner money for three years so she could buy her very own boat.
MacArthur has had many achievements through her nautical life – earning the title British Young Sailor of the Year, she sailed her first yacht Iduna single-handedly around Britain and then across the Atlantic finishing 17th.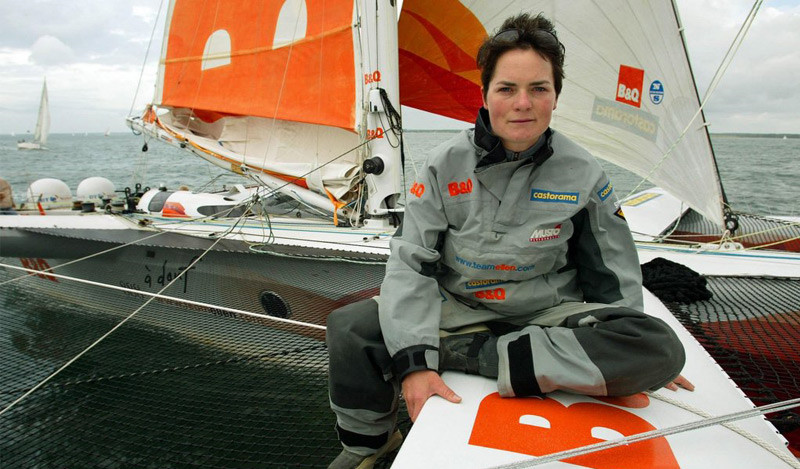 Ellen's attempts at the Vendée Globe - a non-stop solo trip around-the-world race – were not to be scoffed at. She was runner up and youngest competitor to ever complete the voyage. With this accolade she received an M.B.E and became a prominent presence in the sailing world. But could she create a new solo world record? She was soon to find out.
Setting Sail…
On the 28th November 2004, Ellen MacArthur set off on the biggest challenge she had ever faced: her attempt to sail non-stop around the world and create a new world record.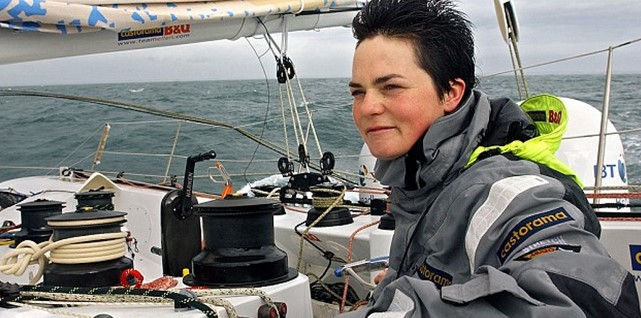 As Ellen crossed the start line, she took control of her 75-foot trimaran and went on to face some of the most traumatic and wonderful times of her life. The challenge began as she plunged head-on towards the horizon and in no time at all she was miles away from anyone in the middle of a vast ocean with only her sanity for company. The dangers were obvious - if anything went wrong she was in trouble. It would take days for any ship to reach her and there was no landing space for any plane or helicopter.
Ellen would face ferocious winds and blizzards along the way and at times she would become physically and mentally exhausted. In comparison, there were moments of millpond bliss and stunning sunset mountains. It was surely a journey of extremes and exasperation.
The expedition started fast. Ellen knew it was going to be hard but was determined to enjoy the ride. Alone and nervous she threw herself to the breeze and the long, hard journey ahead. Battling the salt of the sea, sweat and toil the sores appeared but she continued on towards the Equator.
Into the Abyss…
The weather conditions worsened as she entered the Southern Ocean facing head-on winds and choppy seas – alone and throwing caution to the wind - 28-days into her journey, Ellen spent Christmas day at Cape Leeuwin. It was a bleak time. With nothing to eat other than freeze-dried food she was stressed and sleepless. Suffering badly from headaches and ulcers she battled on through freezing temperatures.
As the New Year rolled in, Ellen sailed into unstable and unpredictable winds and she was pushing her small body frame to its limits and her yacht was taking a battering. Onwards she sailed, through drifting ice until two enormous ice-bergs came into view – all of which tested her limits and steering skills.
If this was not enough, the ship's mast was in badly need of repair. It was a big risk leaving it as it was, so Ellen in all her bravery scaled 98 feet above the waves dragging heavy rope and tools, all the time being taunted by the sea. Hanging on for dear life, she managed to fix it in between fleeting glances at the boat below, hoping and praying it would stay on course and the cruel waves would take a break.
She often screamed into the abyss on those days. Days when she felt she couldn't go on and she questioned why she had taken on this hell. She was so tired but her saving grace were the many emails of encouragement she received through these tough times. It seemed like the sea she loved had turned against her as waves engulfed her boat, now an enemy determined to break her.
Ellen knew the South Atlantic could end her if she let it and by the time she reached Cape Horn she was suffering badly from salt burns. 6-days later monstrous winds lashed ice and snow into the boat which she scooped out as fast as it was coming in. But sometimes in the darkest hell comes light and just as she needed this light, she passed the Falkland Islands and was overcome with emotion as she spotted Royal Navy sailors waving from the decks of their vessel, Union Jacks and St George flags strewn about the ship in her honour. The ship sounded its horn as Ellen ventured onwards and she regained some of her strength and determination.
The Sign
Towards the end of the voyage, food rations were low and Ellen was nervous. A multitude of questions ran through a brain that never rested. She'd been to hell and back, but now as she sailed into more familiar waters and saw sight of the odd tug boat she felt excited – she was nearly home.
Ellen began to adjust to civilization again. As the distant coastal lights twinkled into view, the nerves kicked in again. What if something went wrong? What if after all she had been through she didn't break the record? Ellen was panicking. Through sweat, blood and tears she'd toiled, deprived of sleep and food, alone and at times scared.
Then she remembered the sign.
While out in the midst of the vast and dangerous ocean when the sea had been calmer, Ellen had spotted a magnificent shadow looming in the water. As the mysterious shadow came closer a gigantic sea creature appeared right in front of her, expressing white mist from its blowhole. 30 feet of sea mammal with the strength and power to capsize a trimaran such as this, just disappeared underneath the boat and was gone. This spiritual encounter had confirmed that all was well – and it was.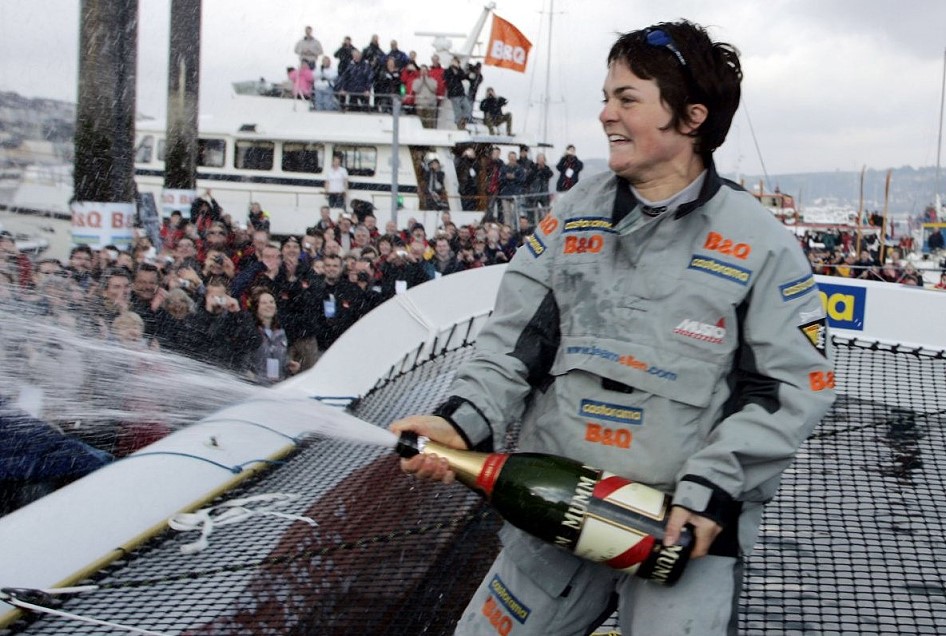 Homeward Bound
Homeward bound and exhausted, Ellen was on the home straight with a world record in her grasp. People from all over the world travelled to see the homecoming and to greet a fantastic Briton who'd conquered waves, sweat and tears of a most incredible journey.
On the 7th of February 2005, a victorious Ellen MacArthur broke the world record for the fastest, solo circumnavigation of the globe in 71 days, 14 hours, 18 minutes and 33 seconds. She was made a Dame of the British Empire; the youngest-ever recipient.