Idiot's guide to buying a second hand boat
You don't need to spend €200,000 to get a quality sailing boat.
For a tenth of that you can get a decent yacht that will serve you well for many years and bring you all the joy you would get from a factory-fresh one.
A good quality sailboat can cost as little as €0!
Generally speaking the less you spend the more effort you will need to get it seaworthy and comfortable.
Over this article we will look into all the aspects you need to consider when you go looking to buy a secondhand boat.
New-build boats aren't all they're cracked up to be either. Like a decent pair of leather shoes they will often need wearing in, and that's not always fun.
Getting a used sailboat vs a new
A common myth is that a new yacht will be trouble-free. The fact is that sailboats are incredibly complex machines and not all new-build boats are perfect.
At least two major boatbuilding companies have been hit with scandals in the last few years where the vessels sank just weeks after delivery to the owner. Thankfully no-one died but one of those companies came close to bankruptcy.
We will touch on getting a surveyor later but if you are insistent on buying new, you will still need to get one to look over a new-build boat before delivery.
Their job in these cases is to ensure you have a safe vessel but in the case of secondhand sailboats they can save you thousands of € by pointing out any safety issues.
A secondhand boat by comparison will be:
Much cheaper to buy
Most of its issues will be obvious from the start
Less expensive to maintain (as long as it isn't a wooden classic!)
Cost less to insure
May be less attractive to waterborne criminals after the boat or its equipment.
There is often more satisfaction to be had in an old boat too, as you maintain and improve it by putting in personal touches to make it suit you.
After a winter's work on the hard, getting her into the water in Spring and feeling just how sweetly she sails thanks to your work, is a moment of deep satisfaction!
Which boat is right for me?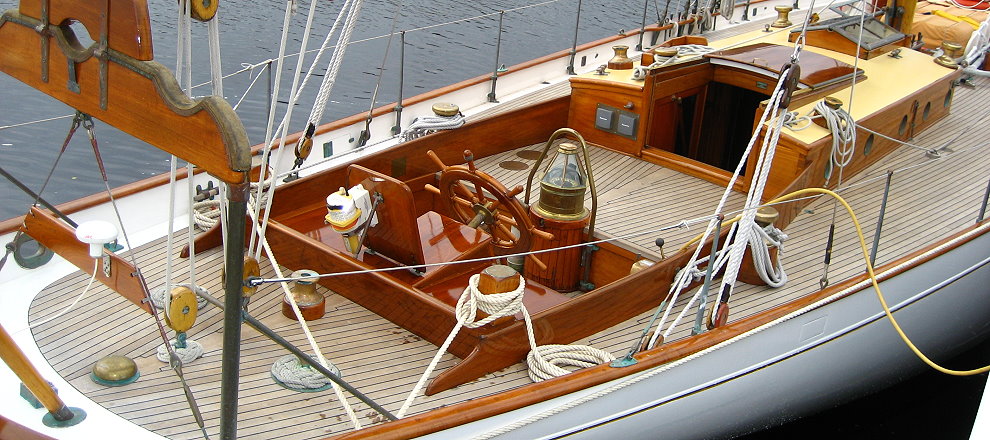 There are almost as many types of sailboats out there as there are people looking to buy one!
There are:
classics older than your grandmother,
mono-hulls and multihulls,
racers,
cruiser-racers and
cruisers sailboats that are good for big ocean crossings and others better suited to pottering about the coast between favoured seaside towns.
What material?
Carbon?
GRP?
Wood?
Steel?
Aluminium?
You won't find a carbon fibre yacht at the price range we are looking at here, and if you do get ready for your wallet to get a lot thinner!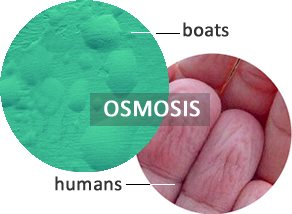 GRP
Glass reinforced plastic (GRP) is cheap enough that hundreds of thousands if not millions of boats have been built of it over the years.
It is widely regarded as low maintenance but can have an issue where water gets into the 'sandwich' called osmosis - think of it as a rotting process.
See a good article explaining what is osmosis.
It is difficult to fix but still easier and cheaper than replacing a rotting wooden hull timber.
Steel
Steel is a low cost material (20% less than wood), the strongest of all the common boat-building materials, but not suitable for small boats (under 30m) due to its limitation of thickness.
You may think steel is easier to maintain than GRP..
It can be if kept well protected with paint and you replace your zinc anodes every year to prevent electrolytic degradation of the hull, keel bolt or screw metal.
Essentially a current will pass between the steel hull and bronze propeller and the softest metal will degrade thanks to the current.
Electric batteries operate in just this way with a reactive metal being placed in an electrolyte (in this case salt water - a brilliant conductor) and the reactive metal ions passing from the positive terminal (the anodes, screw or keel bolts) to the negative terminal (the hull).
Aluminium
Aluminium boats are very light and fast - and as long as well maintained, at least as light as GRP and strong as steel.
The problem is maintenance: They need to be painted and anodes replaced at least every two years as aluminium reacts with salt water just like the steel/bronze/brass problem above.
Leave it ill-maintained and you won't be forgiven with the metal dis-solving thanks to electrolytic degradation.
Aluminium hulls however are nowhere near as much of a handful as wood - the next on the list!
Wood
Wooden boats are a labour of love. If kept in brackish water (where fresh mixes with salt water such as an estuary) or fresh water they will rot. You need to replace a timber at least a metre either side of the rotten patch. Then you need to paint and treat it. Wooden boats, while some of the most beautiful ever built, are a constant nightmare of maintenance and expense. This is why you hardly see new ones on the water today!
Mono or cat?
So how many hulls do you want?
Monohulls are generally felt to be better sailers at different points of sail.
Catamarans are much more spacious, luxurious and faster but don't sail as close to the wind as monohulls.
Look at our article comparing these two categories in depth here: monohull vs catamaran.
The following catamaran is looking for a new owner: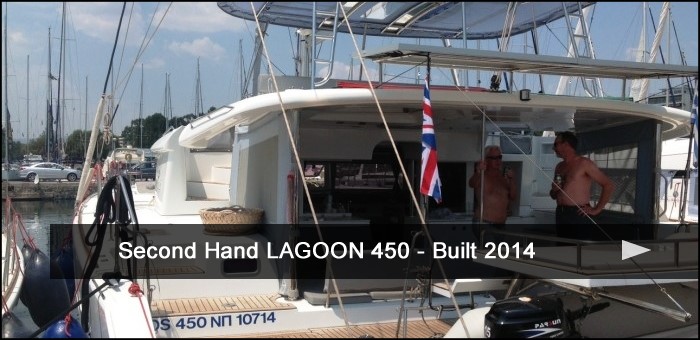 How old?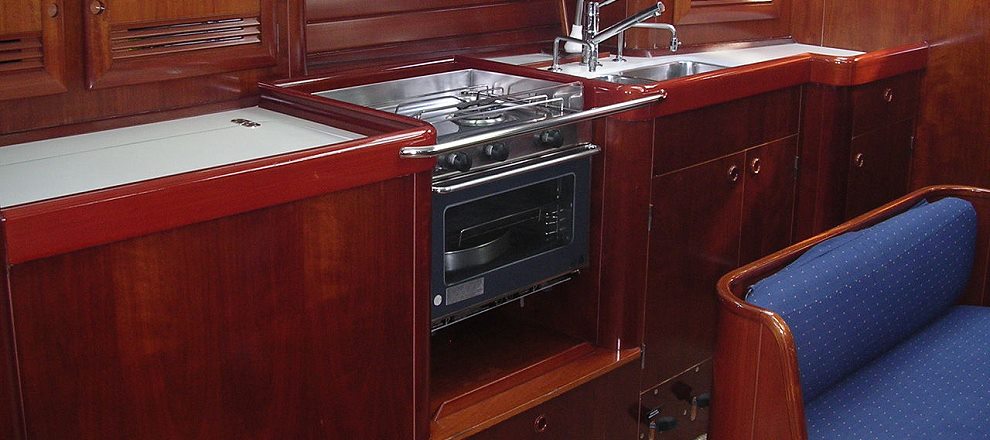 They say that a boat is a 'hole in the water to throw money in'. Generally speaking the older the boat the bigger the hole!
If you go for a wooden classic then unless you pay someone else €€€ to do it you probably won't see much of your family through the year.
A secondhand boat of 10-15 years old is no 'classic'. Classics are for the purposes of this article widen or steel boats of aesthetic or historical merit.
The J Classes that sail around the French Riviera and Caribbean are multimillion Euro classics.
A 15 year old mass produced Beneteau won't be considered a classic until just one or two are left!
Owning a classic is to shine its brass and keep its teak decks in perfect condition, replacing rotten hull timbers and maintaining it at show condition.
By comparison you won't mind your dog's muddy paw prints on the coach roof of your old Beneteau.
A condition called osmosis is effectively a rotting process that affects composite and GRP hulls.
Older GRP and composite boats are more likely to get osmosis.
Steel boats will be less effort as long as you replace the anodes - if you don't, electrolysis will occur between the screw and hull and bits like the keel might drop off at inconvenient moments!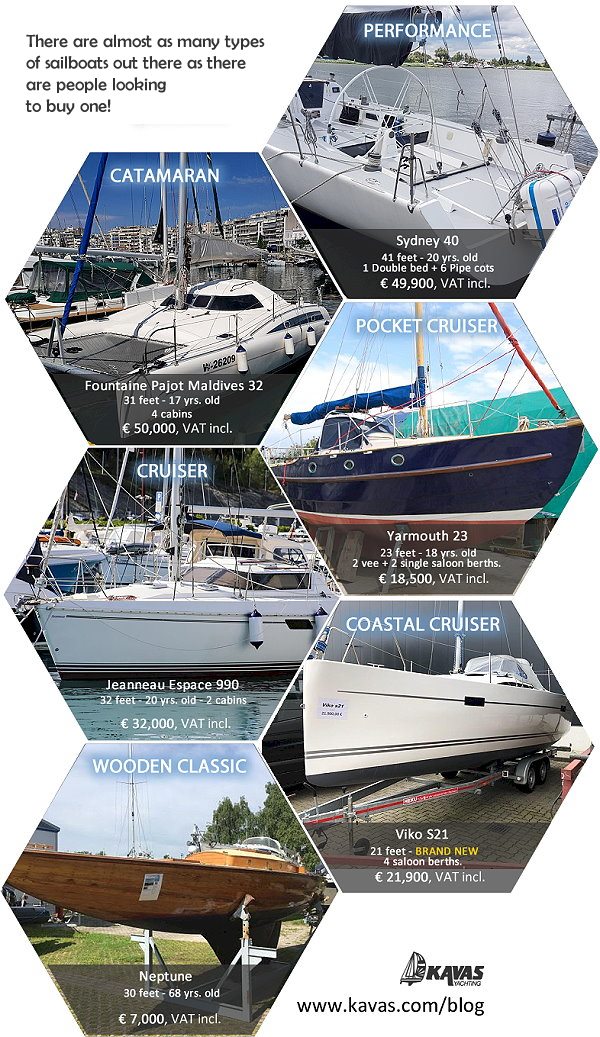 Many components may need updating from electronics to rigging too. The sweet spot comes with:
how much money, time and effort you can afford to put into the boat?
If you hate your wife and kids and have €€€ in the bank, buy a beautiful wooden classic and get ready to spend your life maintaining it.
If you love them enough to go sailing with them all the time, buy a newer GRP/composite/steel boat that requires a bit of love and attention but not all the love you have in your heart!
Bluewater cruiser, coastal cruiser, racer?
You could buy an oceangoing cruiser to sail the world on for €30,000.
It won't break records in getting where you want to go but you will be comfortable.
A step down will be the coastal cruiser or cruiser-racer.
A decent 25ft boat with a small cabin that sleeps two won't break the bank. You won't want to sail from the Med to Norway on it though!
Racers can be oceangoing for something like the Fastnet or more lightweight for class/club racing. They are built for lightness and speed, and you won't want to carry comforts like cushions or a shower aboard.
Pipe berths for sleeping aren't wonderful when you want to just have a weekend jolly with your family!
How many to accommodate?
This will affect how much you spend in a big way.
A 45ft boat will sleep up to six comfortably (more on a cat) while a Hurley 22 might sleep three at a push but could cost you just a few thousand €.
Recreational or Commercial use?
If you want a boat to charter out or one as a sailing school there will be internationally mandated equipment requirements that must be aboard all the time.
These include a well-maintained life raft, a certain number of fire extinguishers of different types and so on.
These apply even for coastal sailing. The hull and equipment must be inspected regularly too. You will need a very good secondhand sailboat for this!
Though you may want similar stuff on a recreational vessel you won't be thinking along the lines of whether you will be prosecuted for not carrying them/sued if something goes wrong.
You could buy a floating wreck and work on her so she is seaworthy. In this case, it is down to you and you alone to decide as to whether it is fit for the purpose you want - not the authorities.
What budget?
For €0 you can take a boat off someone's hands and put a lot of work into it to get it shipshape and seaworthy. Just watch this video to see how a youngster in the Netherlands did it!
Generally speaking the less you pay the more effort you will need to get it ready for sea.
The more you pay the less effort. Like houses, you will find some hidden costs in buying a new boat.
You may need to put work into it to get it ready for sea, a new suit of sails for racing, and so on but there are other costs you will always have to consider.
Other factors include how big and complex it is.
A 45' catamaran will cost a lot more than a similar-maintained, same aged monohull.
How old is it? While classics can appreciate (increase) in value, most vessels depreciate (fall). What you want the boat for is another factor - you'll spend more on a boat to get you around the world than you will around the bay.
No matter what your considerations are, you won't end up paying €200,000 on a secondhand sailboat unless it is for a 70' classic!
For a decent, comfortable 35' sailboat that is well maintained, expect to pay around €30,000 but that can be less or more depending on what you're after.
When is the best time to buy a boat?
Towards the end of your local sailing season people will be realizing they aren't using their old boat and may want to release the capital in their as-set.
That could be in September. You may think of this end of the season as a 'buyer's market'.
Come March/April (early Spring) more boats will be on the market but may sell more quickly at a higher price as it is a 'seller's market'.
If you're after a low-priced boat that needs some work on it, buying at the start of the off-season could be a good idea as you can get it ready for the sailing season next year.
Since that's also when people might be more will-ing to offload their yacht at a lower price, then you really should start hunt-ing about now - when this blog is published.
How can I find the right boat for me?
Who are you? What's your sailing experience?
Are you good at engine maintenance, electronics and things like joinery, rigging and even plumbing?
If you're good at all these then the world is your oyster.
If you just about know what an engine is and where it is, have never been out in more than a Force 3 in daylight then you will be more limited.
What are everyone else sailing in your home waters?
Boats that are great downwind such as catamarans are often better on the Mediterranean where the weather is more predictable.
Good monohulls that will beat without much leeway are better in Northern Europe where you may get used to having to tack through adverse winds to get where you're going.
When you have looked inward and outward and have a reasonable idea what you really want and can afford, then have a look around.
Boatyards are great places to find abandoned diamonds that will cost very little but need a lot of work.
Marinas often have abandoned floating wrecks too.
There are some rivers like the River Medway in Kent in the UK where a number of boats lie floating but abandoned. That they float is a sign there may be some life to be breathed back into them!
Facebook has a number of groups like Yachts and yachty bits for sale (Europe), Sailboats for sale by owner only, and Great Sailboats for sale.
Used boats directories: Beyond Facebook there are websites like The Yacht Market, Boats24, Boatshop24, YachtAll, YachtFocus , where you can find the boat of your dreams from literally thousands online. Brokers will take a cut from the sale of the boat.

You should always get a survey when you make the purchase. That said they tend to only sell the better quality boats out there that they can make a profit on that won't damage their hard-won reputations. Drive a hard bargain with them as you would a secondhand car! There are other sources too. Every so often we at Kavas Yachting put a few secondhand sailboats that we used to charter out up for sale as we update our fleet. Keep an eye out - you never know where your dream boat is lying right now!
Where, what, how - the variables of boat ownership costs
A good place to work out the costs of boat ownership is the Sailo Boat Calculator. It looks at a typical US dollar price for keeping and owning a boat. Saying that, a 30ft boat could cost twice as much to keep if you have it in one of the world's sailing centres like Newport, Rhode Island or on the UK's Solent instead of keeping it on a quiet backwater like Racine, Michi-gan or Roses, Catalonia. The sailing centres of the world have high demand for berthing, mooring and hard-standing. They charge accordingly. For the same reason a backwater has lower demand and will charge far less every year for you to keep a mooring or berth.
The same applies to marine trades - you will find the very best in the sailing centres but you will also pay through the nose for them. Insurance can be higher overall in the sailing centres thanks to being where the best boats are, marine crime can be higher. Sailing on busy waters can also affect the underwriters' position and they may charge extra for that. Even capital costs - the purchase price of the boat - can be higher as there will be more demand locally for that vessel. That can be rounded by buying a similar vessel from elsewhere.
Capital costs
This is the price you pay to physically pay for the boat.
Survey: ~800€
A good surveyor will save you more money than their fee by advising you of the costs you will incur in making it seaworthy. A marine surveyor is a person who knows boats inside out and can spot any major issues in the condition of the boat. They may spot an engine that is beyond serviceable use, or osmosis in the gelcoat that could need €€€ to fix for example. They can also give you a negotiating position where you can explain to the owner that he would have to spend say, €2000 on repairing it to get it seaworthy so the vendor should discount that fee from the price. A good surveyor should be able to get more money off the vessel than you have paid them.
In some cases they may tell you to walk away from the deal altogether, saving you the cost of putting an unserviceable floating wreck in the water… If you are going to part with €5,000 or more you should always consider getting a marine surveyor in to look at the vessel before you buy. All genuine sellers will happily let you bring one in. Some insurers and banks will insist on one looking the boat over before they will loan you the money/insure you too. The repairs the surveyor advises can either be done by the seller or you can demand they reduce the price of the boat to allow for these repairs yourself.
Licensing fees: ~2000€
In certain countries you will need to license or register the vessel with the government. This is a hidden cost you should remember!
Value Added Tax
Beware - if you are considering buying an ex-sail school boat or charter vessel you will have to pay the Value Added Tax (VAT) on it as the commercial operations will not have paid thanks to being businesses. Add 20% to the list price. In addition, if you are bringing the vessel into the European Union (potentially from the UK after Brexit too) you will have to pay the VAT on the vessel. That could be 20% or more of the value of the sailboat!
There are loopholes in different countries laws - do check before you dive in.
Be careful if you think you've found a bargain in Panama or Turkey and plan to sail it home as the VAT bill could be as unwelcome as the Coastguard deciding to rip out your bilges looking for drugs as soon as you arrive!
How to finance my sailboat?
Not everyone has €30,000 sitting in their savings accounts unless they have saved well for their retirement! There are a number of banks and finance houses that offer loans and mortgages for a sailboat. For US customers you can use a BoatUS loan calculator to see how much you would have to repay and over what period.
We used a UK marine mortgage calculator. On a loan of GBP £40,000 (€46,200) with a deposit of £8,000 (€9230) your monthly repayments would be £634 (€732) over five years with an interest rate of 7.7%. On a boat half that value you could be paying over £315 (€365) a month - similar to the price of a midrange new car.

Can I inspect the boat by myself?
How much do you know about boats?
Can you spot rot, osmosis or electrolysis?
Can you check wiring on the vessel?
Do you know about rigging, and can you competently climb a mast to look for corrosion at the masthead?
What about the engine?
Can you tell a specially cleaned engine that apparently runs well (even though it's ready to cough and die) from a genuinely well maintained, high quality machine that's ready for the next big adventure?
Can you inspect the heads for any nasty surprises?
Can you tell a little bit of water in the bilges from a problem ready to ruin or even end your life?
What do you know of checking keel bolts?
Winches? Running rigging?
Sails? Bulk-heads?
If you do then you might avoid getting a surveyor...
What are the costs of owning a boat?
Other than the capital, VAT and finance costs there are other things to think about when considering affordability. On a new boat you would spend 10% of the sale price annually on keeping the vessel. That could be €20,000 a year. On an older vessel the rule of thumb is different. You need to consider where you're keeping it. On the UK's South Coast between Portland and Brighton you are in for a lot of pain for mooring fees. In Spain, Greece or Scotland, less so.
Broadly the four main costs are:
Insurance
This will vary according to where you keep it and what you use it for as well as the boat's value and level of maintenance.
Slip/docking fees
Again, where you keep the boat is important. Moorings are cheaper than marinas but all you have is a buoy and will find yourself using your dinghy to get aboard.
Routine maintenance
We've joked about classic boats above! Equally all old boats need work done. The more you can do yourself the less you have to pay others. Sailors laugh that any trade with the word 'marine' in it costs 20% more just for the word 'marine'!
Winterizing
Every winter you take in all the running rigging, most of your food, bedding and sails. You drain your oil and fuel and change the fuel & oil filters. Inflatable/life raft comes out too. You also drain the coolant system. Ideally you'll haul out and keep the sailboat on the yard's hardstanding so you can/pay others to work on the bottom.
Let's look at a simple example for a 30ft sailboat kept in an Athens marina: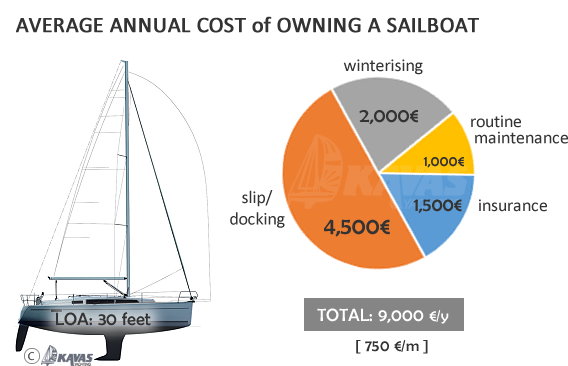 Conclusions
So by the time you're reading this you may have a better idea what you want/do not want to buy.
If you're an Average Joe it will be a comfortable cruiser of 10-15 years old that is well maintained. Nothing too sexy but affordable to run. That's not to say it is an old granny's Nissan Micra of a boat but certainly a decent old Volvo that'll take a kicking in a storm, rip along on a beam reach like a mad dog after a bitch on heat, yet be a warm, comfortable place to have your sausage casserole after a great day's sailing down the coast.
Most vendors will be honest and if you ask, 'Can a complete idiot like me fix this?' they may well give an honest response. The more you are around boats as a general rule the more you will learn about repairs and servicing. This comes from the simple fact that any trade with 'marine' attached such as 'marine engine repairs' will cost 20% more than their land equivalent and yachties are used to get their hands dirty to avoid the expense!
Happy hunting!