Let's talk buying boats.
So you've done a couple of charters with Kavas Yachting on Greek waters and perhaps have your RYA Day Skipper, ASA Bareboat or equivalent and quite like the idea of having a boat yourself.
You may have plans to say something impolite to your boss and live the life of a seafaring gypsy, drinking bars dry before cutting loose for the next island or even another ocean altogether…
Or you may just like the idea of doing something as a family every weekend as the kids grow up?
There are almost as many reasons to buy your own boat as there are boats to buy, and believe me there are a hell of a lot of those.
A normal boat
Let's make three assumptions here to narrow down the boats we will guide you into buying:
You like cruising (but won't be averse to the odd charge around the buoys with your club)
There may be 2-3 adults aboard on a typical trip.
You're not so rich you have a cruising yacht to hide away from the Board of Directors and have a fully crewed carbon maxi to smash world speed records in to ease the tensions when the Board get too argumentative.
If we make these assumptions:
you're a typical sailor and
will want something between 35-45ft (10-15 metres)
...that can be sailed shorthanded and for a decent distance should you have the time / finally say something rude to your boss.
That narrows, the available boats on your radar to maybe 20,000 across Europe & the US.
(I haven't counted, just guessed so please don't nitpick on social media over this point).
The 20,000 is a very rough guess as to how many second hand sailing boats there are for sale globally. There must be 1000 in the UK and several thousand in the US. The same applies in Europe and Australia / New Zealand.
The next section I say that looking for a 'normal boat' will reduce the 20,000 boats by 'several thousand'. If you want me to count them, pay me for around 5 hours and I will!!!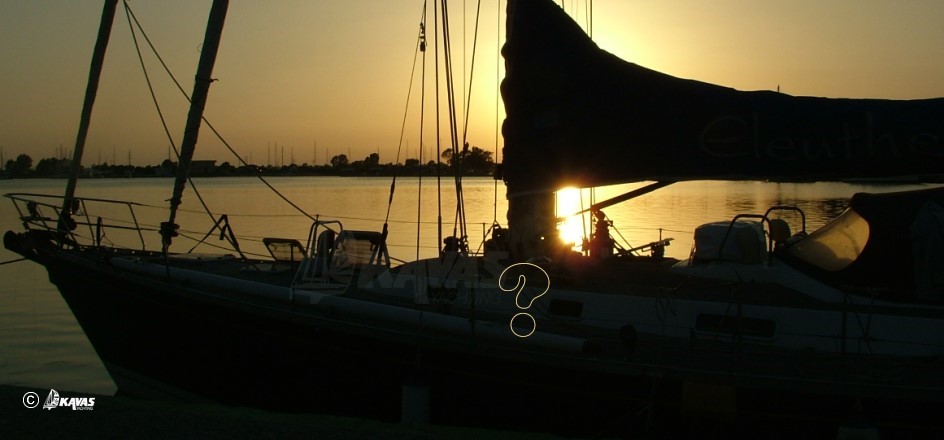 Let's discuss your broad choices within this vast sum of boats that their owners don't want:
THE ONCE GORGEOUS WRECK that might float but will certainly need a couple of years of love and attention but will quadruple its value and be a gem of the classic boat fleet.

I've been on a few of these and they are stunning, if a lot harder to sail than something from the 80's or 90's or later due to winches made for real men with biceps the size of my legs and perhaps even a gaff that needs three men to haul to the masthead in a light breeze.

Unless you hate your children and rebuild cars or motorcycles in your spare time to hide from them, don't buy one.

eBay is full of these sad old dames that their owner had to give up on threat of divorce or because they lost interest in spending €€€ every year on something that still has five years of work before it will sail again.

THE PARTY BOAT that is very comfortable alongside the dock and you can have shagalicious parties through the night yet as soon as it leaves the dock is a dog to windward and none of your sailing mates will want to go aboard.

Most catamarans fall into this category, but the midships cockpit mono-hulls with swivel chairs in the saloon tend to be very much the same. They may be more comfortable for family weekend sailing but not if you want to do a decent 3-4 day nonstop trip or longer.

Am I being unfair to cats? Honestly, I have a 1972 era cat in my family. It only goes the way you want it if the wind is aft of the beam looking after it is a bit of a pig (I once spent 3 hours in the aft locker seizing the parallel rudder bar in 4ft seas, getting stoned off my tits on diesel fumes.
I used string and superglue to seize the thread, the nut having disappeared into the deep.)

THE NORMAL, BORING OLD MONO-HULL with an aft cockpit and pipe berths in the saloon. This will be able to beat to windward, be comfortable to sail round the clock (as you will perhaps from Hamburg to London or across Biscay) and be relatively easy to sail by just a couple of people who are into a decent cruising experience.

Kids will have some role to play but please don't rely on them to be on deck reliably at 0200 for a two hour watch (and besides, how could they tear themselves off Snapchat for two hours?).)

This class includes trimarans that go blisteringly quickly, but is by and large quite ordinary.

You can still spend upwards of €140,000 on an ordinary second hand boat, so before you think I'm being boring please continue reading!
Let's assume you are in 2 or 3 above. That'll knock a few thousand boats out of the way.
The next job you have is budget.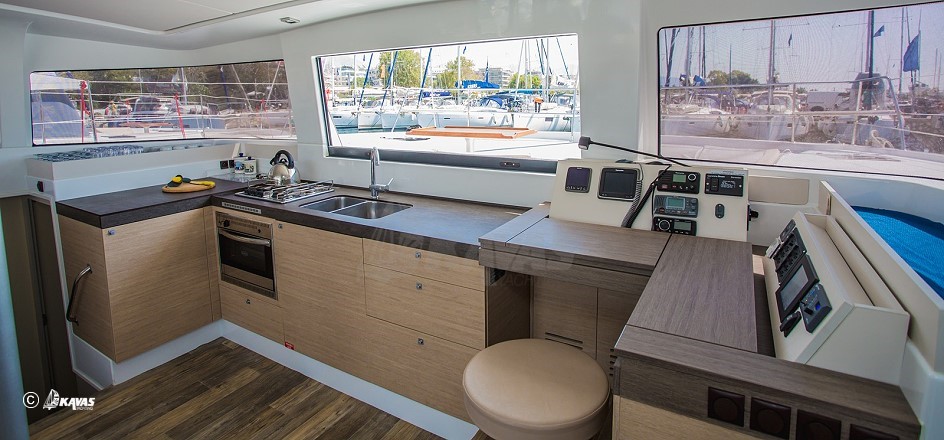 Budget
How much do you want to spend?
Perhaps unsurprisingly with boats, you can spend as much or as little as you want.
Unlike cars, it isn't always a case of 'buy cheap / get cheap' with boats. Boats depreciate a lot more slowly than cars – they reckon on 50% in the first 10 years and a further 75% in the next decade after that (no, the owner won't pay you to take it off him, that means 75% of the value it was at year 10 is lost!).
You could buy a 10 year old Beneteau for €50,000 but it may have been around the world twice and had its keel ripped off on a shoal off Mauritius in a typhoon that stretched its stays and trashed its winches.
You could have a 20 year old Beneteau that is a little shoddy to look at for €10,000 and be as sweet as a nut to sail in near perfect condition having pottered across the Channel once a year and kept indoors in the winter.
You don't have to be rich to buy a boat.
You will need disposable income to moor and maintain it. If you always buy a new Audi every year and the kids have en suite bathrooms then there's a boat for you but if you drive a 10 year old wreck and have just been given a promotion at work so you can afford the €5,000 annually to throw in a boat there's also a boat for you. The new Audi driver may want something big and sexy (like his house but not his women) but the social worker will want something small and comfortable.
The one thing to remember is that you should consider the purchase price the first half of your budget. Getting it seaworthy and ready for your travels is the other half of your budget.
If you have €50k to spend, then look for a €25k boat. With €15k to spend then getting your hands dirty (and without losing too much time with your kids) you could possibly get a €12k boat.
After purchase you will likely have to spend money on the following:
Engine overhaul (cheaper) or replacement (expensive)
Standing rigging survey and replacement
Running rigging overhaul and replacement
Sails
Electronics may need updating and certainly overhauling
Lights need looking at
Battery bank replacement. You can spend €€€ on lithium or € on lead acid that don't last as long.
Plumbing
Hull repairs
These aren't cheap but you'd be surprised at how much you can do yourself. If you buy this autumn it will keep you away from the TV all winter (and the kids off Snapchat) while you get to know your boat from keelson to mast cap. Leave the standing rigging and engine overhaul to an expert, and if you're not confident in any critical job pay someone.
You will need to remember that after buying the boat and readying it for cruising you will need to moor and maintain it.
eBay, one of the biggest marketplaces for selling boats, suggest, "Some boat owners spends as little as $3,000 per year on their boating habit while others spend as much as $15,000."
Honestly? You have a 20 metre wooden beauty and you could spend $30,000 in a year and that might be conservative…
Living essentials
The reason we are focusing on your 'normal boat' is that sailors' needs haven't changed much in the last 100 years of yachting. While boats may have solid wings and foils in the next 20 years and boats that actually go through the water and have nylon sails may be smiled at as we do 12 Metre or J Classes today the essential things for living below won't change that much.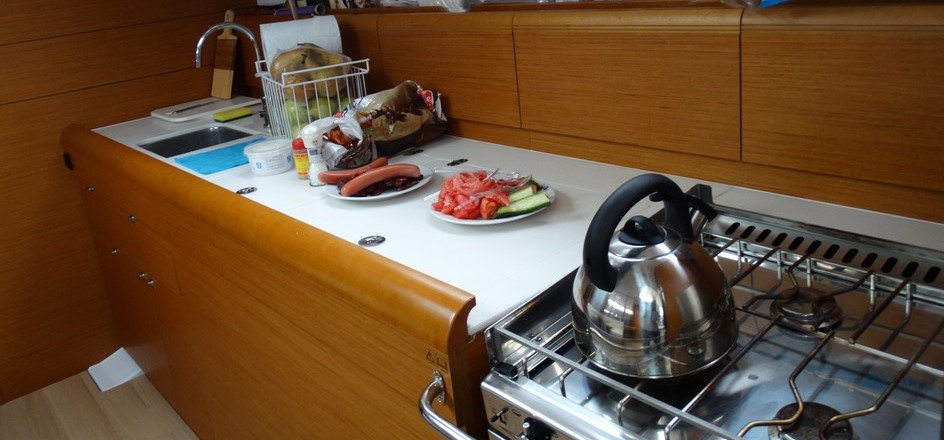 Let's look at some essentials the ordinary cruiser will seek:
Sailors need somewhere to sleep at sea. That means quarter and midships berths that are good to sleep in as the boat churns through the seas at night
They also need somewhere to keep their gear. 0.5 cubic metre per crew is positively luxurious.
You need a galley that is easy to cook in at all times of day and night in all sea states. That doesn't mean a kitchen where a restaurant chef will be able to stuff pheasants. You see on ocean race boats this means a 2 burner stove on gimbals and a sink beside it. You need storage space for shedloads of food that won't fly across the saloon in a beam sea, knocking out the skipper at the chart table. Ideally, a decent sized fridge or freezer (though not everyone has those!)
You can't go to the toilet over the side everywhere so ideally two heads (one in case the other gets blocked – no worse job at sea bar none than unblocking one in 2 metre seas)
A shower for when alongside.
A chart table and electronics routed to the same place. Lights, VHF, paper charts and a plotter.
Storage space for sails, maintenance equipment, flares, a chain locker etc
Emergency gear
You should also consider the following gear for any trip overnight for a few nights.
All will need servicing before you set out:
VHF radio with AIS
Emergency Position Indicating Radio Beacon (EPIRB) that you hopefully never need to use but should work if you do
In date flares
Full set of lifejackets for young and old
Dan buoy and life ring
SOLAS approved life raft
Optionally, personal life beacons (PLBs) for night time sailing
Bilge pumps, both manual and automatic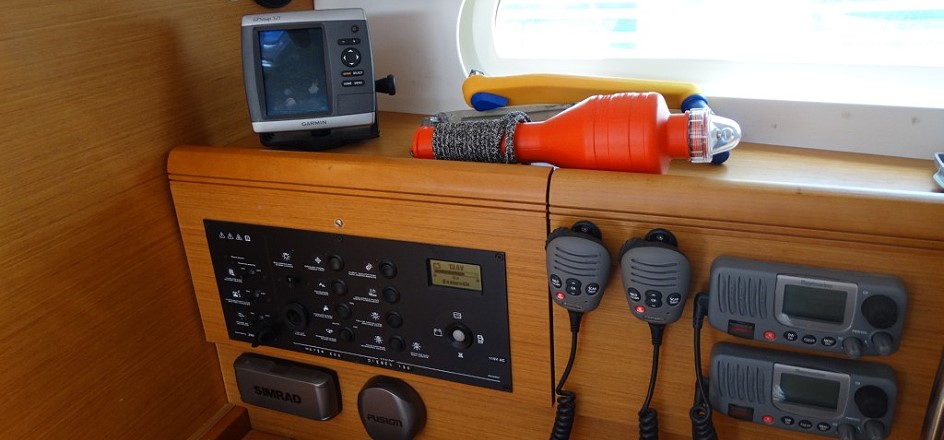 Broker or private sale?
Brokers will often stake their reputation on selling a boat for the right price. Without being too rude about them, they are like used car salesmen. Their loyalty is to the vendor and to the commission they take from the sale.
You will see a gorgeous boat when you have a look around but don't be beguiled by their charm and the polished brass.
Private sales will be from someone who may have had a change of direction in life or simply be upgrading their boat.
Get to know them and find out their story (and that of the boat). There won't be a commission to pay, as long of course they actually own it. Many a poor soul has been suckered by a charming middle aged woman who looks nautical and knows boats but is actually fencing it for a boat thief. Our family boat had a beautifully running engine that packed up within 100 miles of leaving Blackwater in Essex, even though Dad, a Royal Navy officer apparently knew boats!
You could respond to an eBay sale, or one online at a range or different locations such as Practical Boat Owner or Cruising World . Brokers and private sales alike have adverts there. You may even see a boat worth a second look at a marina or boatyard, though do take care when you start making enquiries – boats on hard standings don't need to float…
Ask the buyer questions to include the following:
How many hours has the engine run? This is on a meter and can't be changed easily
How regularly has the boat been serviced?
Where has the boat been kept in summer and in winter?
Is there any warranty left from the manufacturer and can this be transferred with the vessel ownership?
What problems has the boat had lately and in its history?
Why are they selling it?
How long has the owner owned the boat and who owned it before them?
You should go for a test sail too where you really give it a once over. Ask awkward questions – don't get pissed on the G&Ts they give you.
Get a survey!
OK, so you have zeroed in on the sort of boat you want. You have it within your grasp, and are already dreaming of long cruises to faraway shores and the money is burning a hole in your pocket. Hold up! Get a survey!
Earlier this year another client of mine published a story I wrote on why you need a survey.
Surveyors are hired by the buyer to have an expert look at the boat.
Do not accept a survey from the vendor as the surveyor's loyalty is to the person paying their fee. The surveyor should have been apprenticed into the trade over several years and know everything there is to know about the type of boat you want. Check their credentials. This article is aimed at several nationalities of people so I'll just say to ask your national sailing authority (the RYA or ASA for example) as to the best surveying membership organisation for the country in which you live. If you are buying in another country (perhaps in Greece from Kavas Yachting?) then get a surveyor from that country, as long as they speak your birth language.
The job of the surveyor is similar to that of an accountant. You pay them to save you money. A surveyor should save you more money from the asking price than their fee. They do not say 'buy this boat' or 'don't buy it', but they will write a detailed report about the condition of the vessel from bow to stern. They may find rot in the transom or a problem with the engine that costs €€€. If it is a few problems that costs 25% of the asking price you can get the 25% of the price knocked off the final fee. If it is a floating wreck that is likely to sink suddenly with all hands on the first night out from port, they will spot it and you can walk away.
It is unusual not to get a survey on a boat. If they refuse then walk away. It could save your wallet or better, your life…
Admin and closing the deal
You should have a Model Agreement for the Sale and Purchase of a Second Hand Boat.
The UK's
Royal Yachting Association
has just such a document, linked to above. This is a contract that
warranties the legal transfer of title to you and that the vessel is sold legally
. You can sue the vendor if the vessel breaches the conditions set in the contract, which a dishonest vendor won't like but an honest vendor may find a boring necessity at worst. It will cover you against the vendor fraudulently selling it and will also ensure that all the equipment in the survey is in the same condition as the surveyor saw it.
You should check the presence of a marine mortgage on the vessel and if it has been mortgaged how long that mortgage has left. They shouldn't be selling it if they can't cover the final fee.
You may have put a deposit on the boat before the survey and this will be agreed as you progress to full ownership.
Where finance used to be common on boats, it isn't as freely available. Really you should pay cash, but if you have the ability to get finance on the boat then be prepared to go through hoops such as the survey and repairs that the surveyor suggests. You will also need to insure the vessel.
Finally, insure your boat. This can cost €300 a year but while not legally required in all countries (and if not paid for by a loan or mortgage) it could save your blushes at a later stage.
You wouldn't leave your car or home uninsured would you?
Final thoughts
This is rather a lot to take in, isn't it? You may have flown through some bits of this article having made your mind up that you want a certain type of boat, but we might have helped change your mind toward another. I certainly hope that you don't choose a gorgeous classic wreck as your first boat for a start, and serious sailing friends will take the piss no end if you choose a party boat yet enjoy serious cruising.
Beyond that there is a lot to take in in regard the gear that needs to be aboard and needs to be in good condition before you go sailing.
Boats are complex, living creatures that need to be looked after.
If they are broken and abused they could take their anger out on you by breaking at an inopportune or dangerous moment, potentially seriously injuring or even killing you.
Choose carefully and you could have those great family or friends moments at sea that you could never have ashore. That is half the beauty and mystique of going to sea alone or with your crew. Sailing is a potent drug, and for all the ins and outs of buying a boat, is a pretty wonderful habit to have.
Bidding you fair winds, dear reader! Choose well ☺
See also ↠ How to buy a second hand boat - Why own a boat at all?