Background & Achievements
George Kavas was born in March 26, 1995 and due to his father' s involvement with yachts he was literally raised in a sailing yacht ! He spent all of his summers as a child sailing that proved to be a successful skill for his after life....
At the age of 6, he started "optimist" with his brother Fanis and soon enough he revealed his true talent in racing. He was 7 years old when he took part in several races in Croatia and Italy and when he was 9 he won 1st place in Junior Championship at Lace Garda, Italy.
Apart being a very good sailor, he was a very good student too...He use to train 5-6 days a week together with his brothers, taking very good care of his boat, keeping her in great shape!
When he was 10 years old, he was 1st in the National Junior Championship...He was very young, still very professional...In 2006 he participated in the Balkan Optimist Championship in Turkey and he was 2nd Overall.
In 2007 he won for Greece the 1st Place in Optimist World Championship with his brother Fanis and 3 more Greek teammates. From 2010 and after he started training with 420 and together with his brother Alexandros they made history! They won 2nd place in the European Youth Championship and 2nd place at La Rochelle...
Their most significant victory was at Lake Neusiedl, Austria, they were 1st Overall in the 1st Men and Junior World Championship ! George is now studying at the National Technical University of Athens as a Naval Architect and his future in the yachting and shipping industry is expected to be exceptional!!!!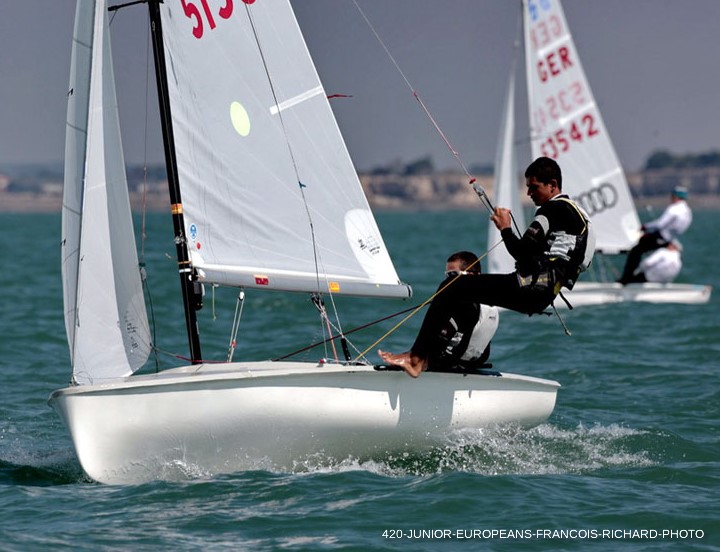 Optimist (dinghy) Racing Category
2005
Athens, Greece 1st Place

National Junior Championship
---
2006
2nd Overall

Balkan Optimist Championship

Athens, Greece 1st Overall

World Championship Junior Qualifier

Athens, Greece 1st Place

National Junior Championship
---
2007
Athens, Greece 1st Place

National Junior Championship

3rd Overall

Balkan Optimist Championship

Vigo, Spain 2nd Place

Semana Caixanova del Atlantico

Cagliari, Italy 1st Place

Optimist World Championship

with his brother Theofanis Kavas and 3 more Greek teammates
420 (dinghy) Racing Category
2010
Athens, Greece 1st Place

National Championship

Athens, Greece 2nd Overall

European Youth Championship
---
2011
Rafina, Greece 1st Place

National Championship

Tavira, Portugal 1st Overall

European Championship

with his brother Alexander Kavas
Kieler Woche, Germany 3rd Overall

European Championship

with his brother Alexander Kavas
Nieuwpoort, Belgium 2nd Overall

European Youth Championship

with his brother Alexander Kavas
---
2012
Paros, Greece 1st Place

National Championship

Lake Neusiedl, Austria 1st Overall

1st Men and Junior World Championship

with his brother Alexander Kavas
470 (dinghy) Racing Category
2012
Takapuna, New Zealand 10th Overall

World Youth Championship

Lake Garda, Italy 4th Overall

European Youth Championship

1st Overall

Balkan Youth Championship

2nd Overall

Balkan Championship
---
2013
Athens, Greece 4th Place

National Championship

Thessaloniki, Greece 3rd Overall

National Championship

with his brother Alexander Kavas
La Rochelle, France 12th Place in Youth, 33rd Overall

World Championship

with his brother Alexander Kavas