Sailing a boat through the waxing and waning currents of the sea and wind seems like a challenging task to many: it calls for keen perception and quick action - a mixture of alertness and mindfulness that together blend into a feeling of being one with the environment and making the sailor feel as though he truly is the soul of the boat.
Taking up such a challenge comes with rich benefits. Apart from that feeling of true freedom relished among boaters or the leisure of practically having your own island in the middle of the sea, sailing can also offer a priceless experience as well as unforgettable lessons: it can teach us how to keep steady during high tides and how to keep our sails full so we can keep going.
"When it comes to sailing,what matters is the ability rather than the disability."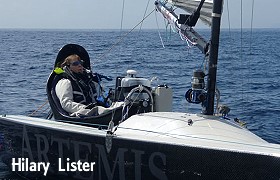 Without doubt, all these triumphs of sailing do not exclude anyone, able-bodied or not. The world of sailing is full of bright examples proving that there really are no barriers to taking part in this amazing adventure. From Hilary Lister, able to move only her head, who in 2005 set a record by sailing solo across the English Channel using a 'sip and puff' system to control the sails and steering, to Geoff Holt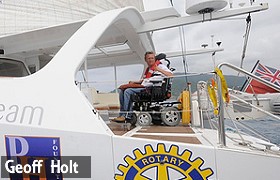 , who became the first quadriplegic to sail solo around Great Britain in 2007, one thing is for sure:
when it comes to sailing what matters is the ability rather than the disability.
There are many roads to adaptive sailing. Whether you are interested in motor and sail cruising or skippering your own dinghy or keelboat, most boats can be adapted to suit certain disability types.
There are many foundations worldwide as well as organizations hosting sailing programs for people regardless of their skill level and physical abilities. This is achieved through the provision of services and boat/dock modifications.
Access to the dock
In order to facilitate the access to the dock, ramps are designed to have gentle slopes and level areas so that the use of a wheelchair is made easier.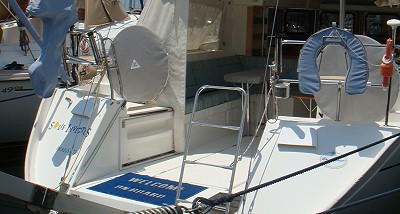 Wire mesh, non-skid pads or industrial strength rubber mats can be laid over areas which may be slippery, and hand and guard rails can be available on either side of the ramp for safety and additional support.
Boarding
Getting into the boat is easily done with the use of a transfer box or board. This is a box with a hinged board attached that when opened up, provides a ramp to slide from the box top to the boat. A transfer board allows the sailor to transfer directly from their chair to the boat by sliding from one to the other.
Additionally, volunteers are always ready to help with a full body lift if the sailor feels this will increase their safety.
Boat Modifications
Modifications on the boat are made to increase mobility, stability, hand function and vision. This includes non-slip, padded seats; padding around sharp objects in the cockpit; a "bench" to assist transfer from one side of the boat to the other in conjunction with a simple athwartship grab bar and extra loops of rope to grip or handles that provide stability in the boat.
Obstructions are minimized within and around the boat and consistent location of equipment is established for visually impaired sailors.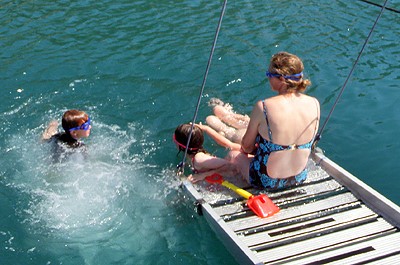 Stability, Safety and Comfort
In order to maximize stability aboard, harnesses and straps/belts with quick release fasteners are often used to secure the sailor to the seat and add safety, comfort and stability for those who cannot physically hold him/herself upright.
The belt is used across the lap and chest, and the harness around the shoulders. Be sure that quick release fasteners are secured in such a way as to make them easy to reach and release by the sailor, a crew member or a sailing companion.
A True Captain Fantastic
Even skippering a boat can be made easy for those with impaired mobility. There is an increased growth in the design and development of electronically assisted steering such as 4-way joystick steering system using either foot/toes or hand/fingers to manipulate the toggle.
The electric joysticks usually control both the tiller and sails, moving the tiller in and out to let the sails go in and out and moving it left or right to move the boat left or right. Other such systems include the 'sip and puff' system, used in instances where severe quadriplegia may limit the use of a joystick.
A sip and puff control allows a person with quadriplegia to use a straw like mechanism in which they control sail movement by how they blow, sip or bite the control.
All-inclusive Ability to Sea
For visually impaired sailors tactile cues are put in place so they can find equipment on the boat such as tape on a line, knots in certain positions, as well as the use of cadences for timing transfers and actions. Braille labels or added texture to clutch arms are also used to make them more distinct.
Also, tactile maps and audio compasses are used to replace visual maps as to aid with navigation. An audio compass is one that speaks by the press of a button offering the position of the vessel, wind direction, and the degree the vessel is pointed.
Sailing for All
These are all practical adaptations that any sailing facility or organization can put to use in order to share the joy of this sport with everyone regardless of their degree of ability.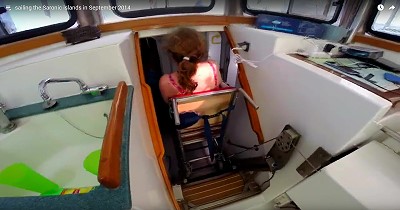 Kavas' Greek yachting company has at its disposal the "Solis Invictis", a Dufour Atoll 4 for sailing enthusiasts looking to experience firsthand the adventure of sailing as well as the peacefulness of the sea.
Fully equipped with a wide "catwalk", safety belts, special aisle-chairs and electronic lift for easy transfer to the lower level, the Solis Invictis has a wide terrace and big living spaces offering a panoramic view of the sea night and day.
Skippers and volunteers are always set, ready and excited to offer people with disabilities unique vacations around the Greek islands.