Yachtie types love their gear, and often enough their spouses and families will wonder at their spending habits to cover a range of eventualities.
After five months lost at sea last week, two women were deeply thankful they had the gear they had ferreted away aboard - it enabled them to be rescued far out in the Pacific Ocean.
According to the Guardian newspaper, "They survived shark attacks, the loss of their engine and then their main mast during a five-month ordeal lost at sea.
Now, two sailors and their dogs are finally safe after being rescued by the US Navy."
Jennifer Appel and Tasha Fuiaba were on a 2700 nautical mile trip from their home islands Hawaii to Tahiti, which should have taken a few weeks.

They had a series of disasters that individually could have left them to die of starvation at sea:
Appel lost her phone over the side, and this led to her mother calling for help after getting no calls home. The US Coastguard did a search and couldn't find them.
Their engine died. Being a sailing boat they naturally thought they could sail onwards, until…
Their mast 'broke', meaning they couldn't set sail.
They were in a deserted space of ocean so no radio distress signals got ashore to indicate their position and that they needed help. Yes, this still happens these days.
Over my articles for Kavas Yachting I say time and again, you should get the training you need to do a specific journey.
Had they done their sea survival course?
Had they learned rigging techniques to get some sail on?
This isn't clear.
They certainly had the resources to fix their water purifier when that broke so one will assume they were no idiots!
What Appel and Fuiaba had done is have enough victuals aboard to survive for far longer than the journey itself would require. They had also fitted a water purifier aboard so they had an almost unlimited supply of water for the trip.
They had the necessary things aboard to survive.
If nothing else they also had their two dogs aboard so even after the galley was empty they had a source of red meat without eating each other!!!
'I only sail on the Med - this couldn't happen to me'
So, you may be a regular customer of Kavas Yachting and only ever sail Greek yacht charters on the Mediterranean.
This couldn't happen to you, right? A few days after 11/9/2001 (everyone knows it as '9/11') I went to call my father to report on our friends' welfare. One had been in the Pentagon when the plane hit, her husband had been in Langley that day and thankfully both had made it home. Their kids were in Manhattan and had made it home safely to Queens.
Dad however was unaware of the crisis being wind-bound in the eastern Gulf of Lyon. On the family's 32ft catamaran, he'd gone on a trip to Italy and the winds turned. On a cat there is no point in pinching or beating as you will just go sideways or backwards. If there is a good Mistral or Tramontana you're basically stuck. He was one of the few people in the world who didn't know about the terrorist attacks that day.
Dad had served as an officer in the Royal Navy. He tells me stories of how people with no knowledge of the weather go out for a day sail with a case of wine to lubricate their afternoon, only for the Mistral, Bora or Tramontana to blow up and send them far south. In a typical tale they were found dehydrated and starving on a boat with just wine to keep them going. Booze dehydrates you. They might have been off the coast of Africa for days, unaware of where they are and very drunk to boot…
Could that happen to you? Quite possibly!
Proper preparation prevents piss ups
Kavas Greek yacht charters have the right equipment for you to look after yourself should you get in trouble at sea. You will have a GPS system, a handheld GPS system, Emergency Position Indicating Radio Beacon (EPIRB), and charts for you to work out where you are from manual navigation.
You will find the following post interesting:
Traditional Navigation with Paper Charts
The engines and rigging are well maintained so you shouldn't run into any of the difficulties that occurred in the Pacific above. You will have a water tank that should keep you hydrated for a good few days if you run into trouble. All will have the space for a few days' emergency victuals.
Yacht charter survival tips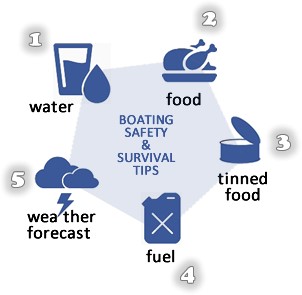 There are five key points you should consider when you go on a yacht charter on the Mediterranean:
1. Water
Whenever you reach port, top up your water tanks.
Ensure that you have around six litres of drinking water per person, even when island hopping.
2. Food
It is better to have too much food aboard than too little.
3. Tinned Food
Store some dried and tinned food – perhaps 2-3 days' worth when you prepare to leave the Kavas base.
4. Fuel
As with water, top up your fuel tanks every time you get into port.
You never know when you may have to motor for a few days and whether you'll always be able to use a fuel jetty!
5. Weather Forecast
Sail conservatively – watch the weather forecast and don't just hope you'll make it home.
Alter your itinerary to ensure you can make it back if the forecast suggests you could be wind bound in port.
Read more in our Sailor's Guide:
The weather - basic principles
Ultimately you go to sea to be self-reliant
While there are the pleasures to be had of meeting new people to have fun with and often to drink far more than your mother would wish to know, you are often going to sea to be away from the strictures of life ashore.
More often than not, when something goes wrong you will have to sort it out at least to the point you have stabilised the situation.
Very few people get stuck off the coast of Africa with no means of getting home these days, but it really pays to prepare to the point you don't end up in dire straits should that occur…

See also ↠ Sail conservatively - Sailors self-reliance - The weather – basic principles