Women in sailing
Sailing is unnecessarily perceived as a male sport with meathead 25 year old men grinding the winches and burning 5000 calories a race from their upper bodies alone in an afternoon.
What rubbish!
At the end of this blog you will come to understand that while there are hardly any tasks in elite sailing where men have the grunt women don't, the chief reason women aren't at least 50% of the elite yachting world is that those who prevent them are just the same men who don't like women on the boards of multinational companies.
In short it is down to blatant sexism and patriarchy.
If you want to charter a yacht on Greek waters and you are a woman there is no reason at all you shouldn't sail as competently as men.
The Vendee Globe
Let's face it boys, we aren't at our physical best by the time we're 40.
While we don't need a blue diamond shaped pill to keep our loved ones happy (at least for the next decade) we aren't as fit and solid as we were in our 20's. Why then was the youngest man in the 2016-17 Vendee Globe a 31 year old rookie?
Why were all the men at the top of the leader board in their late 30's, 40's and even 50's? The Vendee is a race for the mind.
Let's face another fact, boys: we aren't as mature as our female fellows.
Even in our 60's we get told to 'grow up' by our women lovers and friends.
Tie these together and you will see why the then 25 year old Ellen MacArthur came 2nd in the 2000-01 Vendee Globe.
She's just over 5ft tall and while I wouldn't have liked to get in a fist fight with her in the physical condition she was in at the beginning of the race she was no match in physique alone for the men in the rest of the fleet.
Speaking to the Express newspaper ahead of the 2016 Vendee Globe, Alex Thomson said, "The first time I did a solo round the world it was a shock.
That feeling of being out there for 90 days was daunting. Once all the spectators had gone and the race had started I found myself curled up in the foetal position in the cockpit.
" Later, during the 2016-17 race he would one day describe a moment where he was asleep and an alarm went off so he rolled over, briefly thinking his crewmate would sort the issue out before realising he was completely alone, 14,000 miles from his team… There's a reason that men and women do this and not boys – only men and women can handle the psychology.
Female Sailors
Nearly everyone in the UK will know who Ellen MacArthur is after her:
Her record stood for many years too.
She became a household name and has gone on to make a fortune on the motivational speaking circuit.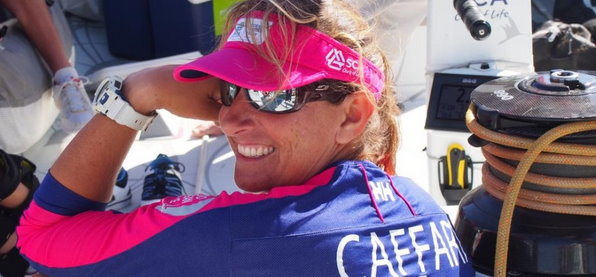 The next woman we meet here is Dee Caffari.
She sailed solo around the world against the prevailing winds in 2005, and got the record of 178 days aboard the 70ft Artemis.
As we have discussed before at Kavas Yachting, this is the most brutal and unforgiving way to go around the world and only 4 other men have succeeded in getting that record. In 2008-09 she came 6th in the Vendee Globe where only 11 finished.
If sailing was just for the boys then honestly why are these women leaving the meatheads in their vapour trails as they blast around the world?!

The Magenta Project
For those women who get faced down by an old fart wearing a club tie and a blue blazer, telling them that 'sailing is a man's sport' there is a way of getting round him.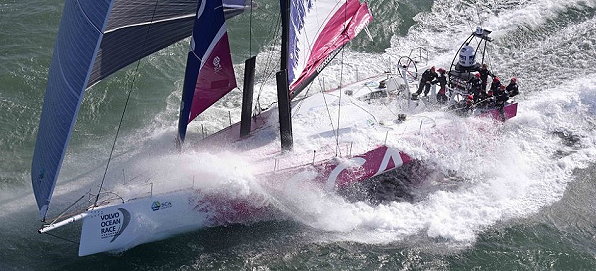 The Magenta Project, is an organisation dedicated to changing the sailing scene in women's favour. Its aims are as follows:
Increase the percentage of professional female sailors from less than 3% to 10% by 2020
Promote global female role models within the sailing industry
Showcase the differing pathways for women to achieve in sailing
Influence organisations across the globe to develop opportunities for women
They run coaching programmes and support teams, including one in the Extreme Sailing Series and racing the flying GC32 catamarans, as well as supporting women into the global ocean racing scene.
OK, so you're a leisure sailor?
Not all of us even want to be an elite sailor, men or women.
Your cruising yacht isn't designed for 21 year olds as most people can't afford a boat until they hit their mid 30's and most cruising sailors are a lot older than that.
Strength really isn't an issue for bombing around the buoys on the Sunday racing circuit or even sailing in a Force 7 Meltemi in the Aegean while on a Greek yacht charter.
Being switched on when something happens and being able to get home with a smile on your face and no one injured is again, something for the mind not the body.
For most jobs on most yachts, you don't need a huge physique to get by.
In most dinghy and yacht racing fleets you will often find that the women are as quick or quicker than the men.
Sailing is a sport that requires a high level of skill from being able to assess the perfect trim of the sail to working out the Voyage Made Good calculation for the best route down the course.
Crossing a strait or an ocean, do you need muscles to work out the weather patterns for the next few days ahead?
What muscles do you need to steer a course that is straight as a knife? If you're using your muscles at the helm it usually means you're zigzagging drunkenly along and sloughing off speed with every gyration of the bow!
Let's smash the glass ceiling!
Why then aren't women properly represented in sailing? The answer is the patriarchy at the top of the world's sailing clubs.
These same old farts are captains of industry who are alpha males and think women are best left in the kitchen, at the bar and in the bedroom.
There are very few jobs in this world that women can't do at least as well as men. It is men who hate women yet who make it to the top of this world who oppress the women at the bottom, and not only in countries where women must wear a veil everywhere they go outside their homes.
These men have their clubs and clubs control the yachting world.
Sailing is a sport where the best minds win, and sadly too often women must use their minds not to compete with men on the water but ashore to even get aboard those boats.
It doesn't need to be this way at all...