Two new Bali 4.0 catamarans has joined our charter fleet
After last season's success with our first two catamarans, Kavas can announce that we have bought two more, Bali 4.0 cruising catamarans for our customers to enjoy.
Sailing cats is a little different to monohulls, mainly because they are much more spacious and comfortable, don't heel very much and are much quicker on the water.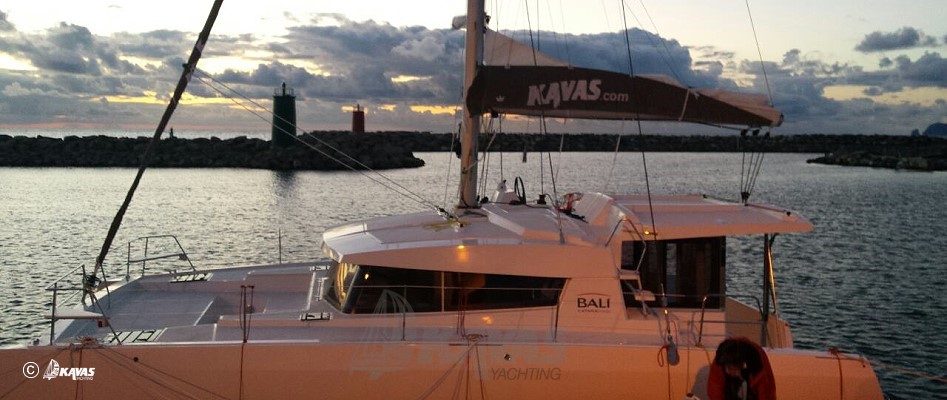 Why sail a cat?
Some sailing purists laugh at the idea of sailing a catamaran. Having a shallow draught they have much more leeway than monohulls and can sail nowhere near as close to the wind as a monohull.
From our perspective at Kavas Yachting, if you're into sailing performance and speed, perhaps you should get on the ocean racing circuit to maximise your speed, while come and charter a yacht in Greece for the fun side of sailing?!
Racing catamarans lay off the wind a lot more than monohulls when beating. While this means you sail further over a tack, the far greater speed of the cat means that you travel that extra distance more quickly and while the monohull you're racing travels a shorter distance, due to 'Voyage Made Good' (VMG) you will still make it to the line faster than the monohull.
Most people will choose to charter a cat on Greek waters for the added luxury.
Unless under possibly too great a press of sail you won't notice the heel as you sail, even close to the wind. This means the cook can produce a great lunch even while trotting along in a good blow.
The space aboard, with two hulls and a deckhouse, means everyone aboard has that added bit of room, and you can enjoy your meal on deck in the evening without having to dance around one another to find a perch.
The space aboard a catamaran is far and away greater than the monohull of the equivalent length. This comes from the two hulls and the space between them. While monohull sailing can be more aligned to camping in some cases, sailing a catamaran is definitely about cruising!
The final point that all cat sailors know is their much lower draught. This means you can come closer to a beach and take a few liberties that your monohull sailors just won't be able to enjoy.
Bali 4.0 particulars
The 39ft Bali 4.0 is built for ease of sailing yet doing so in total comfort. The helm is in a raised position and has an almost 360 degree view from their perch. While at the helm they aren't isolated, with ample seating area for everyone else around them while sailing. She has a self-tacking jib so sailing her is almost an afterthought even while enjoying the great speeds that come with having somewhere around 78ft of waterline length on the two hulls.
Under power she has an engine in each hull, meaning that you can have brilliant low speed manoeuvring, literally rotating around the mast in the middle. For coming into a marina such manoeuvrability is a gift from heaven…
The deckhouse is as large as you would find in a self catering apartment ashore. This means space that you just won't find in any monohull of equivalent length. Again, while the 39ft monohull may sleep 6 people, at least two of them will be in the saloon – on the Bali 4.0 they will have their own cabins. Two of the double cabins are in the starboard hull and share a fully equipped heads with shower and toilet. The master cabin has an en suite heads to themselves.
Now the fun part.
The deckhouse opens at the foredeck as well as aft to the cockpit. Those into sunbathing can hang out on the foredeck while at anchor, while perhaps being passed drinks direct from the galley (sunbathing is thirsty work!). The cockpit is spacious too, meaning that one can have around 30ft of deck space, covered and uncovered should you wish to entertain your new friends met on holiday. While at anchor or moored to a buoy, the aft deck lowers to the water, ostensibly for launching and recovering the dinghy but if you're in a nice anchorage and want to go for a swim it serves as a great swimming platform.
Overall?
While you will pay a little extra to charter our cats than you may a monohull of equivalent size, you get what you pay for in terms of the space, comfort and luxury. When it comes to sailing, you will notice the added speed and this will be an added buzz for the sailor. Those who have sailed our Bali 4.0s before have all given great reviews – perhaps you should try it yourself this season?