One of the elements of going to sea is that you're on your own. If something serious goes wrong while you are on a Kavas yacht in Greek waters it might take an hour for someone to come to you if you call for help. For most sailors this means that when there's a problem you do everything you can to sort the problem out yourself.
Looking at some examples of great self-reliance at sea as well as our own website, let's look at how you can avoid calling for help when it goes pear shaped on your boat.
Conrad Coleman - Foresight Natural Energy
On the 10th of February, just 1000 miles from completing his first ever Vendee Globe, Vendee Globe skipper's boat Foresight Natural Energy was dismasted in 35 knot winds. He'd travelled well over 23,000 miles around the world only for this to happen, just a day or so from the comforts at home. This blog is being written on the 23rd of February and he's still trying to sail back to Les Sables d'Olonne with a jury rigged mast and sails cut to suit his new rigging.
Under the rules of the Vendee Globe you are only considered to have finished the race if you have no help except by VHF or satellite communications. No one can come on your boat, and you cannot start your engines to motor into port.
Coleman sat tight for 36 or so hours to let the storm pass and then, having rescued his boom from the rigging he cut away from the boat, used the boom as a new mast.
He cut a suit of sails to power his boat and has been making around 80 miles a day toward his destination.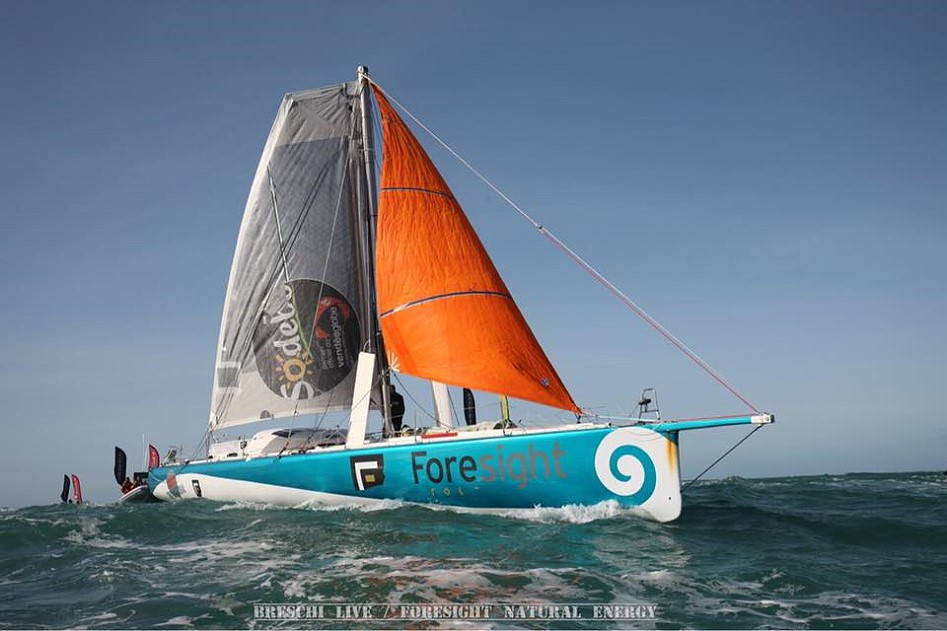 Coleman has almost run out of food. Earlier this week he said in a blog, "I am down to eating some "cup of soup" instant soup packets that I had left over from the southern legs and life raft biscuits. Like the hard tack ships biscuits that powered merchant seamen in the days of sail, these are concentrated biscuits that have had all moisture driven out of them and then vacuum packed so they'll last forever. Unlike their ancient cousins, my life raft biscuits are 400 calories each and are fortified  with all sorts of vitamins and minerals so I won't lose my teeth to scurvy while crossing Biscay but I might lose some while crunching the biscuits! Since the I finished the jury rig I have been eating an estimated 700 calories per day which amounts to a third of government agencies suggest we eat, or a quarter of your average Chipotle burrito!"
There is some question whether he will make it into Les Sables d'Olonne as he will run out of electrical energy. He wishes to be the first ever VG skipper to sail around the world using no fossil fuels, so needs to have some speed to power his hydrogenerators, or some sunshine for his solar cells in order to make it. It has been cloudy and calm for the last week…
What's that got to do with me – I'm a cruiser!
Not everyone is a round the world sailor who wants to finish the race come hell or high water. We do set out to sea to be self-reliant to some extent though.
In 2015 the Royal National Lifeboat Institution (RNLI) had to rescue 9,763 people in UK waters of which only 442 people would have died without their input.
Without digging too deep, one wonders what the 1,579 sailing craft supported by the RNLI (Royal National Lifeboat Institution) could have done to avoid calling for help?
In 2016, two sailors on one yacht headed from Norway to the US called for help 9 times in 7 months headed south through UK waters. They ended up calling for help three times off Cornwall alone! This left sailors and the authorities alike fuming that the two idiots should even set foot on a boat let alone plan a voyage to the US when they were scarcely capable of walking on the dock without causing an incident. Boat International reported, "The lifeboat was called out again when one of the men got into difficulty while attempting to reach the moored yacht in a rowing boat. Other set backs they have encountered include: being saved from bad weather in the North Sea, being given a new battery by a Danish oil rig and running aground in Scotland."
Sailing with Kavas
On the Kavas Yachting website we have published a number of examples of how to avoid calling the emergency services for help. In our website's Boats Troubleshooting section we cover a range of incidents ranging from tangling your anchors to being holed at sea and what to do if someone falls off your boat. If you haven't already, we recommend that you have a look at the Troubleshooting pages so you know what to do.
The more experience you get at sea, the more mishaps you will have.
It is generally a badge of honour for most sailors that they have been in some fairly hairy incidents and have got home to tell their tale without getting support from emergency services. For most of us, whether Conrad Coleman valiantly trying to get back to the finish, or a bloke whose engine has broken down and has to sail onto the dock, it is a matter of pride that we make it home alone!
Before you set out to sea, be clear in your mind what you will do in a variety of situations and you too may be able to tell a salty tale that doesn't involve calling the Coastguard…
See also ↠ Sail conservatively - Yacht charter survival tips - Safety briefings at sea