Cooking on a boat delicious meals, the Greek way
Embarking on a sailing trip around the Greek islands during the summer brings to mind a rich picture:
The Mediterranean breeze blowing against the sails, the beautiful amber sunsets, the white and the blue, and of course the islanders, offering their hospitality along with a handful of their local fruits.
It all sounds like an ideal way to spend your vacation-time whether you are with friends or with family.
Cooking on board
This "Mediterranean minimalism" is the perfect opportunity to re-connect with nature, go back to basics, and perhaps come in touch with the sea-man inside you!
Tackling the issue of everyday meals while aboard can be a real headache especially for those looking to pair the sweet plop of the sea with a five-course feast including pork steaks in the oven and boat-made pecan pie.
Keep in mind that when sailing, certain luxuries are to be used frugally such as water and power.
Furthermore, the space available for cooking and meal-prep should also be taken into account depending on the size of the boat and what it can offer. But there is no need to sweat it!
Also, do not miss this interesting post from our blog:
Boat friendly Recipes
Below are a few ideas on what to eat when sailing along with their nutritious yet savory recipes!
Keep it fruity (vegan)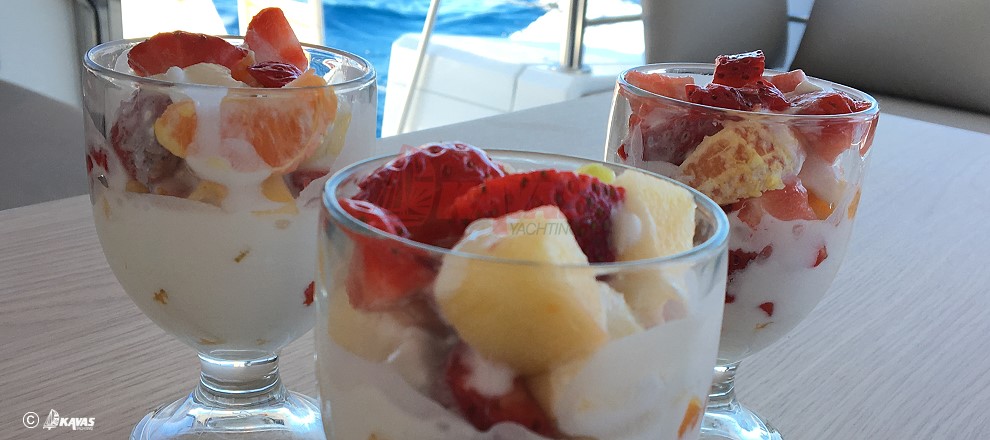 Eating fruits for breakfast should always be the standard way to break your day.
But when on a sailing trip it is extra important to take in those juices in order to compensate for the dehydration caused by the heat and the vigorous exercise common among boaters.
In addition, the simple sugars contained in fruits can be a great power-source for your body while setting out for a busy day around the islands.
Ingredients:
The variety of fruits in season during the Greek summer truly seems endless. Opt for fruits high in water content such as watermelon (92% water), grapefruit (90% water), cucumbers (96% water), strawberries (92% water) and cantaloupe (90% water).
Preparation:
Simply cut up the fruits in bite-sized pieces, serve in a large bowl and offer the whole crew!
For extra flavor whip some canned coconut cream with petimezi or maple syrup and pour over the fruit.
Cretan Dakos (vegetarian)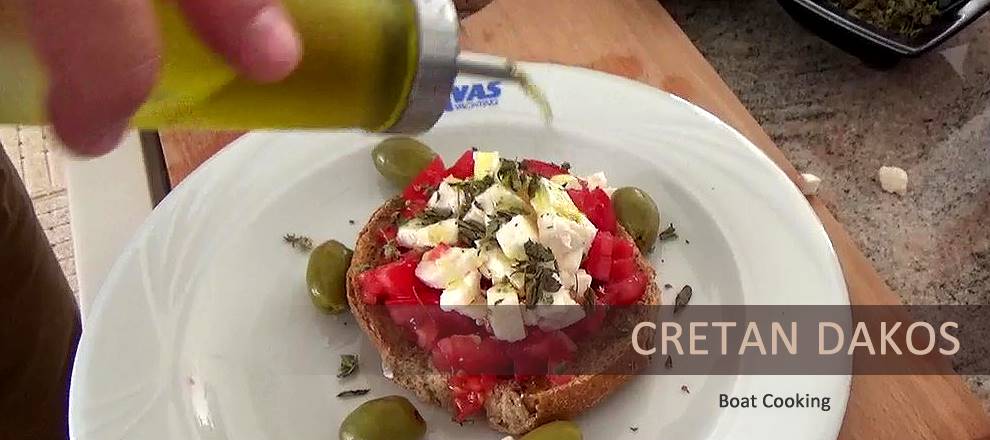 Everyone knows of that inexorable hunger sailing inside the stomach after a good swim in the salty waters of the Mediterranean.
Now is a good time for an appetizing lunch that's going to keep you light and full until the next meal!
Ingredients:
*Barley rusk (or slices of dried bread)
*Tomatoes
*Greek feta cheese (or mizithra cheese)
*Olive oil, 2 tbs
*Oregano
Preparation:
Soak the barley rusk of in water for a few seconds.
Chop the tomatoes and the feta/mizithra cheese in a small-dice fashion.
Place a generous amount of the chopped food on top of the rusk.
Pour a table spoon of olive oil on top.
Sprinkle with oregano.
Decorate with some olives.
Greek Salad (vegan/vegetarian)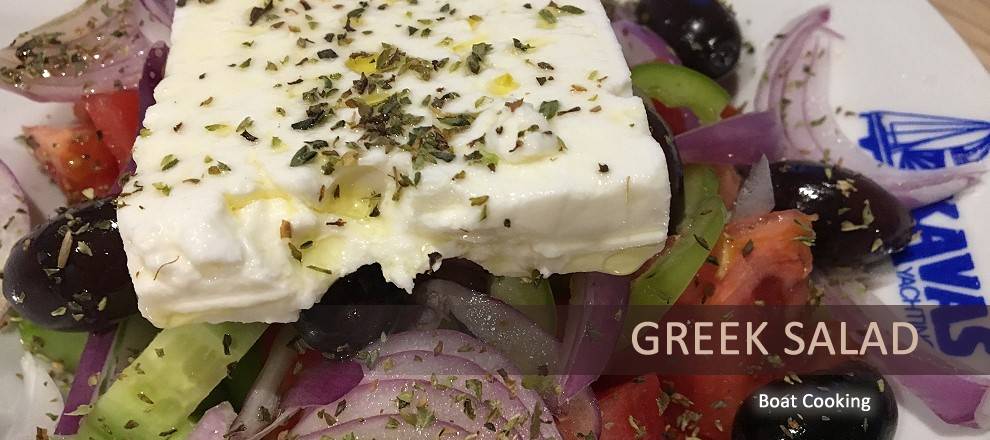 Widely known around the world for its delicious combination of flavors as well as being light and fresh, the traditional Greek salad takes only minutes to make and can keep you fueled and hydrated so you can keep on diving!
Excellently paired with a glass of Greek wine, all you'll need to make your own Greek salad is:
Ingredients:
*Tomatoes
*Cucumbers
*Onion
*Green peppers
*Olives
*Feta cheese
*Olive Oil
*Seasonings (salt & oregano)
Preparation
:
You can find fresh tomatoes and cucumbers anywhere in Greece, so spotting a nearby grocery store won't be difficult at all!
In a large bowl simply cut the fruits and veggies into cubes or slices at the size of your preference,
then add the olives whole, as well as a block of feta cheese (you can also mash it with your hands!).
Once your bowl is full of flavor and color, rinse with olive oil and sprinkle salt and oregano on top.
Voila!
Feta cheese pies with honey and sesame seeds (vegetarian finger food)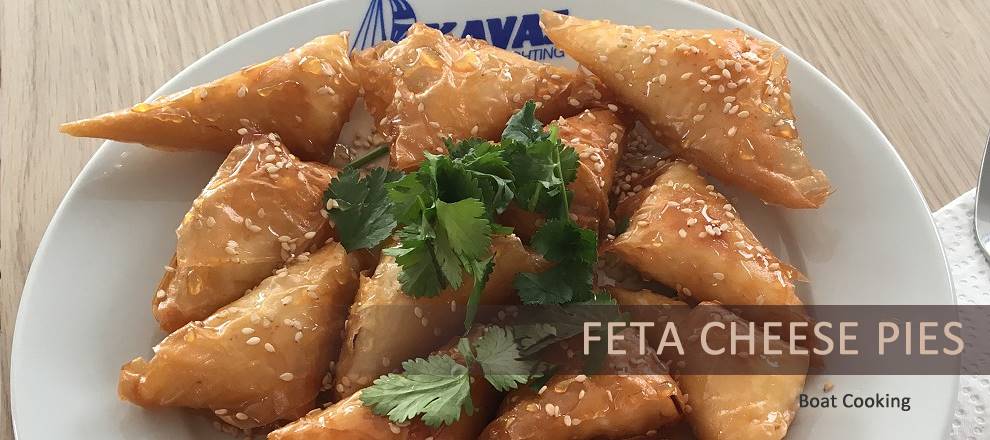 An exclusively Greek recipe, this type of finger food is promised to not only excite your taste-buds but also have you looking for more!
We've known of tourists bringing the web upside down trying to find the recipe of those delicious small cheese pies that they tried during their holidays in Greece, so pay close attention to the next part!
Ingredients:
*Feta cheese
*Sheets of filo pastry
*Sunflower oil
*Honey
*Sesame seeds
Preparation:
Simply lay every sheet of filo pastry over another, making pairs.
Then softly brush the sheets with a few drops of olive oil and cut in half along their width (every paired sheet will make two cheese pies the size of a deck of cards or smaller).
Mash the feta cheese and mix it with a bit of honey and oregano.
Then place a tablespoon of the mixture at the center of the filo sheet and fold, so as to make 'pockets' of pastry that hold the feta mixture inside.
Bake the cheese pies at 200C for ten minutes in a preheated oven until they're golden-brown.
Lastly, drizzle them with some extra honey and some toasted sesame seeds.
Ready! Serve hot
Ouzo-mezes! (pescaterian/vegetarian/vegan)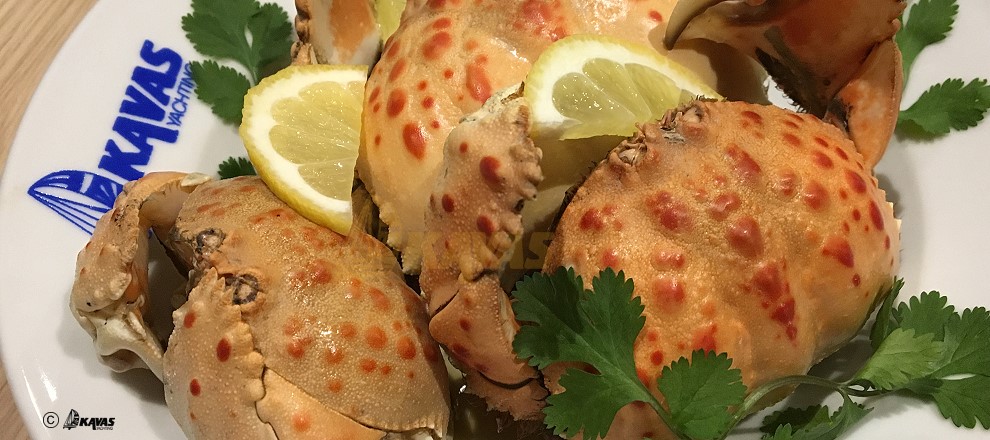 You don't have to be Greek to be a fan of ouzo -the traditional alcoholic beverage that is so unique its name has circled the entire globe.
But like any other 'spirit', it's better when accompanied with the right flavors! Scroll below to see our suggestions for what to prepare in order to enjoy this delicious liquor while the open blue sea stretches in front of you!
Ingredients:

*Crabs or sardines
*Tomatoes
*Olives
*Feta cheese
*Seasonings (salt & oregano)
Preparation:
For the pescaterian there can be no better side dish for ouzo than sea-food. This is, after all, the 'mezes' part of ouzomezes -a word dear to every Greek bon vivant which roughly translates to finger food containing meat.
Easy to prepare, simply boil a few crabs or, if you prefer something saltier, grill some fresh sardines which you can surely find on every Greek island, whether at a fish shop or by the docks.
Then, add freshness to the platter with a couple of sliced tomatoes, some olives and of course, some feta cheese!
Sprinkle with salt and oregano and there you have it!
A combination of flavors that will certainly satisfy taste-buds you didn't even know were there!
Greek gastronomy
Greek gastronomy undoubtedly has a character all on its own and Greeks are as gourmand as they are hospitable, fun, spirited and lovers of the sea!
What better way to experience the Greek temperament first-hand than creating traditional dishes on deck and enjoying them with a glass of Greek wine or ouzo while gazing at the Aegean horizon?