The appropriate preparation in order to have kids on board
If you love sailing vacations, but now have a new baby to consider; all is not lost!
All you need is a little careful planning and preparation.
Nowadays, taking your baby with you can be fun and enlightening for both you and your little one.
Yachts and boats are in fact ideal for new families;
they are compact and rounded with plenty of fitted storage, low risk electrics and low-level features perfect for plain sailing.
If you keep sailing days short you can plan time ashore to explore some breath-taking destinations and idyllic islands. What's not to like?
Preparation is Key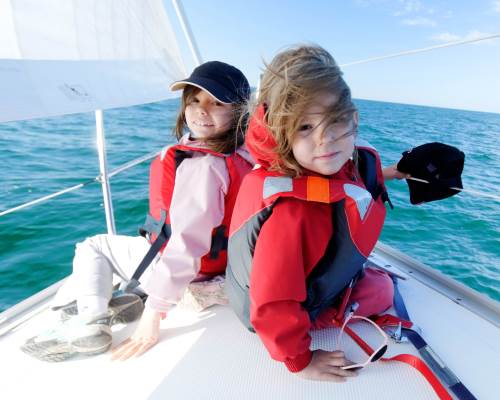 A little preparation will go a long way in making your sailing trip a pleasurable one.
It's true there are a few things to think about such as baby safety, provisions and your schedule on board, but putting some time in ahead of your trip is well worth the effort.
Remember, having a regular schedule on board and off will keep things normal and less challenging.
It is important to remember the attention you will need to pay to the actual sailing itself and to your baby. This might go without saying, but families need to decide on who will be in charge of what.
One person needs to focus their sole attention on sailing and the other on your little one. If this seems too daunting at this stage, you will need to think about taking someone else with you or hiring a skipper for peace of mind.
Baby safety aboard
At sea it is important to make sure you have all necessary safety precautions in place.
The most important aspect of baby safety is the life jacket.
Every person on board should have their own but baby life jackets are not always included in hire agreements and to be honest it makes more sense to buy one in advance.
This way you know the life jacket fits correctly and you will have time to get your baby used to wearing it.
Test it out a few weeks in advance of your trip, ideally at your local pool and make sure it is a good quality one that does what it is supposed to do!
For example:
Does the life jacket roll the baby on to its back?
Is your baby comfortable in it and so on?
And always make sure:
your baby or child wears its life jacket at all times above deck.
Safety Nets
They are another feature that can be fitted to the yacht in advance of your trip.
Depending on the age of your baby you will need to plan your trip with this in mind. We all know what toddlers are like - turn your back for one second and they're away!
Fitting a safety net will allow your crawler a bit more freedom without you having to worry too much, but most netting will only cover side rails, so make sure you are still alert to open deck backs and fronts.
Enquire about one at the time of booking as this will give you that extra reassurance and peace of mind!
Sun protection
It is essential while out at sea and more so for your baby.
You will need a UV sun shade, sun hat with chin strap and some quality sun glasses for your little one.
Unlike adults, babies don't regulate body temperature easily so make sure cabin windows are open or use fans. If your baby is old enough, make sure to use plenty of sunscreen for added protection.
Other daily essentials
When you are out at sea you should have plenty of provisions and this will mean some forward planning.
At sea the sun can be very strong so it is important to use sunscreen on you and your baby (if your baby is old enough to use it) so make sure you pack extra bottles for your trip.
Plenty of bottled water should be packed as this will not only be used to drink but to clean your baby as it is much safer than using the tank water.
A bouncy chair or portable carrier will be one of the most versatile bits of baby kit you can take with you. Your baby can sleep in it and be easily carried about the boat and taken off-shore.
In addition, a lot of parents have found that a soft baby sling is another easy way to carry baby around, especially if you have to do more than one thing at a time.
Of course there are other daily essentials you need to pack as well such as enough nappies, wipes, sterilizing bottles, formula, nappies and some fun DVDs, books, toys or a game to play.
Yacht size matters
When you are hiring your yacht you need to consider its size.
Is it big enough for all the people on board? Or is it too big?
More importantly, is it easily manageable for two people if you are going alone with your baby?
Look at the cabins and see what the beds are like and decide where your baby will sleep.
Make sure you have done plenty of research about your chartered yacht before you book.
By now you should be well prepared for booking your sailing vacation. You have done your research and made sure all safety aspects are taken care of.
If at this stage you are still unsure, why not consider staying in the marina for a couple of days to get used to life aboard with baby before you set sail?
Book the sailing holiday of your dreams here, check out some hot deals or make an enquiry.
You know you want to!